The team at Brodmin released a detailed report about accounts payable in the global e-invoicing market. In said post, they revealed that the market is poised to cross the $24.7 billion mark by 2027.
Late invoices have been an ongoing problem that businesses across the world have had to cope with. Especially small businesses have not escaped the wrath of late invoice payments. The COVID-19 pandemic has done little to ease this strain on businesses with many companies and buyers nearing bankruptcy. In an attempt to curb the problem of late invoice payments, a handful of brands have turned to e-invoicing platforms to encourage early payments.
The team at Brodmin uncovered some interesting facts in their survey of the e-invoicing and late payment markets to back their blog post about late invoice payments. Despite the expectation that e-invoicing will grow by 80% around 2027, 54% of businesses still expect to receive late payments from clients and vendors in the current times.
The U.K appears to have taken the hardest hit with regards to late invoice payments. Its punctuality percentage with regards to on-time invoice payments dropped to 41.5%. According to the blog about late invoice statistics, 24% of businesses in the UK reported that late payments were a threat to their survival. It is not at all surprising with late payments costing small businesses a whopping $3 trillion per year only in the USA.
In Asia, studies carried out in Hong Kong, Thailand, India, Mainland China, and The Philippines revealed substantial declines in punctual payments. In North America, Canada and the US saw their punctual payment percentage drop from 29.1% and 54.2% to 2.9% and 1.3% respectively.
In Europe, Russia, Poland, and the UK were hit hardest by the COVID-19 crisis and saw on-time payments drop to 6.2%, 4.5%, and 3.8%, respectively. Businesses in Poland, Denmark, and the Netherlands enjoyed a good percentage of punctual payments with 76.5%, 87.3%, and 73.3% of payments made on time. Using Egypt and South Africa as a case study, Africa's percentage of punctual payments also declined by a combined 3.7% over 90 days.
Businesses will be hoping to improve late payments as soon as possible. Thanks to e-invoicing platforms for businesses, both small and large scale, can now receive payments early and gain some level of financial stability. This will ensure that businesses are protected financially as they render their services to their customers.
"At Brodmin, we create a safe environment to report payment issues and hold businesses accountable. We offer our free, independent directory to give you all the information you need to avoid financial hardships and protect your business and community." says the Founders of the platform.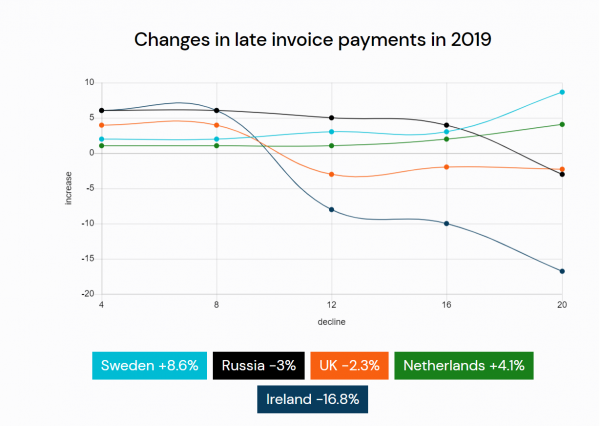 To learn more, read Brodmin's report about the latest invoice statistics from 2021 read their relevant stats, facts, charts, and figures.
Media Contact
Company Name: Brodmin Limited
Contact Person: Thomas Minarik
Email: Send Email
Address:71-75 Shelton Street Covent Garden
City: London WC2H 9JQ
Country: United Kingdom
Website: https://brodmin.com