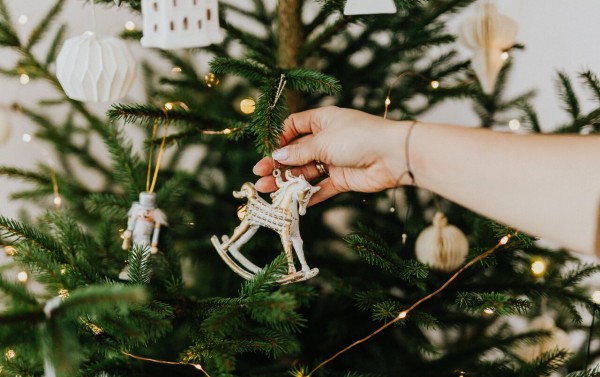 Whilst it may seem like an eternity to get everything sorted, everyone all know how quickly the time will pass, especially with all the hustle and bustle going on: the parties, the presents and everything in between.
Infact, Brits really aren't the greatest at ensuring Christmas is organised, that whilst 18% of us have bought gifts by October, one third leave their shopping to just one week before the 25th. And that's not even beginning with sorting the Christmas Day celebrations.
But, before people freeze with fear, let's smoothly guide people through our top tips to hosting the ultimate Christmas celebration with zero stress attached.
It's the main thing the celebrations will centre around, so food is people's number one priority!
First and foremost, once people know who will be attending, gather the dietary requirements of the guests – who can/can't eat meat and any allergies or intolerances. Once people have all the information required, then it's time for them to make a list of all the food needed. If people're going down the traditional avenue with a turkey, then we recommend the following sizes per person:
4 to 6 people: 2-2.5kg6 to 7 people: 3kg7 to 8 people: 3.5kg8 to 10 people: 4-4.5kg10 to 12 people: 5-5.5kg12 to 15 people: 6-6.5kg If people're still not sure on exact numbers, simply buy a larger turkey than anticipated. Nowadays, there's a whole host of recipes and inspirations on how to make the most of the leftovers. And for ensuring it is cooked safely and to perfection, Aosom suggest buying a temperature probe.
For the guests who are unable to consume meat, why not opt for a nut roast? Either make one's own, or for a simpler option, there are many widely available to buy at supermarkets.
To make cooking Christmas dinner as efficient as possible, there are a few things people can to save time. Such as, preparing the vegetables and potatoes the night before. To preserve, simply immerse in cold water.
And on Christmas day, if people have family at home, get them involved! It's a great way to cut down the time, as well as having lots of fun people wouldn't usually experience.
Now the food is sorted, it's time to think about how they're going to set the table. Why not draw up a plan of who is going to sit where, and prepare some place cards? If people know their guests well, then of course they are going to know the dynamics – who gets on best with each other, and well, who doesn't quite so much.
To start decorating the table, first people're going to need a tablecloth and a runner. If people already have a cloth, great. If not, this guide will help them with measuring the table for the best fit. Any colour is great, but we suggest a plain white option for neutrality so people are able to play with the colour scheme other decorations.
And remember, the table cloth speaks volumes on the formalities too. Opt for one where the drop length falls no further than the diner's lap (15-30cm). Any longer will set the tone for a formal event – unless, of course, this is people's desired outcome.
Now, for the runner – this is a great way for people to set the colour scheme. For that extra seasonal sparkle, why not choose a glittery runner? It's not on many occasions people can get away with this! Next, onto the centrepiece, if people wish. Whether it's some candles, an abundance of garlands, berries or something more personal to themelves, it's perfect for people to set the feeling around the table.
Once done, the rest of the set up is up to people, depending on how many courses people are planning to serve – just remember the crackers. For crockery and glassware, if people are lacking, then having a look in a charity shop is always a great shout. Perfect for cutting down costs at an expensive time of the year.
Everyone all know that after food, drink is next on the list of must-haves for Christmas dinner. Like food, it's quite a mammoth task trying to decide and delegate, but the best approach here is to keep it simple.
One way people could work their way around deciding what to purchase and buy, if people have a large amount of guests, is to create a menu. Whether it's beers, spirits, cocktails or non-alcoholic options, having a menu is great for making an impression and things much easier for people.
One rule, however, which people must abide by, is serving wine with the dinner.
If serving up turkey, chicken or any other bird, then stick to the white. If serving red meat, such as lamb or beef, then opt for a red.
For the non-drinkers, don't be shy on options – nowadays there's so much to offer – from cordials to Seedlip (a non-alcohol spirit which works in cocktails) and purees – all are great mixed with soda, soft drinks and juices, so people can unleash their creative juices or even check these recipes for plenty of inspiration.
If serving beer during people's gathering, why not take the work and let the guests have some fun? Choose this electric dispenser – great for bringing out for BBQs and more during Summer.
It's great to have an agenda, even if it's very loose. Give oneself and the guests a time to arrive, a time of the dinner and a time of anything else people have planned, whether it be games, watching the favourite film or whatever else is in mind.
And of course, if people wish, a bedtime if people don't want the night to slip away into the early hours…
Ensure people have sleeping arrangements sorted for guests staying over. If lacking on space, a sofa bed such as our grey linen two seater or faux suede piece are excellent options that people'll love having, even after the festivities are over. To cater for families with children stopping over, why not invest in our white wooden trundle? With a slide-out single bed tucked away underneath, it will allow children to sleep besides their family in the same room.
A metal clothes rail is the ideal solution for keeping the guests' clothing hung up efficiently. Not only is it easy to put up and take down, it utilises little space and will take all coats jackets, dresses etc. will no hassle at all.
Now people are all set to hosting best Christmas yet, there's just one last thing people must not forget – cleaning. A big chore in itself, it can help if someone have people around to assist.
For subtly concealing away everything people want out of sight, why not purchase a storage ottoman? As well as keeping everything stored safely, they also double up as a seat – ideal for ensuring everyone has a spot to relax in the evening.
Last but not least, don't forget the tree for that final Christmas finishing touch. Whether it's pre-lit, plain or a unique and stand-out white design, make sure it's decorated beautifully to give the guests something wonderful and joyous to stare at in awe.
Media Contact
Company Name: Aosom UK
Email: Send Email
Phone: 0800 240 4050
Country: United Kingdom
Website: https://www.aosom.co.uk/