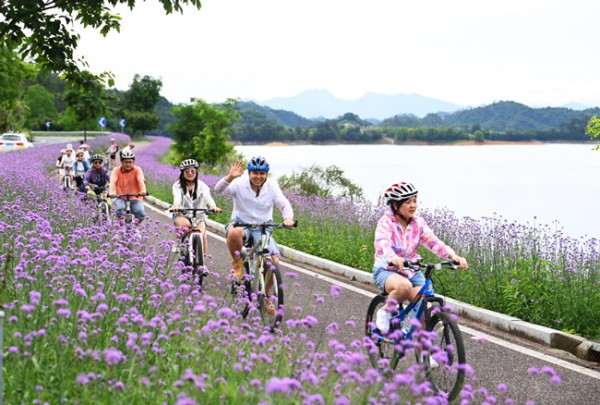 Travelers ride bikes alongside Qiandao Lake in Hangzhou, Zhejiang province. [Photo by YANG BO/FOR CHINA DAILY]
Most are provincial capitals, where growth is prioritized, census shows
Fifteen Chinese cities each added more than 2 million residents in the decade to 2020, with almost two-thirds of them provincial capitals, data from the latest national census showed.
Shenzhen, Guangdong province, which borders Hong Kong, topped the list with 7.13 million new residents, a 68 percent increase compared with 2010.
Guangzhou, Guangdong's provincial capital, was second, with its population increased by almost a half since 2010 to reach 18.6 million.
Other cities on the list that are not provincial capitals included Foshan and Dongguan in Guangdong, and Suzhou in Jiangsu province.
Two of the country's provincial-level municipalities also added more than 2 million residents. Chongqing added 3.2 million people, and Beijing added 2.28 million.
Since 2010, eight cities have joined the list of megacities with 10 million residents or more, bringing the total number to 18.
Six of them are provincial capitals: Xi'an, Shaanxi; Zhengzhou, Henan; Hangzhou, Zhejiang; Changsha, Hunan; Wuhan, Hubei; and Shijiazhuang, Hebei.
Xi'an, Zhengzhou, Hangzhou and Changsha recorded population increases of more than 3 million.
Many provincial governments have prioritized the development of their capitals to boost their ability to attract talent, capital and technology.
Hu Gang, a professor at Jinan University in Guangdong and an urban development expert, said the strategy fits the rules of economic development in Hangzhou China.
"In places with immature regional economies, if the resources are too dispersed, they would lack competitiveness," he told Yicai magazine.
The growth of major cities has taken the number of metropolises on the Chinese mainland with populations of 5 million or more to 91.
Most are spread across traditionally populous plain areas-such as Shandong and Henan provinces-or places with a robust economy, as is the case with Guangdong and Zhejiang.
Shandong, where half the land is arable, has a population of around 100 million and is home to 10 cities with populations of at least 5 million-the most for any province. Henan, on the central plain, has 99 million people and nine such cities.
With a vibrant private economy, Zhejiang has seven, despite its hilly topography. Another nine are in Guangdong, where the Pearl River Delta manufacturing hub has for decades served as a magnet for rural migrant workers.
Not all metropolises gained population over the decade.
Twenty-one of the 91 cities with at least 5 million people saw their populations decline, with 10, mostly in central and western regions, losing 400,000 residents or more.
Harbin, in the northeastern province of Heilongjiang, was the only provincial capital where the population shrank, but nearly half of China's 330-plus major cities saw their populations decline between 2010 and 2020.
There has been a concentration of such cities in northeastern provinces, which have long been confronted with an exodus of younger people due to the depletion of natural resources and a lack of opportunities.
Experts said migration and falling birthrates played major roles in the contractions.
The latest census data showed about 376 million people, or one in every four people on the Chinese mainland, were classified as migrants living outside their hometowns in prefecture-level cities or regions, up 70 percent from a decade earlier.
Media Contact
Company Name: The Information Office of Hangzhou Municipal Government
Contact Person: Cai Jingwen
Email: Send Email
Phone: 0510-68559077
Country: China
Website: http://www.ehangzhou.gov.cn/