A New Product Makes It Possible to Curl Your Hair Without Causing Any Damage.
New York, USA – 13th September, 2021 – An effective new method for curling hair naturally is making people worldwide very happy. Many of us have taken the opportunity of the enforced lockdown of the past year to give our hair a break from damaging styling and we are now reluctant to go back to abusing our locks again. This makes it the perfect time to try the Curling Rod from the Heatless Curl Expert. Designed to care for your hair while curling, it is the quickest, easiest and healthiest way to style your hair.
The first stop for styling your hair in the 21stcentury, whether you are aiming for poker straight or crazy curls, is to apply heat. It gets the job done and there are plenty of gadgets available. However, as we all know, too much heat can damage our tresses. Hair is tougher than most people think and it is capable of tolerating temperatures up to 450 degrees Fahrenheit. For all its toughness though, applying heat on a regular basis will soon harm it. Scientists have found that temperatures over 212 degrees Fahrenheit can cause physical and chemical changes to hair. The internal protein structure and the hydro-lipid layer both degrade, exposing the cuticle scales and making the hair porous, rough, dull, stiff and vulnerable to breakage. All of which is bad news if you want to curl your hair on a regular basis.
The Heatless Curl Expert has come up with a new concept to fix this problem. Looking back at traditional methods used to curl hair in times before the advent of electricity has provided inspiration. Wrapping damp hair around rags before bed was a popular method in earlier centuries that metamorphosized into sock curls and bathrobe belt curls. The drawbacks of these methods were several. The curls could vary greatly is size, it was quite a painful, uncomfortable process, it was fiddly to achieve, was usually a two-person job and damaging to the hair. The Heatless Hair Curling Ribbon takes the basic concept from our ancestors but provides a solution to all of these problems. A foam roller provides a consistent size while also being light-weight so it doesn't tug on the hair root. Covering it with mulberry silk means that the hair is not roughed up and dried out, as is often the case with other materials such as cotton. The size of the roller and the smoothness of the material covering it mean the hair does not become knotted and tangled when wrapped around it. The Curling Rod is also soft enough that you can comfortably sleep while wearing it.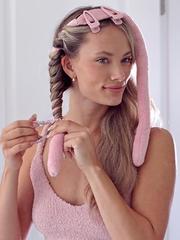 The Curling Rod also has several advantages over sock curls. It is quick and simple to use and can easily be managed by one person with no need for assistance. The softness of the roller means that the look of your curls can be customised. If you prefer loose, wavy curls then loosely wrap almost dry hair around the Curling Rod. If you are going for a more structured look with smaller curls then have your hair about two-thirds dry and wrap it tightly. The Heatless Curl Expert supplies you with a clip to secure the roller while wrapping and two scrunchies to secure your hair at the ends. The Curling Rod is flexible enough that if you choose to you can coil it in a bun above each ear while your hair is drying, giving you Princess Leia vibes. The Curling Rod also comes in a choice of colours with co-ordinating scrunchies so you could choose to style your hair during the day.
Most importantly, the Curling Ribbon produces beautiful, bouncy curls while leaving your hair shiny and healthy. As one happy customer said "It leaves my hair with the perfect waves. Usually my hair is impossible to curl and they never stay. My hair stayed wavy the entire day!". Most people find that it takes about 5 minutes to wrap the hair around the roller and about three hours to dry completely so the roller can be removed. With very little effort you can have sustainably curly hair every day.
This new way of curling hair has been extremely popular with lots of videos on social media and reviews in fashion magazines. Being able to create curls in an easy natural way is a great innovation. Sadly however, many poor imitations have sprung up online selling inferior products. Giveaway signs are stiff inflexible rollers covered in cheap material that are too short to be effective. The Heatless Curl Expert value their customers and are proud of their high quality product so they back their Curling Rod with a 100% money back guarantee. This is one styling product that is definitely worth trying!
Media Contact
Company Name: Heatless Curls Expert
Email: Send Email
Phone: 2126712158
Address:25 East 59th Street
City: New York
State: New York
Country: United States
Website: https://heatlesscurls.expert