Sep 14, 2021 – Smartphones have become an essential part of our lives. Besides their communication functions, these devices are now equipped with great cameras that lets us take high resolution pictures anytime. Nevertheless, there is a downside to this availability. Most of the pictures captured today, can only be viewed on screens. Hence, people are at the risk of losing all their photos if they lost their devices or online storage accounts.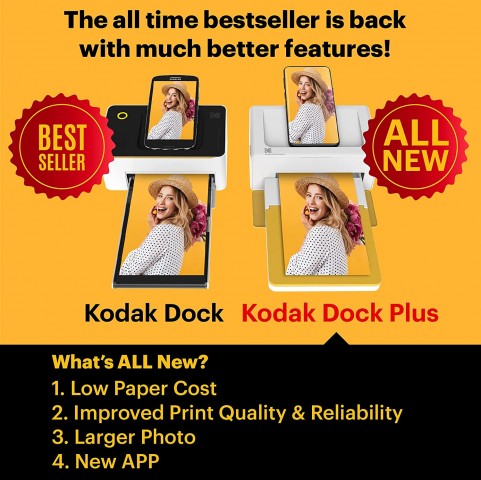 Fortunately, people can now print out all their favorite pictures from their devices on the spot, thanks to the Kodak Dock Plus 4×6" Portable Instant Photo Printer. This portable device lets you preserve your favorite memories with your loved ones on lasting physical copies
Besides its lightweight, affordability and the high resolution pictures it provides, the Kodak Dock Plus phone printer offers you more:
Instant Print: Consumers can now print all their favorite photos on the go. With only a stable Bluetooth connection required, the Kodak Dock Plus prints photos directly from mobile devices.
Long-lasting Photos: With the 4PASS technology, the Kodak Dock Plus creates quality prints instantly. Each photo is made moisture-proof and fingerprint-proof by printing them on layers of ribbon with a laminating process.
Kodak Free App: Users enjoy unlimited access to the Kodak app that enables them print high-quality photos on the go. This free app which is compatible with both Android and iOS devices allows users add decorative features such as stickers, frames, and filters to their photos before printing.
User-friendly: The Kodak Dock Plus instant printer no longer comes with the PictBridge function. It now comes fully equipped with user-friendly features such as the USB-C docking pin and the lightning connector for iOS devices.
Share all You want: Users can now share as many copies of their photos as they desire. This instant photo printer lets them print and share all their favorite photos with their loved ones.
Prinics Co., Ltd makes the instant photo printer for Kodak. The instant printer has recorded massive sales on Amazon and has already gathered more than 4,000 positive reviews.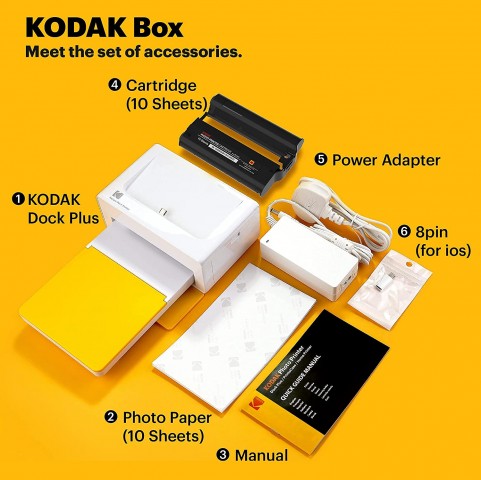 JK, a verified customer from the United States who says the printer is easy to use, provided this review: "I've wanted to have this for so long, and without any doubt, I love it! The photo quality is great and it is easy to use. What I love the most is that I can keep the pictures printed and look at them right at home, not just on my phone! Would recommend it for sure!"
The Kodak instant photo printer is now available for purchase on Amazon.
You can get more information about the instant photo printer on its Amazon product page right here: https://www.amazon.com/dp/B08FDCNBTF.
About Prinics Co., Ltd.
As a Kodak licensee headquartered in Suwon, South Korea, Prinics Co., Ltd develops and produces Kodak photo printers and instant cameras. Protected by more than 50 registered patents, Prinics owns the trademark 4PASS dye-sublimation technology.
With this technology, Prinics offers the highest print quality in the photo industry for fingerprint resistant, water-resistant, and solar resistant prints.
Head over here: https://shop.kodakphotoprinter.com to find more information about Prinics Co., Ltd Kodak photo printers and instant cameras.
Media Contact
Company Name: Prinics Co., Ltd
Contact Person: Andy Hong
Email: Send Email
Phone: +82 70-4038 9303
Country: South Korea
Website: www.amazon.com/dp/B08FDCNBTF