As the world struggles to get back on its feet, vaccination and testing are the top priorities, especially in the US. A Chicago based service, Covid Express Care, is offering Free Weekly Festival/Event Rapid Covid Testing, Kit Vending Machines, and Weekly Testing for Large Businesses and Schools across the US, especially in and around Chicago, IL. The service has so far administered 415,000+ tests. Covid Express Care offers saliva testing as well.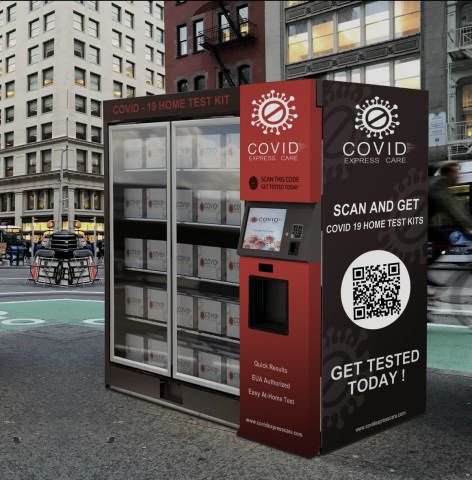 Covid Express Care is taking Covid testing to the workforce in a big way. The staff at Covid Express Care will provide all necessary supplies, and will follow the existing IDPH and CDC norms. So far, the areas served include businesses and festivals in Chicago, IL and Indiana, Wisconsin, Ohio.
The team of Covid Express Care visits the employer's business premises and carries out testing. They also send out bulk supply mails that help employers swab the employees and mail the specimens back every week—free of charge.
Yet another testing service is to set up vending machines in businesses that want COVID testing. Employees can collect the testing kits from the machine and send the sample back through a Dropbox where samples are collected every day. Results are available within 24-72 hours.
"Knowing who has the virus, and who is at risk, is critical to managing worker safety and halting the spread of COVID-19. Covid Express Care's mission is to ensure the safe wellbeing of people worldwide, and we have developed a broad range of services to help you manage this medical crisis, including COVID-19 Rapid Antigen testing, rtPCR, and antibody screening," says a spokesperson for Covid Express Care.
The tests conducted by Covid Express Care can detect the new Covid-19 strains. About the kits, the Lucira Covid-19 ALL-In-One Test Kit is the first FDA EUA Authorized, at-home molecular test for individuals 14 years and older. The home testing kit is accurate, and is equivalent to lab PCR results. The results are available in 11 minutes.
The official website of Covid Express Care can be used to book business/festival Covid testing, order Covid tests, or reserve vaccinations. HR managers can contact info@covidexpresscare.com to book business/festivals immediately.
For more information, please visit: www.Covidexpresscare.com
Media Contact
Company Name: Covid Express Care
Contact Person: Media Relations
Email: Send Email
Country: United States
Website: http://www.Covidexpresscare.com