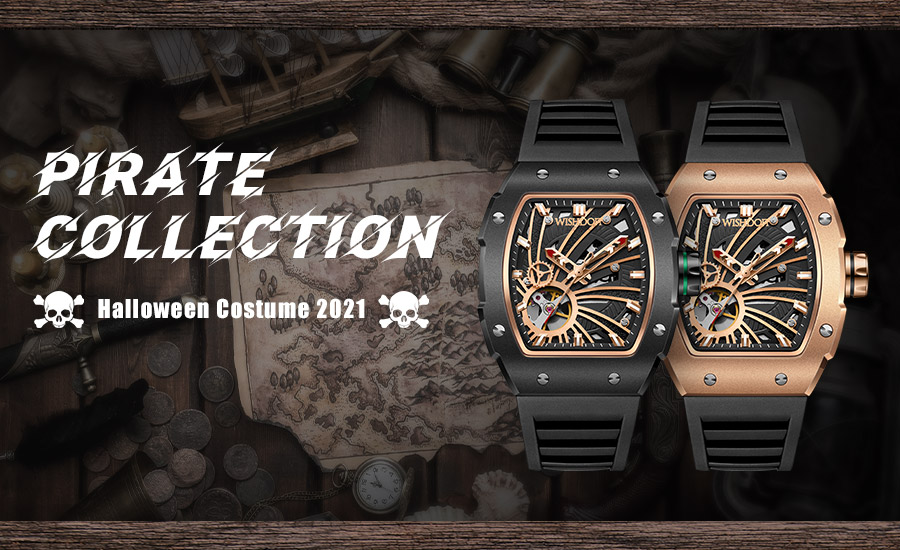 Leading watch brand, Wishdoit Inc., celebrates 2021 Halloween with the addition of a new watch named Ocean Black Hole to their Pirate collection
The team at Wishdoit Watches, led by the forward-thinking, passionate entrepreneur, Patrick Lee, is staying true to their goal of telling impactful, inspirational stories through captivating timepieces with the release of a new watch named Ocean Black Hole. The new product, which is inspired by the whirlpool of the ocean, is an addition to the brand's pirate collection, with a launch just in time for Halloween.
The global watch market has witnessed tremendous evolution over the years, growing to become a multi-billion-dollar industry, with tons of brands in different parts of the world. A recent report by Reportlinker.com put the size of the global market for Watches and Clocks at US$60.5 billion in 2020, with a projection that it will reach US$73.4 Billion by 2027. However, Wishdoit Inc. seeks to personify the experience by creating watches that speak to the customers as reiterated with the recently launched Ocean Black Hole watch.
The new product is designed to suit watch lovers thinking of a pirate costume for Halloween. The Pirate Ocean Black Hole-Gold watch is inspired by the culture of Caribbean Pirates during the golden age of the 18th century. The Tonneau watches feature several pirate design elements, adopting the barrel-shaped design typical in pirate culture as the unique case shape of the watch. The Ocean Black Hole-Gold watch is available for pre-order at a discount for only 100 pieces, making it an ideal deal for persons thinking of a pirate Halloween.
For more information about the Ocean Black Hole-Gold watch and other products from Wishdoit Inc., visit – https://wishdoitwatches.com. Wishdoit Inc. can also be found across social media, including Facebook and Twitter.
About Wishdoit Inc.
Wishdoit Inc. was founded by Patrick Lee, a watch lover, in 2012, to offer unique, breathtaking products made with care and precision. The company has grown over the years, creating different collections to meet the diverse needs of its customers.
Media Contact
Company Name: WISHDOIT INC.
Contact Person: Patrick Lee
Email: Send Email
State: CO
Country: United States
Website: https://wishdoitwatches.com/