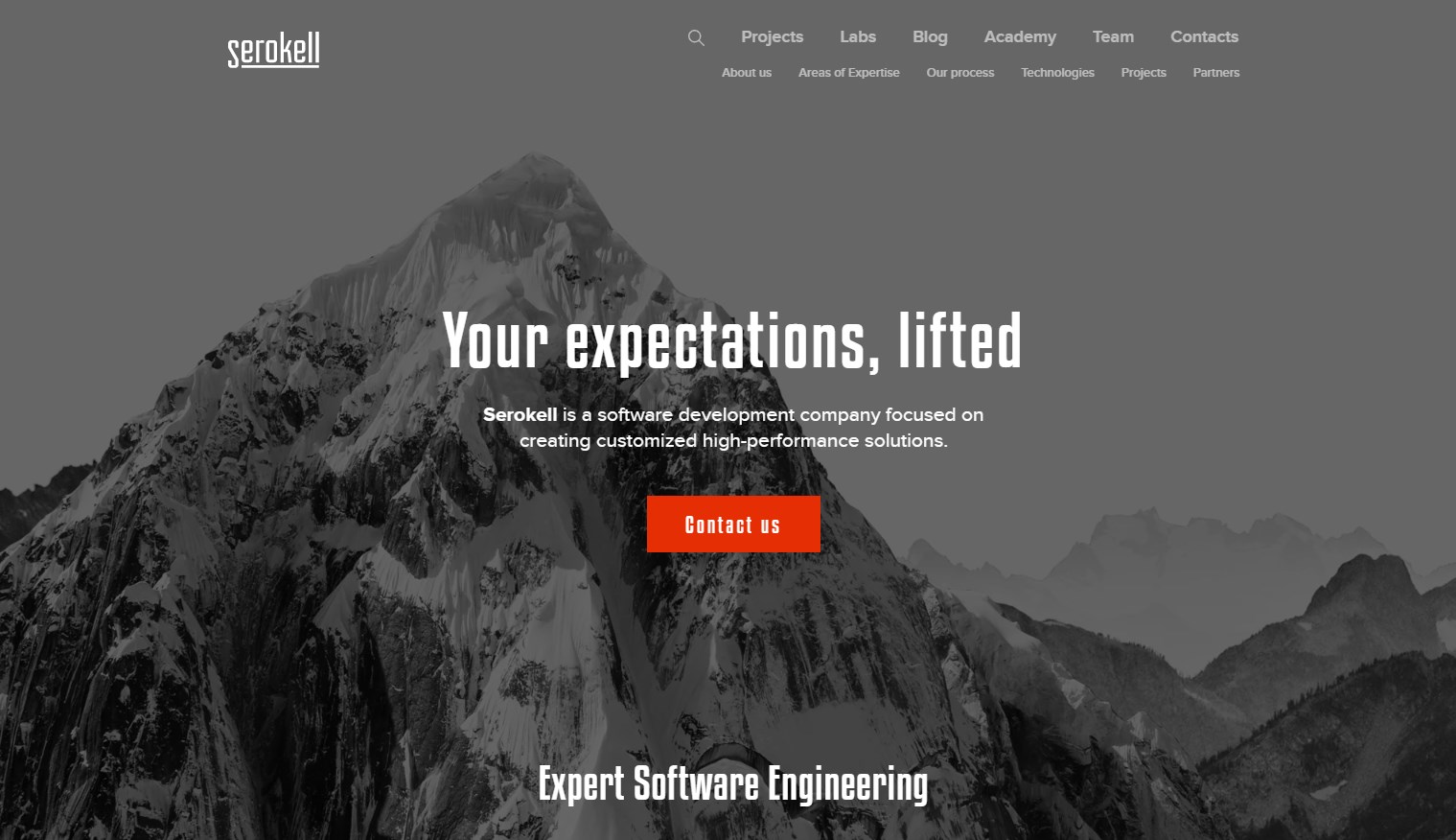 Serokell is a software development company that provides science-based solutions to complex problems. An experienced team of scientists and engineers work on research and development to build innovative and high-performance software solutions, tailored to the needs of their business partners. Serokell acts as an outsourcing software development company specializing in creating and managing large-scale IT systems and complicated applications.
Haskell Programming Language
Haskell is a purely functional programming language that is used to ensure reliability especially in such fields as finance or medicine. The software written in Haskell is secure and scalable, and the code is clean and easy to maintain.
Serokell engineers are passionate advocates of using functional programming in production. They write advanced software in Haskell and partner with academic institutions internationally to teach developers Haskell and popularize industry usage of functional programming languages.
Serokell serves both startups and large companies, providing complex solutions in the domains of AI, fintech, blockchain, or biotech. Their case studies include designing new programming languages, developing a new cryptocurrency, and building various financial platforms.
Artificial Intelligence & Machine Learning
The scientific approach is one of the company's central values. To help clients use advanced technologies in their business, Serokell runs AI and machine learning consulting services. Among their areas of expertise are computer vision, natural language processing, and deep learning.
Independent researchers from Clutch named Serokell among the leading AI companies and IT service providers in 2021.
Analytics and reviewing platform TopDevelopers has included Serokell in their listing of the top Big Data companies.
Fintech Software Development
Serokell developers apply their knowledge and experience in functional programming, mathematical modeling, cryptography, and data protection to create secure and innovative fintech software solutions, such as:
mobile fintech applications
payment systems
exchanges
trading platforms
transaction processing systems
In August 2021, Independent researchers from DesignRush added Serokell to their list of top 30 fintech software development companies.
Blockchain & Smart Contracts
Serokell is also known as a custom blockchain software development company. The team has more than five years of experience in distributed systems, cryptography, and functional programming. They create public blockchains, enterprise DLT solutions, smart contracts, decentralized financed platforms, custom blockchain platforms, and NFTs.
Some of the Serokell blockchain projects:
Tezos – an open-source blockchain platform for smart contracts
Cardano SL – a cryptocurrency made for IOHK
BlockScout – the first open-source blockchain explorer for Ethereum-based networks
Disciplina – a blockchain for educational institutions
In September 2021, independent researchers of IT firms from DesignRush listed Serokell as one of the top blockchain development companies in the world.
Biotech Software Development Services
Serokell provides services for pharma and biotech companies, assisting them with process systemization and data handling. Developers use machine learning and cloud computing technologies to build scientific data management systems (SDM), laboratory information management software (LIMS), electronic laboratory notebook systems, and other biotech data management software.
Open Source Contributions & Knowledge Exchange
In addition to their core business, Serokell supports open-source projects and runs educational initiatives.
Among their core open-source areas of activity are:
GHC (Glasgow Haskell Compiler) – the main Haskell compiler for industry use
Edna – an open-source machine learning data analysis application for biotech researchers
Education is another core value of Serokell. They are eager to share knowledge and expand the community of developers and computer scientists passionate about high-tech.
Recently, the company launched several initiatives to support knowledge exchange and the professional growth of IT specialists.
Serokell Academy is a project that includes video lectures and meetups where both experienced software engineers and newcomers can learn and discuss various topics from mathematics and cybersecurity to functional programming and machine learning. Serokell's team keeps working on new video stories, so subscribe to their channel on YouTube to not miss anything.
Serokell Labs is the company's research division that acts in collaboration with international academic institutions. Serokell developers and scientists from ITMO perform research work in programming language theory (PLT), distributed systems, mathematics, and artificial intelligence to build innovative solutions to real industry problems.

Serokell is an outsourcing company that applies science to resolving real-life business problems.
Discover a science-based approach to software development and hire a team that will build innovative and reliable projects from conception to implementation.
We'll cover every technical aspect of your software development and protect it from data leaks, breakdowns, or cyberattacks. We want you to focus on growing your business while we build technological infrastructure and software to meet your business needs.
Ask us any questions about software development and we will counsel you even if you don't have a clear vision of your project yet. After analyzing your concepts and requirements, together we'll develop the IT system perfectly customized to your goals. Make Serokell your technology partner!
Let's get in touch!
Media Contact
Company Name: Serokell
Contact Person: Denis
Email: Send Email
Phone: (+372) 699-1531
Country: Estonia
Website: https://serokell.io/