Sep 16, 2021 – Again 1231, a leading brand that specializes in the design of top quality fashion apparel for men and women, today announces the availability of their 5 pairs of premium combed socks on the Amazon store. These socks are a perfect items for people that are looking for gift ideas for the men in their lives.
Socks remain one of the best gift items for men, especially on special occasions like Father's Day, because they're an affordable way to warm the toes and hearts! When you give socks as a gift to a man, you're offering him comfort, both figuratively and literally.

The fact that socks are really compact means they're awesome stocking stuffers and ship easily, too. Also, with socks, you would need not worry much about sizes because they come in universal sizes especially for an adult. Again 1231 set of 5 pairs of premium combed socks, a classic colorful stripe patterned socks is a perfect gift item for the men in your life.
These high-quality socks are made of special premium fabrics. It comprises 78% Cotton, 20% Polyester and 2% Polyurethane. This fabric composition ensures that the socks are soft, elastic, comfortable, and have lightweight thickness. Making them to be easily paired with all types of shoes including sneakers, loafers and more.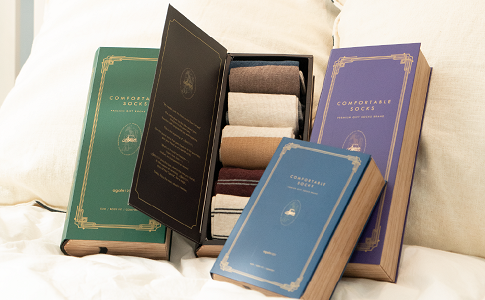 Looking for a perfect men's gift for a holiday, birthday, and milestone celebration or simply to say, "I'm thinking about you," these set of socks would do the magic. The socks come as a 5-in-1 pack that contains five different colored striped socks. With this, the recipient can choose from assorted colors to match their favorite outfit and shoes.
"I've been wearing the socks now for over a month with my dress shoes. They look great and they feel great. The colors are so classy as well. I have had no issues with him even after I have washed them. These would make a nice Christmas present.t" Vincent J. Padilla, a satisfied customer that purchased the socks wrote in a review on the Amazon product page.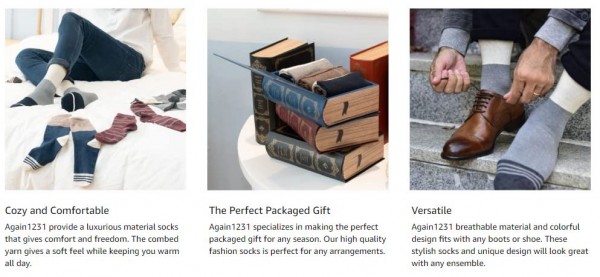 Again 1231 men's gift premium combed socks are currently available on Amazon with a 100% Customer Satisfaction Warranty to ensure that each purchase is absolutely risk-free.
For purchase or more information about the socks, visit: https://www.amazon.com/dp/B07HZHSY2P.
About Again 1231
Again 1231 is the leading destination in online apparel sales by striving to provide shoppers with the best possible service and selection. The brand boasts of an innovative line of athletic clothing for active and fashion-forward men and women. Their unique line of performance clothing includes leggings, fold over-pants, crew socks, ankle socks and more. Again 1231 adds tons of new styles every day to keep you at the forefront of fashion. Their fashion products are made with the right combination of fabrics that will keep you comfortable all the time.
Media Contact
Company Name: Again 1231
Contact Person: Andy Hong
Email: Send Email
Phone: +82 70-4038 9303
Country: South Korea
Website: www.amazon.com/dp/B07HZHSY2P