Makers of innovative lifestyle products, Fanchik, announces the launch of a Kickstarter campaign for their new product, a toxin-free and ethically made pregnancy and baby lounging pillow for comfort
The Infant Wedge Lounging Pillow is another amazing product from Lynn Groden and his team at Fanchik. The pillow is designed to offer healthy comfort to babies while helping to strengthen the mother-child bond, with the highly supportive swaddle positioner made from natural and sustainable viscose bamboo fabric and CertiPUR-Euro or CertiPUR-US Memory Foam. In a related development, a Kickstarter campaign has been launched for the product, with a goal of $50,000 to help as many mothers as possible across the globe to enjoy a restful night's sleep.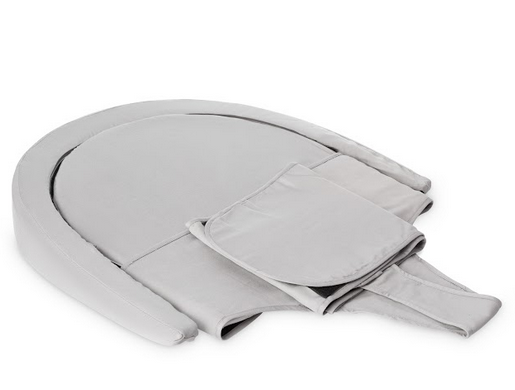 Babies remain a thing of joy, with their smiles and innocence endearing them to millions of people worldwide. Unfortunately, nurturing infants can be a daunting task, with mothers, in particular, enduring sleepless nights. Over the years, several solutions have been developed to help babies sleep well without depriving their mothers of the needed rest. However, many of such products have not delivered the desired results, which is where Fanchik is looking to make a difference with the new pillows.
The Fanchik infant wedge lounging pillow with swaddle positioner is eco-friendly with no heavy metals, carcinogenic and EU restricted dyes, phthalates, or other harmful substances. The pillow is designed to provide the needed support for babies to sleep in their favored position, holding the 0-9-month-old at a 10-degree angle, preventing acid reflux/ GERD, and promoting healthy breathing. The lightweight lounging pillow is designed to prevent sliding and promote a feeling of extra security and is suitable for children up to 2-years-old.
Fanchik Signature Pregnancy Pillow is a reflection of the collaboration of a mom and chiropractor, providing needed support by fully aligning the back, shoulders, legs, and entire body.
For more information about the Fanchik pillow and to be one of the first people to enjoy the amazing benefits of the product, visit Kickstarter.
Media Contact
Company Name: Fanchik
Contact Person: Lynn Groden
Email: Send Email
Phone: 5626887371
Country: United States
Website: https://www.kickstarter.com/projects/1917264357/fanchik-infant-wedge-lounging-pillow-with-swaddle-positioner?ref=askc7l