MOOKA is an experienced specialist in the field of air quality. The company has just developed several air purifiers and humidifiers. Thanks to their robust designs, the devices are particularly suitable for daily use in offices, airports, schools, hospitals, by authorities and also in places of worship.
MOOKA continues the journey towards providing solutions that enable people to purify the air in their homes. Aiming to combine high performing air purifying and humidifying solutions with design and technology, MOOKA is stepping into the air category by launching its smart air purifiers and humidifiers.
"When we started designing our first purifier, we realized that even the cleanest home is not quite as clean as it might seem. Microscopic dust particles, pet dander, pollens, and so many other unseen particles make up a lot of the air we take in each day," says the founder of MOOKA. "That's why we explore the possibility of integrating the function of purifying air and technology to provide a good experience for customers," he added.
MOOKA air purifiers and humidifiers are designed for indoor use and optimized for room size up to 20 m2. The various models of air purifiers and humidifiers include:
MOOKA Air Purifier EPI810: This can filter out up to 99.97 per cent of pollen, pet dander, and micro dust. This air purifier filters particles as small as 0.3 microns and larger air pollution of PM 2.5, helping to improve overall health. It is perfect for babies, the elderly, children, pet owners, or anyone wanting to improve the air quality in their hotel room or home. Its noise can be controlled under 35dB with the cutting-edge noise reducing fan blade design. Users will barely be able to hear it at arm's length, and its rated power is only 8W, making it affordable to run all day long.
MOOKA True HEPA+ Air Purifier GL-FS32: The Mooka GL-FS32 Air Purifier is the most versatile air purifier, thanks to its 6D Filtration System. It is equipped with a pre-filter, VOC absorption particles, a HEPA filter, a UV light sterilizer, a negative ion generator, and an activated carbon filter. This air purifier can clean the air in a room in 6 different dimensions, and all the major health risks hidden in the air will no longer be a threat.
MOOKA Cool Mist Humidifier APJ-617: With its impressive built-in humidity sensor, this smart humidifier can sense room humidity and change mist output to maintain the user's desired humidity level from 45% to 90%. The core of this Mooka Humidifier is a high-efficient ultrasonic atomizer that works 2.4 million cycles per second, which allows it to produce an ultra-fine mist that's easy to spread and good for breath. It effectively elevates humidity while saving 90% electricity compared to other humidifying methods.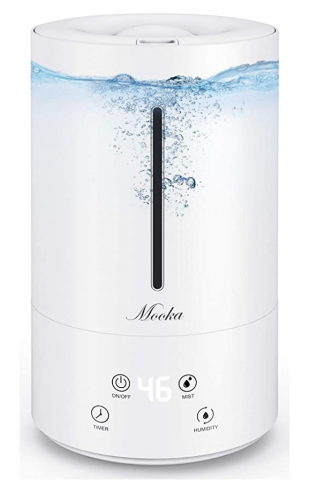 These air purifiers and humidifiers are affordable and available on Amazon and at the MOOKA website, i.e., mookashops.com
Media Contact
Company Name: Mooka
Email: Send Email
Country: United States
Website: https://mookashops.com