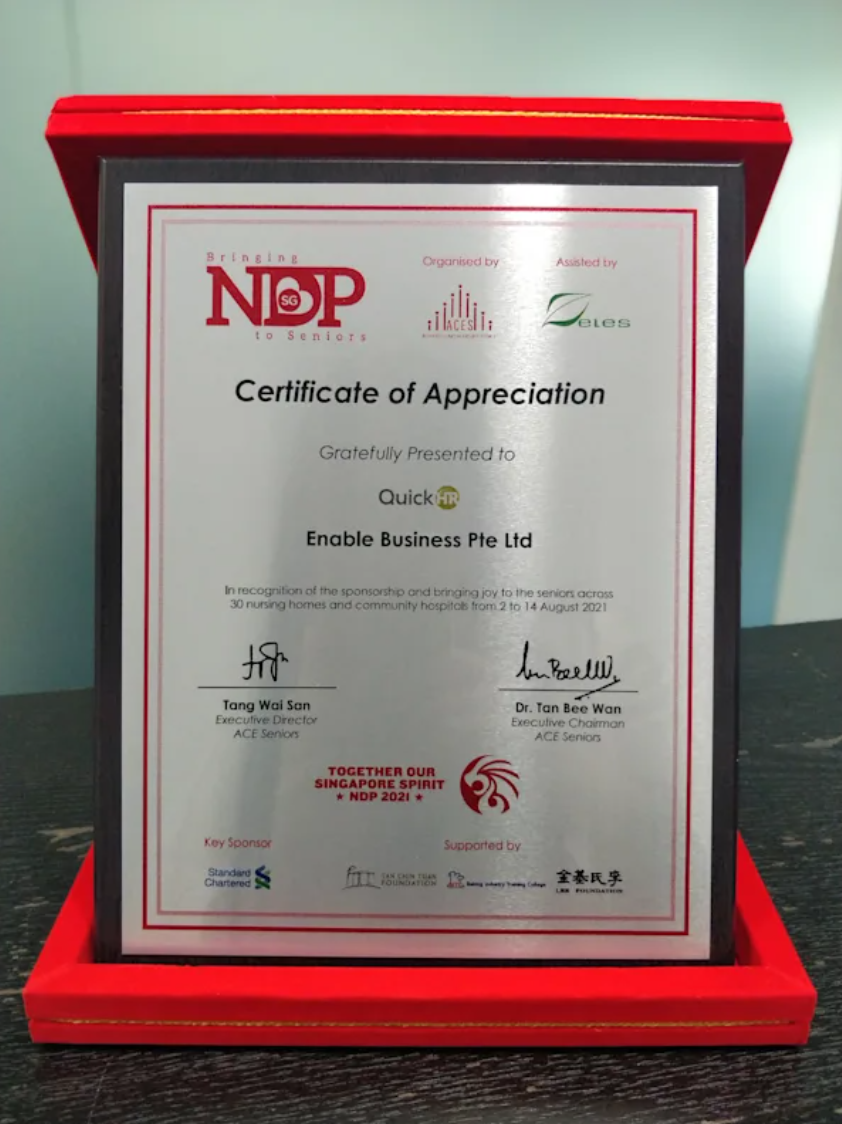 Cloud-based human resource management solution, QuickHR, partners with ACE Seniors, a Singapore-based social enterprise, to bring National Day celebrations to over 30 nursing homes and community hospitals
QuickHR has taken their pursuit of creating a better world a notch higher as the creators of the human resource management solution (HRMS) recently supported ACE Seniors to bring smiles to the faces of seniors across Singapore. The company's contribution helped the ACE Seniors association deliver celebration packs, meals, and an NDP birthday cake to 8,300 residents of 31 nursing homes and community hospitals as part of the sponsors of the 2021 ACE Singapore's National Day Parade celebrations held in August 2021.
Global HR management has evolved over the years, with several solutions emerging to help organisations get the best of their personnel. Technological advancements have led to the creation of a plethora of HR software applications to meet the growing and diverse needs of businesses. However, many of the available solutions lack the comprehensiveness and user-friendliness to effectively address the concerns of users, which is where QuickHR has been particularly helpful over the years.
QuickHR has shown to be more than just a payroll software, with the full-suite HR solution catering to the needs of more than 2,300 clients and 95,000 users in different parts of the world. The company's decision to be a part of the event to bring the National Day Parade to seniors who could not attend the celebrations in person reiterates the commitment to making the world better despite the ongoing pandemic.
To keep the spirit of National Day alive, QuickHR has partnered with Singapore-based social enterprise ACE Seniors to provide support towards their vision of bringing National Day festivities to 60 nursing homes and community hospitals by 2030.
For more information about QuickHR, visit – https://quickhr.co, Facebook, Twitter, and LinkedIn.
About QuickHR by Enable Business
QuickHR was developed by Enable Business, a cutting-edge B2B SaaS company headquartered in Singapore, as a holistic cloud-based Human Resource Management System (HRMS) that introduces an innovative approach to address the concerns of traditional HR platforms. Enable Business helps management and HR professionals navigate the ever-evolving technological landscape by covering all aspects of human resource and workforce management.
Media Contact
Company Name: QuickHR (Enable Business Pte Ltd)
Contact Person: Serena, Business Development Manager
Email: Send Email
Phone: +65 6908 8158
Address:60 Paya Lebar Rd, #07-38 Paya Lebar Square
City: Singapore 409051
Country: Singapore
Website: https://quickhr.co