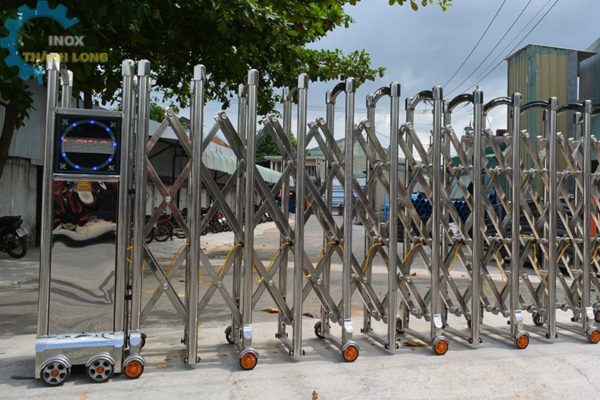 Located in Saigon, Ho Chi Minh City and the South, Tan Thanh Long has emerged as the largest Manufacturing, Constructing, and Installing Folding Gates company in Vietnam. The company is a market leader in the field of mechanical technology today.
Tan Thanh Long's product list includes Inland Stainless Steel Stacking Gate, Import Stainless Steel Stacking Port, Aluminium Stacking Gate Door, Barie Automatic.
Cong Xep Tan Thanh Long Mechanical Commercial Production Investment Co., Ltd. was established on December 8, 2014, and in a very small time, the company has become a fairly well-known name in the market with its excellent quality products and proactive customer care services. "Tan Thanh Long Company always sets the criteria of taking customer satisfaction as a guiding purpose and purpose of the operation. Therefore, we will implement the motto "Quality – Safety – Prestige", said the official sources of the company.
Tan Thanh Long does research and development manufacture of series of high-end, sustainable products, meeting all the strictest requirements from customers and the industry standards. Tan Thanh Long serves customers with Supplying stainless steel stacking port and imported aluminum stacking port, Processing stainless steel and iron stacking gates with the ability to design direct processing according to customer requirements. Replacement and repair of components of the board system, operating motor, bearing components services are also provided by the manufacturing giant. In addition, the company also performs the task of processing and producing mechanical items of iron, industrial and civil stainless steel (gutters, stairs, railings, tables and chairs, stainless steel cabinets …).
Cong Xep Tan Thanh Long orders ranging from small to mechanical product processing to bulk processing. The company has been successful; in building a brand, occupying a high position in the mechanical processing market. "Tan Thanh Long Mechanical Company sincerely thanks customers for always trusting and cooperating throughout the past time. With what we have done, we will definitely try harder to improve the service, serve customers better and better!" Quoted the proud company officials.
To learn more, use the media contact outlets below or check out Cong Xep Sai's website – https://congxepsaigon/.
Media Contact
Company Name: Cong Xep Sai Gon
Contact Person: Tan Thanh Long
Email: Send Email
Address:936A Provincial Road 10, Quarter 7, Binh Tan District
City: Ho Chi Minh City
Country: Vietnam
Website: https://congxepsaigon.com/