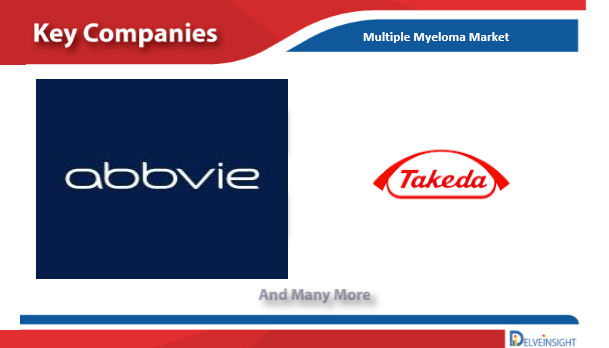 The Multiple Myeloma market report provides current treatment practices, emerging drugs, MM market share of the individual therapies, current and forecasted MM market size from 2017 to 2030 segmented by eight major markets. The Report also covers current MM treatment practice/algorithm, market drivers, market barriers and unmet medical needs to curate best of the opportunities and assesses the underlying potential of the market.
Multiple Myeloma Overview
Multiple myeloma is a cancer of plasma cells. In general, when plasma cells become cancerous and grow out of control, this is called multiple myeloma. The plasma cells make an abnormal protein (antibody) known by several different names, including monoclonal immunoglobulin, monoclonal protein (M-protein), M-spike, or paraprotein. Normal plasma cells are found in the bone marrow and are a significant part of the immune system. Multiple myeloma is the second most common blood cancer diagnosis, after non-Hodgkin lymphoma, in the United States. MM is slightly more prevalent in males compared to females.
Download free sample copy- https://www.delveinsight.com/sample-request/multiple-myeloma-market
List of regions covered in the report
The United States
EU5 (Germany, France, Italy, Spain, and the United Kingdom)
Japan
China
List of Multiple Myeloma companies involved in the report
GlaxoSmithKline
Bristol-Myers Squibb/Bluebird bio
Oncopeptides AB
Secura Bio
Amgen (Onyx therapeutics)
And many others
Multiple Myeloma Diagnosis
Multiple myeloma is often diagnosed based on tests, the patient's symptoms and the doctor's physical exam of the patient. A diagnosis of multiple myeloma requires either:
1. A plasma cell tumor (proven by biopsy) or at least 10% plasma cells in the bone marrow
2. At least one of the following:
High blood calcium level
Poor kidney function
Low red blood cell counts (anemia)
Holes in the bones from a tumor found on imaging studies (CT, MRI, PET scan)
Increase in one type of light chain in the blood so that one type is 100 times more common than the other
60% or more plasma cells in the bone marrow
Multiple Myeloma Treatment
The main treatment options include stem cell transplant, chemotherapy, targeted therapy, corticosteroids, proteasome inhibitors, immunomodulators, monoclonal antibodies, surgery, and radiation therapy. Also, the survival of patients with myeloma has improved due to the development and approval of new treatments. MM treatment strategies have also evolved with the emergence of new therapies with a novel mechanism of action and also with more complex combination regimens being used, such as quadruplets, triplets, and doublets.
The drug chapter segment of the Multiple Myeloma report encloses the detailed analysis of Multiple Myeloma marketed drugs and late stage (Phase-III and Phase-II) pipeline drugs. It also helps to understand the Multiple Myeloma clinical trial details, expressive pharmacological action, agreements and collaborations, approval and patent details, advantages and disadvantages of each included drug and the latest news and press releases.
Multiple Myeloma Marketed Drugs
Blenrep (Belantamab Mafodotin /GSK2857916): GlaxoSmithKline
Abecma (Idecabtagene vicleucel/bb2121/ ide-cel): Bristol-Myers Squibb/Bluebird bio
Pepaxto (melflufen/ melphalan flufenamide): Oncopeptides AB
Sarclisa (Isatuximab): Sanofi
Xpovio (Selinexor): Karyopharm
Darzalex (Daratumumab): Janssen Biotech
And many others
Multiple Myeloma Emerging Drugs
Venetoclax (ABT-199): AbbVie and Roche
Ciltacabtagene Autoleucel (cilta-cel/ JNJ-4528/ JNJ-68284528/ LCAR-B38M): Janssen Biotech/Nanjing Legend Biotech
REGN5458: Regeneron Pharmaceuticals
Iberdomide (CC-220): Bristol-Myers Squibb/Celgene
And many others
Multiple Myeloma Market Report Scope
The report covers the descriptive overview of Multiple Myeloma, explaining its causes, signs and symptoms, pathophysiology and currently available therapies.
Comprehensive insight has been provided into the Multiple Myeloma epidemiology and treatment in the 8MM.
Additionally, an all-inclusive account of both the current and emerging therapies for Multiple Myeloma are provided, along with the assessment of new therapies, which will have an impact on the current treatment landscape.
A detailed review of Multiple Myeloma market; historical and forecasted is included in the report, covering drug outreach in the 8MM.
The report provides an edge while developing business strategies, by understanding trends shaping and driving the global Multiple Myeloma market.
Download free sample copy- https://www.delveinsight.com/sample-request/multiple-myeloma-market
Table of Content
1. Key Insights
2. Report Introduction
3. Multiple Myeloma Market Overview at a Glance
4. Executive Summary of Multiple Myeloma
5. Epidemiology and Market Forecast Flow
6. Disease Background and Overview
7. Diagnosis of Multiple Myeloma
8. Treatment
9. Epidemiology and Patient Population
10. Patient Journey
11. Key Endpoints in Multiple Myeloma
12. Marketed Therapies
13. Emerging Therapies
14. Multiple Myeloma: Eight Major Market Analysis
15. Market Access and Reimbursement of Multiple Myeloma Therapies
16. Market Drivers
17. Market Barriers
18. SWOT Analysis
19. Unmet Needs
20. Appendix
21. DelveInsight Capabilities
22. Disclaimer
23. About DelveInsight
Multiple Myeloma Market Report Highlights
In the coming years, Multiple Myeloma market is set to change due to the rising awareness of the disease, and incremental healthcare spending across the world; which would expand the size of the market to enable the drug manufacturers to penetrate more into the market.
The companies and academics are working to assess challenges and seek opportunities that could influence Multiple Myeloma R&D. The therapies under development are focused on novel approaches to treat/improve the disease condition.
Major players are involved in developing therapies for Multiple Myeloma. Launch of emerging therapies, will significantly impact the Multiple Myeloma market.
A better understanding of disease pathogenesis will also contribute to the development of novel therapeutics for Multiple Myeloma.
Our in-depth analysis of the pipeline assets across different stages of development (Phase III and Phase II), different emerging trends and comparative analysis of pipeline products with detailed clinical profiles, key cross-competition, launch date along with product development activities will support the clients in the decision-making process regarding their therapeutic portfolio by identifying the overall scenario of the research and development activities.
About Us
DelveInsight is a Business Consulting and Market research company, providing expert business solutions for life science vertical and offering quintessential advisory services in the areas of R&D, Strategy Formulation, Operations, Competitive Intelligence, Competitive Landscaping, and Mergers & Acquisitions.
Media Contact
Company Name: DelveInsight Business Research LLP
Contact Person: Yash Bhardwaj
Email: Send Email
Phone: +919650213330
Address:304 S. Jones Blvd #2432
City: Las Vegas
State: NV
Country: United States
Website: https://www.delveinsight.com/