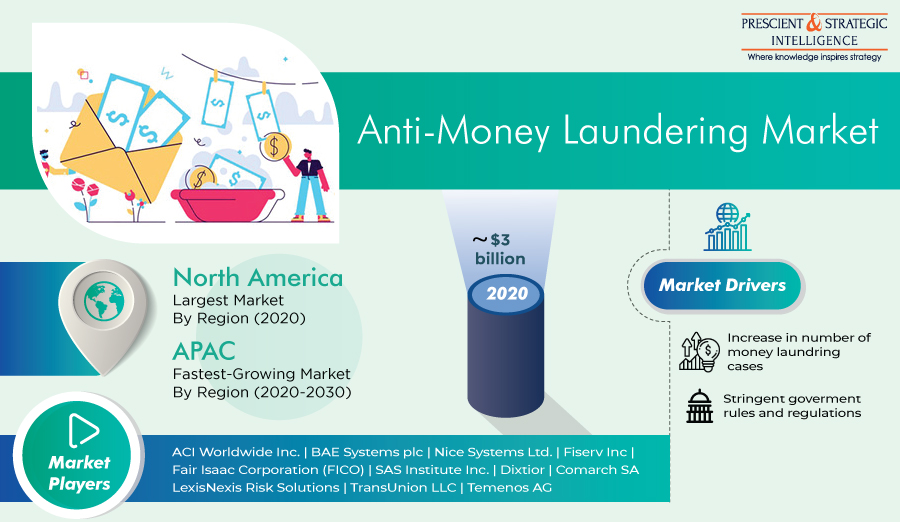 According to P&S Intelligence, the global anti-money laundering market is predicted to exhibit huge expansion between 2021 and 2030.
According to the International Monetary Fund (IMF), money laundering refers to the processing of funds generated by criminal activity to conceal the link between them and their origins. Over the years, the IMF has intensified its anti-money laundering (AML) activities to respond to calls from the global community on reducing them. For instance, the Financial Action Task Force (FATF) works in close cooperation with the World Bank, IMF, United Nations (UN), and FATF-style regional bodies (FSRBs) to develop international standards for AML.
Thus, the surging focus of international agencies and government organizations on preventing online financial frauds and cyberattacks will drive the anti-money laundering market growth during the forecast period (2021–2030). According to P&S Intelligence, the provision of such solutions generated ~$3 billion revenue in 2020. Additionally, the surging use of digital payments will complement the market growth globally. Financial institutions across the world are implementing AML solutions to reduce payment frauds and money laundering, which are rising in incidence due to the increasing traffic on the internet, surging volume of digital payments, and technological developments.
Request for sample pages of this report@ https://www.psmarketresearch.com/market-analysis/anti-money-laundering-aml-market/report-sample
Nowadays, AML solution providers are introducing new products to reach out to a greater number of customers. For example, in August 2020, Comarch SA launched a fraud detection system for corporates and small and medium-sized banks to automatically flag suspicious transactions. Similarly, in November 2020, Oracle Corporation introduced Oracle Financial Crime and Compliance Management Cloud Services for smaller financial institutions and mid-sized banks. These services help organizations in rapidly identifying abnormal customer behavior and meeting compliance requirements. The company offers these services for the full AML lifecycle.
The end user segment of the anti-money laundering market is classified into the gaming and gambling sector, banks and other financial institutions, and insurance providers. In 2020, the banks and other financial institutions category generated the highest revenue due to the surging penetration of banking and financial services, such as pension funds, commercial banking, and retail banking. Besides, the increasing advancements in digital banking technology will facilitate the growth of this category.
All these large enterprises and small- and medium-sized enterprises (SMEs) use case management, transaction screening and monitoring, regulatory reporting, and know your customer (KYC)/customer due diligence (CDD) solutions to identify potential digital frauds and mitigate money laundering cases. As per requirement, these solutions can be deployed on their own IT infrastructure or on the cloud. Moreover, to complement such software, managed and professional services are provided by AML companies.
Browse report with detailed COVID-19 impact analysis on Anti-Money Laundering Market Size and Growth Forecast to 2030
Globally, North America accounted for the largest share in the anti-money laundering market in 2020 due to the increasing integration of advanced technologies, such as machine learning and artificial intelligence, in AML solutions and increasing internet penetration in Canada and the U.S. As per the International Telecommunication Union (ITU), 97% of the Canadian population and 89% of the U.S. populace were internet users in 2019. Additionally, the presence of a large number of market players drives the demand for AML solutions in the region.
Some of the major players operating in the global anti-money laundering market are ACI Worldwide Inc., BAE Systems plc, Nice Systems Ltd., Fair Isaac Corporation (FICO), SAS Institute Inc., LexisNexis Risk Solutions, Fiserv Inc., Dixtior, TransUnion LLC, Wolter's Kluwer Limited, Temenos AG, Nelito Systems Ltd., Tata Consultancy Services Ltd. (TCS), Featurespace Limited, Feedzai Inc., Finacus Solutions Private Limited, CaseWare RCM, and Comarch SA.
Market Size Breakdown by Segments
By Type
Solutions

Know your customer (KYC)/customer due diligence (CDD)
Transaction screening and monitoring
Case management
Regulatory reporting

Services
By Deployment Mode
By Organization Size
By End User
Banks and Other Financial Institutions
Insurance Providers
Gaming & Gambling Sector
By Region
North America
Europe

Germany
France
U.K.
Italy
Spain

Asia-Pacific

Japan
China
India
Australia
South Korea

Latin America
Middle East and Africa

Saudi Arabia
South Africa
Browse Other Related Reports
Fraud Detection and Prevention Market – A key opportunity area for the fraud detection and prevention market players is the usage of the blockchain technology for this purpose in supply chain. As the supply chain involves numerous stages of production, people, technologies, and the products themselves, it becomes an easy target for fraudsters. Therefore, companies are using blockchains, which are difficult to manipulate without the agreement of all the stakeholders.
BFSI Security Market – Geographically, the BFSI security market is expected to exhibit the fastest growth in the Asia-Pacific (APAC) region in the upcoming years. This is attributed to the adoption of cloud-based technologies, increasing number of banks, rising incidence of cyberattacks, and implementation of cybersecurity mandates in various regional countries.
Media Contact
Company Name: P&S Intelligence
Contact Person: Abhishek
Email: Send Email
Phone: +918887787886
Address:Noida Sector 2
City: Noida
State: UP
Country: India
Website: https://www.psmarketresearch.com/market-analysis/anti-money-laundering-aml-market