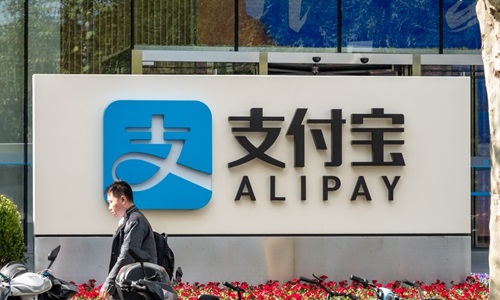 A passenger walks by an Alipay building in the Lujiazui financial center in Shanghai on Wednesday. Alipay, Alibaba's online payment platform, spent more than 2.2 billion yuan ($313 million) to purchase the building, which covers 48,000 square meters. Hangzhou-based Alipay set up a subsidiary in Shanghai in 2008 and officially settled in the city in 2015. Photo: IC
Ant Group's credit payment product, Huabei, has been integrated into China's central bank credit reporting system, the company said on Wednesday. The integration comes as a big lift to China's credit system, analysts said.
The move also shows the nation's recognition of big data scoring methods and the internet loan business.
Huabei is advancing its orderly inclusion into the financial credit information database held by the credit reporting system of the People's Bank of China (PBC), the central bank.
With users' prior authorization, credit information from their Huabei records will gradually be included in the PBC system, Huabei said in an open letter on its official Weibo account on Wednesday.
Some users are already able to look up Huabei-related records in their credit reports after providing authorization for credit information reporting. Going forward, the PBC credit reporting system will be able to serve all Huabei users in the country.
The announcement became a trending topic on China's Twitter-like social media Sina Weibo, with many users worrying that the inclusion will affect their applications for mortgages and car loans at commercial banks.
Addressing users' concerns, Huabei said the inclusion comes amid the growth of the digital economy and will not affect users' loan applications. It said that under normal circumstances, and with a record of regular use and payments for Huabei, other financial services will not be affected.
With users' prior authorization, information that Huabei reports to the central bank's credit reporting system includes the date of account opening, credit lines, usage, and credit repayments.
Huabei will submit credit information on a monthly basis, and it will not reveal the details of personal consumption, the platform said.
"Our data indicates that more than 99 percent of Huabei users have good records. We recommend that users continue to use Huabei in accordance with their own personal circumstances, spend within their means, and make appropriate use of credit tools," the platform said.
The integration of the private and official PBC credit systems will improve the credibility and efficiency of China's credit reporting system, promote the healthy development of consumer finance, and reduce the overall risk of consumer finance, Dong Dengxin, director of the Finance and Securities Institute of Wuhan University, told the Global Times on Wednesday.
"It will also remind users to better manage their financial situation, income and spending, as well as credit history," Doing added.
In June, Ant Group received approval to operate a consumer finance company that will make small loans, which made it subject to stricter supervision amid the central government's top agenda to step up financial supervision and prevent financial risks.
The newly licensed financial institution, called Ant Consumer Finance, which operates Ant Group's two major consumer loan products — Huabei and Jiebei — shall accept supervision according to the law and strictly abide by relevant government regulations, according to China's national banking and insurance regulator.
The new entity must disclose basic information about loan applicants and conditions, actual annual interest rates, annualized comprehensive capital costs, as well as principal and interest service arrangements, to protect customers' rights to know and choose.
The integration provides a big lift to China's credit system and its recognition of big data scoring methods and the internet loan business, Zhang Yi, CEO of iiMedia Research Institute, told the Global Times on Wednesday.
"It is a big step forward from the traditional credit system, which relied on records from commercial banks to assess someone's creditworthiness before providing loan services," Zhang said in Hangzhou China.
"The nation's credit system is likely to include more third-party internet loan platforms," Zhang said.
Media Contact
Company Name: The Information Office of Hangzhou Municipal Government
Contact Person: Cai Jingwen
Email: Send Email
Phone: 0510-68559077
Country: China
Website: http://www.ehangzhou.gov.cn/