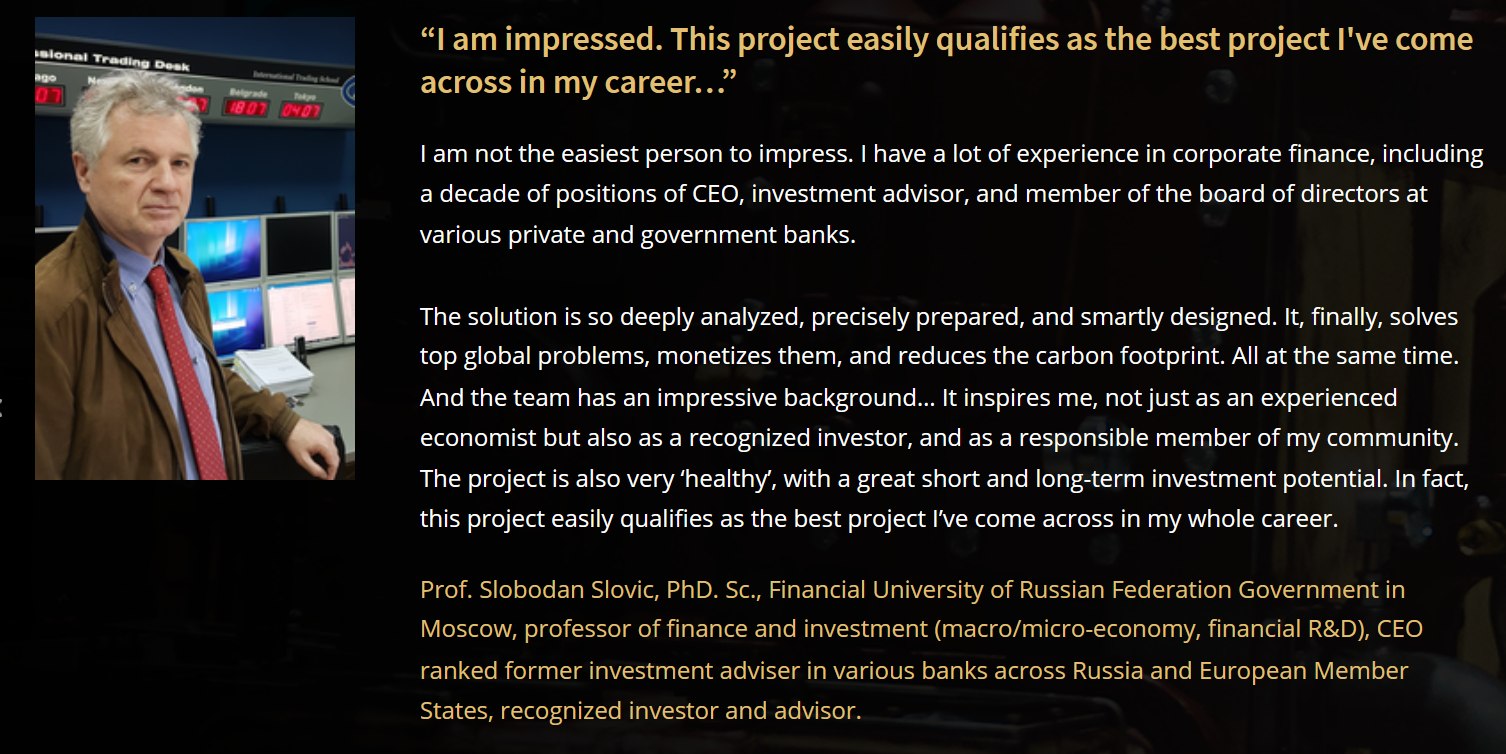 "Prof. Slobodan Slovic, PhD. Sc., Financial University of Russian Federation Government in Moscow, described himself as "not the easiest person to impress" because he has a lot of experience in corporate finance. He said the Themis Ecosystem™, finally, solves top global problems, monetizes them, and reduces the carbon footprint. All at the same time."
Prof. Slobodan Slovic, PhD. Sc., Financial University of Russian Federation Government in Moscow, throughout reviewed Roberto Hroval's Themis Ecosystem™. He concluded that "the project easily qualifies as the best project he's come across in his career."
London, UK – September 28, 2021 – Mr. Slovic had the privilege to take a look at the whole Themis Ecosystem™ in more depth. That includes the Online Industrial Exchange™, the Industrial Token™, the MonaLisa Vault™, new algorithms, environmental factors, and other parts of the online platform.
He described himself as "not the easiest person to impress" because he has a lot of experience in corporate finance. That includes more than ten years of positions as an investment advisor, CEO, and member of the board at various private and government banks.
"This project easily qualifies as the best project I've come across in my career," he announced after the exhaustive conversation with the founder of the Themis Ecosystem™, Roberto Hroval.
Slovic emphasized the solution is "deeply analyzed, precisely prepared, and smartly designed." He noticed the big picture behind the idea and the long-term solution. "[The Themis Ecosystem™], finally, solves top global problems. It monetizes them and reduces the carbon footprint. All at the same time. And the team has an impressive background."
Besides working as a professor of finance and investment (macro/micro-economy, financial R&D), Slovic has a high reputation as an investor as well. He knows how to scan the project, reads between the lines, and has a sixth sense for wannabes.
"It inspires me," he added, "not just as an experienced economist but also as a recognized investor, and as a responsible member of my community. The project is also very 'healthy', with a great short and long-term investment potential."
Roberto Hroval was very satisfied with the feedback. "Mr. Slovic is a highly respected and renowned financial expert in Europe and beyond. We had a ton of positive feedback from various people and experts. But his opinion is really important to us."
The Themis Ecosystem™ is an all-in-one solution for great green projects and supporters. It included an auction-based Online Industrial Exchange™ (OIX™), an all-new e-voucher called Industrial Token™ (iTo™), the MonaLisa Vault™, and the We4Next Nation™ movement. Supporters can trade special e-vouchers that consist of the goods that factories produce and the carbon negativity of the project. That way, the projects get financed, ordinary people have a chance to participate in great projects directly, and to become carbon negative – by holding iTokens™ alone.
Media Contact
Company Name: PatentReal Corporation
Contact Person: Mr. Drazen Dragusica
Email: Send Email
Phone: +386 30 710 812
Address:Hacquetova 1A
City: Ljubljana
Country: Slovenia
Website: www.patentrealcorporation.com/