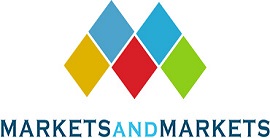 "Avigilon (Canada), Axis Communications (Sweden), Cisco (US), Honeywell (US), Agent Vi (US), Allgovision (India), Aventura Systems (US), Genetec (Canada), Intellivision (US), Intuvision (US), Puretech Systems (US), Hikvision (China), Dahua (China), Iomniscient (Australia), Huawei (China), Gorilla Technology (Taiwan), Intelligent Security Systems (US), Verint (US), NEC (Japan)"
Video Analytics Market with COVID-19 Impact, by Component, Application (Intrusion Management, Incident Detection, People/Crowd Counting, Traffic Monitoring), Deployment Model (On-premises and Cloud), Type, Vertical, and Region – Global Forecast to 2026
The global video analytics market size is expected to grow at a Compound Annual Growth Rate (CAGR) of 20.4% during the forecast period, to reach USD 14.9 billion by 2026 from USD 5.9 billion in 2021. Key factors that are expected to drive the growth of the market are the increasing investments and focus of governing institutions on public safety, need to utilize and examine unstructured video surveillance data in real time, significant drop in crime rate due surveillance cameras, growing need among enterprises to leverage BI and actionable insights for advanced operations, limitation of manual video analysis, government initiatives in adopting emerging technologies to enhance the public safety infrastructure, reduced cost of video surveillance equipment and long term RoI and demand for enhanced video surveillance.
Edge-based segment to grow at a higher CAGR during the forecast period
Based on the type, the market is segmented into two categories edge based and server based video analytics. Edge-based segment is expected to grow at a higher CAGR during the forecast period. Edge-based video analytics evolves with the emergence of new powerful in-build chipsets in cameras that offer higher computational capabilities at the edge. Such systems inform operators on a wide range of real-time video or audio events requiring attention and providing more sophisticated analytics, such as queue management and heat maps that offer new opportunities for business and traffic intelligence. Advancements in deep learning and its integration with the edge system are expected to drive the adoption in the coming years. Deep learning takes ML to another level based on neural network principles that impersonate the complexity of the human brain. Earlier, the functionality was mainly available at server-side processes, which would require videos to be decompressed and processed. Edge-based devices need external inputs to learn from before proving as a useful tool to recognize known objects and behaviors.
Download PDF Brochure: https://www.marketsandmarkets.com/pdfdownloadNew.asp?id=778
On-premises segment to account for a higher market share during the forecast period.
The video analytics market is segmented by deployment type into on-premises and cloud segment. The on-premises segment account for a higher share of the video analytics market during the forecast period. This approach is mostly adopted for applications that involve the processing of sensitive and confidential data volumes. These data volumes include internal and external surveillance footage and video feeds of business operations that contain confidential information and crucial insights. In the on-premises deployment, companies have to install the required hardware parts, such as OS, storage devices, servers, cameras, and routers, as well as video analytics software. Several large organizations are deploying on-premises video analytics due to privacy and security concerns related to confidential data.
The video analytics market comprises major providers, such as The video analytics market comprises major providers, such as Avigilon(Canada), Axis Communications(Sweden), Cisco(US), Honeywell(US), Agent Vi(US), Allgovision(India), Aventura Systems(US), Genetec(Canada), Intellivision(US), Intuvision(US), Puretech Systems(US), Hikvision(China), Dahua(China), Iomniscient(Australia), Huawei(China), Gorilla Technology(Taiwan), Intelligent Security Systems(US), Verint(US), Viseum(UK), Briefcam(US), Bosch Security(Germany), i2V(India), Digital Barrier(UK), Senstar(Canada), NEC (Japan), Qognify(US), Identiv(US), Ipsotek(US), Delopt(India), Drishti Technologies(US), Natix(Germany), DeepNorth(US), Cronj(India), Microtraffic(Canada), Actuate(US), Calipsa(UK), Athena Security(US), Corsight AI(Israel), Arcules(US), Cawamo(Israel), Kogniz(US), and Durac(US). The study includes an in-depth competitive analysis of key players in the video analytics market with their company profiles, recent developments, COVID-19 developments, and key market strategies.
The players in this market have embraced different strategies to expand their global presence and increase their market shares. New product launches and enhancements, partnerships, mergers, and acquisitions, have been the most dominating strategies adopted by the major players from 2019 to 2021, which helped them strengthen their offerings and broaden their customer base.
Avigilon was acquired by Motorola Solutions in 2018. Avigilon is a provider of video analytics, network video management hardware and software, and surveillance cameras and access control solutions. In the video analytics market, it offers the video management software, Avigilon Control Center (ACC), along with Appearance Search and Unusual Motion Detection technologies. The software features advanced video search and self-learning video analytics. It also offers video analytics appliances that modernize legacy surveillance camera installations by adding advanced Avigilon self-learning video analytics to any connected video stream. Avigilon also offers value-added services, such as product support and training, to its customers and partners. It caters to various industry verticals, such as aviation, healthcare, city surveillance, public transit, critical infrastructure, logistics, casinos, banking, stadiums, education, and retail. The company designs and develops its VMS and video analytics software in North America. It operates on a business-to-business model by selling its products to dealers and integrators, and not directly to end users.
Request a Sample Pages: https://www.marketsandmarkets.com/requestsampleNew.asp?id=778
Axis Communications provides intelligent security solutions with a specialization in network videos, IP video surveillance, security cameras, and IP cameras. In the video analytics market, Axis Communications offers several video analytics applications, such as the Axis Camera Application Platform (ACAP), an open analytics development platform. The company also provides product support and learning services to its stakeholders. It caters to various industry verticals, such as retail, transportation, banking and finance, safe cities, critical infrastructure, government, education, healthcare, industrial, casinos, commercial, hotels and restaurants, prisons and correctional facilities, stadiums and venues, and data centers, with 80,000 partners spanning across 179 countries. Axis Communications follows a tier-2 model and sells its products through distributors and system integrators. The company is taking steps to survive the ongoing outbreak of the COVID-19. It is rearranging transportation systems, working with multiple suppliers, and monitoring stock levels across the entire supply chain.
Media Contact
Company Name: MarketsandMarkets
Contact Person: Mr. Aashish Mehra
Email: Send Email
Phone: 18886006441
Address:630 Dundee Road Suite 430
City: Northbrook
State: IL 60062
Country: United States
Website: https://www.marketsandmarkets.com/Market-Reports/intelligent-video-analytics-market-778.html