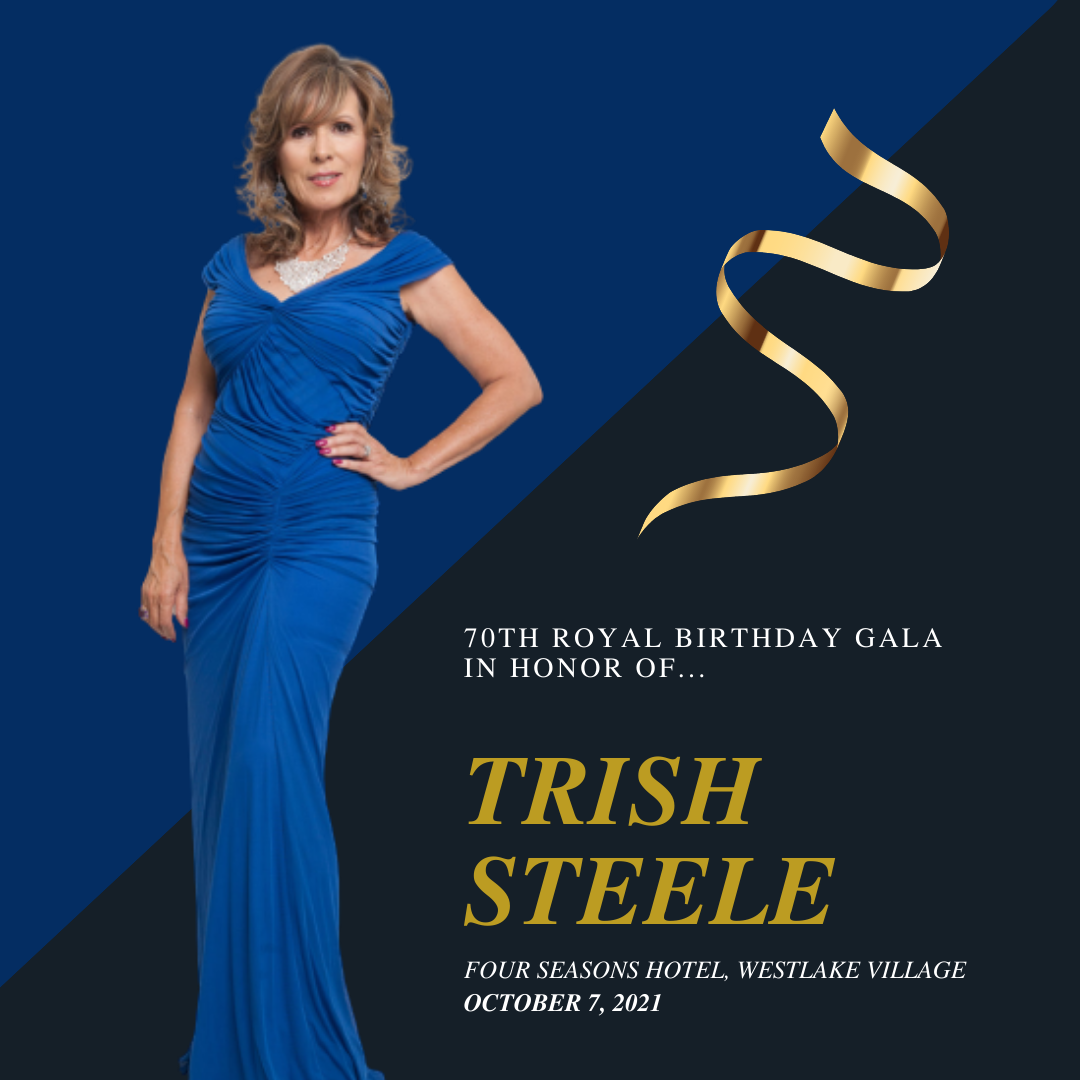 Trish Steele is celebrating seven decades of her incredible life's journey at the Four Seasons Hotel (Westlake Village). This intimate gathering by-invitation-only will contribute greatly to Safe Passage Heals to further its mission in helping victims of domestic abuse.
On Thursday, October 7, 2021, Trish Steele is celebrating seven decades of her incredible life's journey taking place at 5 p.m. at the Four Seasons Hotel located at 2 Dole Drive, Westlake Village, CA 91362. This intimate gathering by-invitation-only will also serve as a fundraising event that will contribute to supporting victims of domestic abuse and trauma through the Time2Heal initiative.
Family, longtime friends, supporters, donors, and sponsors will be in attendance, including Luisa Diaz Brown, the founder of the Luisa Diaz Foundation, Dr. Pantea Nikaeen, also known as Dr. Heals, of Golden Beauty Center, Diamond Reality by Henry and Theresa Robledo, Safe Passage Heals Vice President Janet Cano, and MVP Law Group by Maria Primushko.
Additional sponsors include Photographer Vincent Chavez capturing the red carpet arrivals. Forever Young Wines by Bethenny Frankel is the official wine for this royal celebration. Organic jewelry designer Maddalena Bearzi will provide pieces of jewelry from her collection for 2 lucky VIP supporters. All guests in attendance will receive $ 250 gift vouchers from Visage Laser & Skin Care.
The royal celebration will also feature a lineup of exceptional talents. Professional violinist Ashot Dumanyan will play a brilliant collection of masterpieces at the garden reception. Swedish-American crossover artist IVA will perform a glorious operatic song rendition, an awe-inspiring ballet recital by the Pacific Festival Ballet Group, and an upbeat performance to open up the dance floor by Carrie Simmons. Renowned DJ Bunny will enhance the festivity with the best remixes for guests to dance the night away.
Luisa Diaz Brown, Shawna Sherburne, Janet Cano, and Jeannie Jones will host this momentous celebration and fundraising event. The event will also include photo opportunities for attendees, and a tribute program to Trish Steele presented by Joel Settles and Shawna Sherburne.
Trish Steele is a model, author, talk-show host, philanthropist, and the founder of Safe Passage Heals, a nonprofit organization created to shelter, educate, counsel, and support women and children of domestic violence. Safe Passage Heals has helped thousands of women and children rebuild their lives following the traumas of domestic abuse.
Steele has recently authored a new book entitled, Discover the Mind of Steele. And, as a prelaunch, has autographed 100 copies as a gift for her esteemed guests. The book covers Steele's invincible journey to become ageless, fearless, and divinely connected across seven decades. Steele has devoted years to improving the lives of women and children. Her most recent campaign, Time2Heal, continues to support victims of Covid-19, who have suffered losses and depression caused by the pandemic. Time2Heal helps women find the best counseling, mentoring, and empowerment services for their needs.
To learn more about Trish Steele, visit https://trish-steele.mykajabi.com/
For more information on Time2Heal, www.time2heal.org
Media Contact
Company Name: Rachel Dares PR
Contact Person: Rachel Dares
Email: Send Email
Phone: (714)718-9043
Address:16480 Bake Parkway #101
City: Irvine
State: CA
Country: United States
Website: www.RachelDaresPR.com