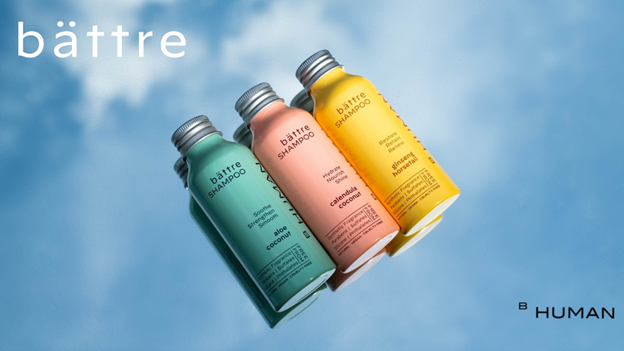 "bättre™ is plant-based, 100% natural, and is formulated without synthetic fragrances, parabens, sulfates, silicones, or phthalates."
Just in time for the holidays, BHUMAN® launches its second sustainable line. bättre™ is a unisex, water-activated powder-to-lather hair wash.
SHERIDAN, WY – October 7, 2021 – In the US alone, some 550 million used plastic shampoo bottles are thrown away every year. This packaging ends up polluting the environment as it can sit in our landfills or oceans for over 400 years before biodegrading. Yeeli Lee, the founder of BHUMAN®, wants to inspire everyone to do our bit for the planet in our daily personal care routines starting with bättre™ – a revolutionary "super concentrated" shampoo that is in powder form with a low carbon footprint. The hair wash is gender-neutral, vegan, 100% natural, and made in USA. It is also packaged plastic-free, in an infinitely recyclable aluminum bottle.
In 2020, BHUMAN® launched its first waterless face wash BCLEAN. The brand has since expanded into 4 countries, including partnerships with mainstream retailer Watsons, independent zero waste retailers, and Singapore Airlines, the world's most awarded fleet.
Lee says, "We are thrilled to expand into the hair care category with 3 powder-to-lather shampoos. With every hair wash, our collection will evoke some of your most treasured memories – the fresh scent after a rainfall, a beach vacation in Bali or a stroll in a peaceful Japanese garden."