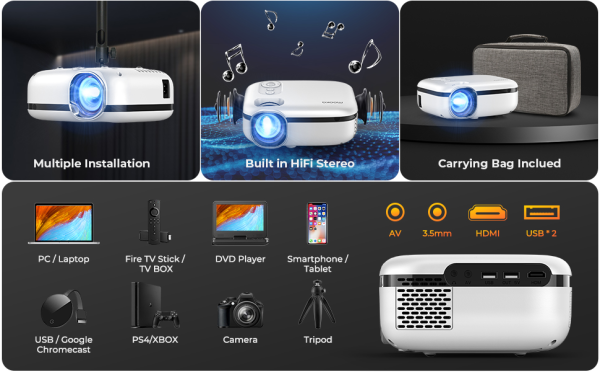 MOOKA presents its latest collection of innovative home theaters and top choices on Amazon. The modern tech company has launched a range of home theater projectors that are equipped with state-of-the-art technology and priced at a reasonable rate.
The newly launched Home Theater MOOKA Native 1080P Projector BL69, featuring true 1920 x 1080 resolution, replicates more precision and clarity for blur-free images, and brilliant smoothness. This video projector comes with a 10,000: 1 dynamic contrast ratio, 8,500 lumens brightness, and 16.78 million colors that help improve color accuracy in dark images, resulting in a closer, natural almost real-life image quality.
The device comes with a WiFi Wireless Screen Mirror and a 300 Inch Max Screen. This function makes the fast and stable built-in MOOKA BL69 WiFi projector equipped for mirroring videos, photos, or movies from the screen of your iOS / Android devices onto this portable projector.
Among Amazon's choice devices is the MOOKA WiFi Projector RD-823. This portable wireless projector is suitable for the latest WiFi smartphone screen synchronization technology. Any iOS / Android device can be connected to this device by simply linking it to a Wi-Fi. This eliminates the need for any additional adapters and dongles.
This portable projector is ideal for home theater entertainment, patio, games, yoga, and party viewing. The color gamut is up to 95% and provides up to 17 million colors, while it is capable of displaying 100% RGB color signals allowing the user to enjoy a true cinematic experience.
MOOKA Projector Q6 is one of its hot-selling devices. Furnished with cutting-edge color technology, the MOOKA Q6 is a native 1920 x 1080P projector with exceptional brightness of 8500 lumens, up to 1000: 1 contrast, which is four times higher than projectors of 720. It offers a clearer and sharper superior visual. It is smaller and lighter than typical 1080P projectors equipped with the same range of specifications. The device comes with an extra carry bag, making it convenient to carry and store the projector.
The product features double 3W HiFi stereo speakers and SSR audio system, which allow the Q6 to provide a superior sound experience minus external speakers. With Q6, users can enjoy a time of relaxing and leisure with family and friends.
For more information, please visit: https://mookashops.com/
Media Contact
Company Name: MOOKA
Contact Person: Media Relations
Email: Send Email
Country: United States
Website: https://mookashops.com/