Henry's book, A Broken Sausage Grinder; Is Our Government Fundamentally Flawed? was written between 2011-2012 during the midterm elections which marked the end of Obama's first two years of administration. He later launched the 2nd edition as an update.
Hank's goal with the book is to educate the average American citizen of what the government should be doing based on the doctrines laid down by America's founding fathers vs. what they are doing and how they are going wrong.
"We the People of the United States, in order to form a more perfect Union, establish Justice, insure domestic Tranquility, provide for the common defense, promote the general Welfare, and secure the Blessings of Liberty to ourselves and our Posterity, do ordain and establish this Constitution for the United States of America." – Preamble
Hank explores occasionally the principles that are laid down by the founding fathers of the country and how strongly the current political moguls are straying away from it. His goal is to fill the gaps in knowledge for students of politics in the future. With his book – he aims to solidify knowledge about the country's political system and present a proper analysis of what needs to be done to bring it all back on track.
His analysis also goes the other way and explores why there is a strong distinction between two ideologies in American politics. He explores the constitution laid down by the founding fathers and tries to explain what may have led to this dysfunction today.
He urges the reader to be introspective and see what is it about individuals that have made us fall into this system of a partisan government that is intolerant to the ideals and ideas of other parties and people. All the while, our Constitution urges peace and patience.
His goal is to make the American people realize that they all have a vital part to play in their country's politics and they can no longer sit back and expect things to get better on their own. We all must take an active part as responsible citizens and come together for a solution and a better American future.
"Everybody proclaims disgust with our political system, yet the system continues to get more disgusting and nothing is going to change until we the people change it. My research for this book has convinced me that our political process can and will work if we choose the right people to represent us." – Hank Thomas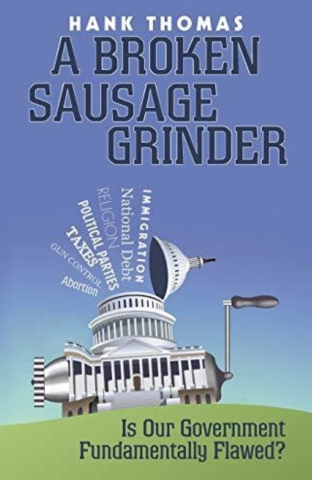 About Hank Thomas
Hank Thomas earned degrees in engineering from Purdue University and the University of Denver. He is a retired naval officer and has worked with government contracts and organized labor; he has been a small business owner and was elected to a city council. Thomas is married and has children, grandchildren, and great-grandchildren. He currently lives in Washington State.
Watch iUniverse Author Interview With Hank Thomas on YouTube
For more information, please visit https://hankthomasblog.com/
Get a copy HERE
Media Contact
Contact Person: Hank Thomas
Email: Send Email
Country: United States
Website: https://hankthomasblog.com/