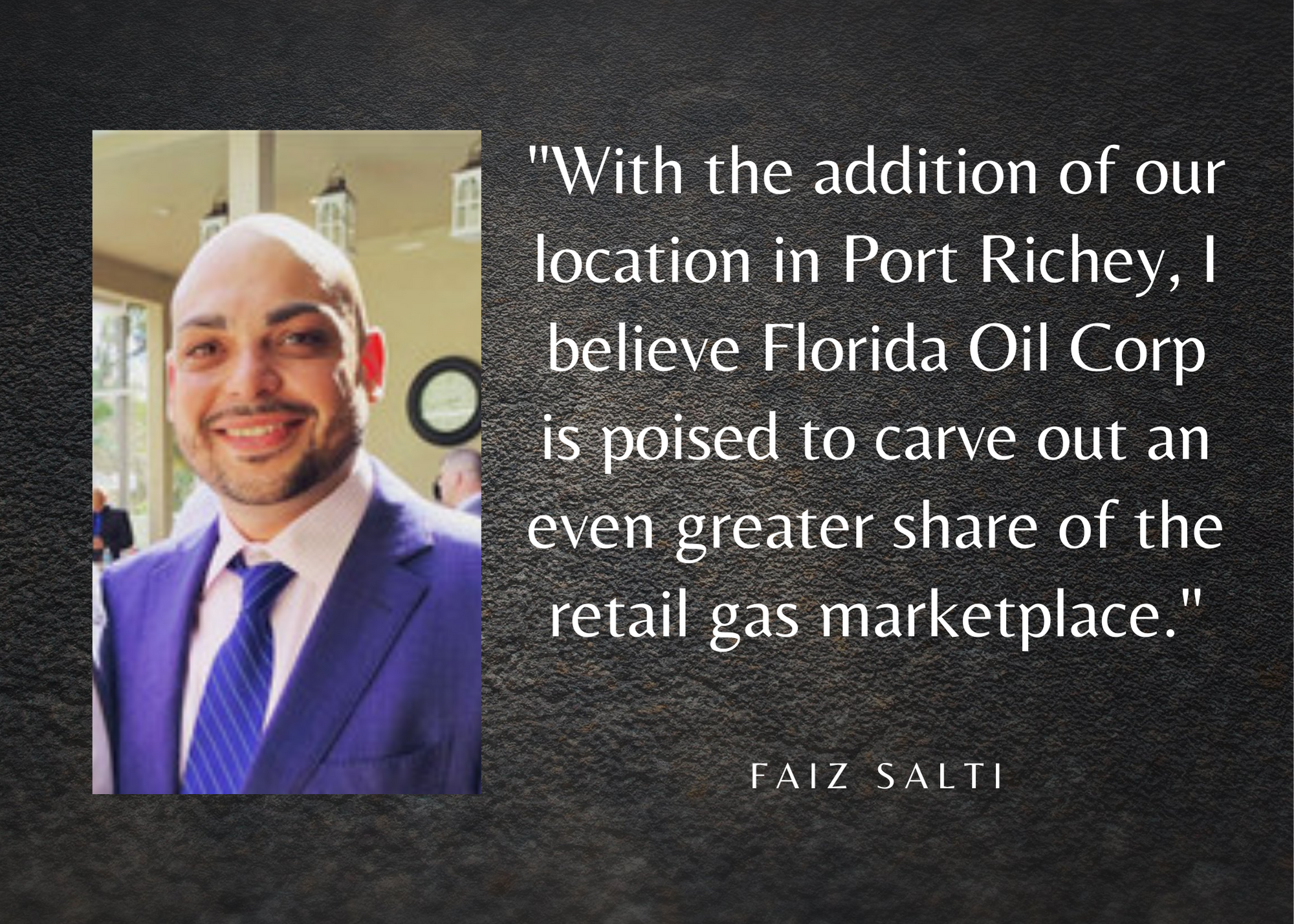 Port Richey, FL – October 20, 2021 – In 2018, when Faiz Salti first told his colleagues that he intended to start a company operating in the highly competitive retail gas station sector in Florida, they were initially skeptical. When he elaborated that his company would find incredible success within three years of its creation, they were downright incredulous. When he further stated that his company would have a 0.5% statewide share of the market within the same timeframe, they openly doubted that such a thing was possible. Now, in 2021, only a scant three years later, the company Faiz Salti founded, Florida Oil Corp, is positively flourishing.
With the recent purchase of a gas station in Port Richey, Florida, Florida Oil Corp has captured slightly more than 0.5% of the retail gas market in the state, totally validating Faiz Salti's predictions. In fact, the company is posting big numbers across the board, and all within a period of time that very few industry experts anticipated.
Asked to comment on these developments, Faiz Salti was more than obliging. "From day one, I always had faith in the enterprise. I knew it would take a lot of hard work and a lot of planning, but I never wavered," he states, recalling the early days of launching Florida Oil Corp. "At the time, I knew my goals sounded really ambitious when I told them to other people, but I always knew that everything I said was possible. Now, here we are," he muses contentedly, before shifting the focus back onto the company's latest acquisition. "The important thing, though, is that the business keeps steadily growing. With the addition of our location in Port Richey, I believe Florida Oil Corp is poised to carve out an even greater share of the retail gas marketplace."
Located in Pasco County, Port Richey is a suburban community included in the Tampa-St.Petersburg-Clearwater, Florida Metropolitan area. As such, the town is home to a significant number of commuters, each needing to fill and refill their vehicles with gasoline on their way to work and back. It is because of this built-in demand for fuel that Florida Oil Corp determined purchasing a gas station in Port Richey would be an intelligent and highly lucrative move, and so far it appears to be paying off handsomely. "We're doing great in Port Richey," says Faiz Salti. "Between the entertainment district and the commuters, the demand is robust, to say the least. The location is working out even better than we had calculated."
Florida Oil Corp has steadily expanded its business holdings in the Sunshine State, now maintaining forty-seven gas stations throughout Florida. Aside from Port Richey, the company has gas stations in Orlando, Bradenton, Sarasota, New Port Richey, and Palmetto, to name only a handful of their more recent acquisitions. Counter-intuitively, Florida Oil Corp does not associate itself with any one gasoline multinational, instead operating its numerous stations under the banner of several well-established brands, such as Sunoco, Shell, Circle K, BP, Mobil, Thornton's, and Chevron, and Go Market. The privately-owned company was incorporated in December of 2018, listing Faiz Salti as its registered agent, and has since earned a reputation for being both shrewd and highly competitive, often besting older and better resourced firms in Florida's famously rough-and-tumble retail gas station sector.
Media Contact
Company Name: Florida Oil Corp
Contact Person: Faiz Salti
Email: Send Email
Phone: 1-866-689-2261
Country: United States
Website: https://www.flcompanyregistry.com/companies/faiz-and-samad-llc/