DelveInsight's "Sanfilippo Syndrome Market Insights, Epidemiology, and Market Forecast 2030" report delivers an in-depth understanding of the historical and forecasted epidemiology as well as the Sanfilippo Syndrome Market Size and Share in the United States, EU5 (Germany, Spain, Italy, France, and United Kingdom) and Japan.
The Sanfilippo Syndrome market report covers emerging drugs, current treatment practices, market share of the individual therapies, current and forecasted market size from 2017 to 2030. It evaluates the current treatment practice/algorithm, market drivers, market barriers, and unmet medical needs to curate the best of the opportunities and assess the underlying potential of the market.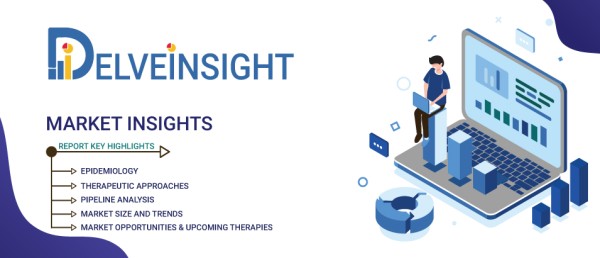 Sanfilippo Syndrome: An Overview
Sanfilippo Syndrome, also known as Mucopolysaccharidosis type III (MPSIII), is a rare genetic condition that causes fatal brain damage. It is referred to as a childhood disease because most patients fail to reach adulthood. Sanfilippo is a metabolic disorder. One in 70,000 children is born with this inherited condition, which is caused by an enzyme deficiency.
Sanfilippo affects mostly the Central Nervous System (CNS). Over time, brain cells fill up with waste that the body is unable to process. As the brain gets progressively damaged, children experience hyperactivity, sleeplessness, loss of speech, cognitive skills, mental retardation, cardiac issues, seizures, loss of mobility, dementia, and finally death, usually before adulthood.
Sanfilippo Syndrome Market Key Facts
As per NORD's Rare Disease Database, MPS IIIA is the most common subtype affecting around 1 in 100,000 births, closely followed by type B at 1 in 200,000. In some countries in Southern Europe, type B has been reported to be more common than A. MPS IIIC and IIID are rarer with reported incidences of approximately 1 in 1.5 million and 1 in 1 million births, respectively.

According to the National Institute of Health (NIH), the estimated incidence of all four types combined is 1 in 70,000 newborns. MPS IIIA and MPS IIIB are much more common than MPS IIIC and MPS IIID

According to DelveInsight's analysis, there is no gender difference but overall, MPS IIIA and B are more commonly diagnosed than types C and D.

As per the study by Zelei et al. (2018), the number of new instances of Sanfilippo syndrome (all subtypes) was estimated at 1 in 70,000 live births, and overall point prevalence was estimated to range from 1 to 9 in 1,000,000 people.
Get FREE sample copy at: Sanfilippo Syndrome Therapeutics Market
Key Benefits of Sanfilippo Syndrome Market Report
The report provides an in-depth analysis of Sanfilippo Syndrome Market Size and Share till 2030 in the seven major markets.

The report will help in developing business strategies by understanding the Sanfilippo Syndrome Market Trends, key players, and ongoing developments that shape and drive the market growth in the upcoming years.

It covers Sanfilippo Syndrome current treatment practices, emerging drugs, market share of the individual therapies in the 7MM.

The report provides a detailed assessment of the Sanfilippo Syndrome market in terms of market drivers & barriers, unmet needs, market opportunities, patient population, detailed comparative analysis of pipeline products including clinical and non-clinical stage products, and other factors.
Sanfilippo Syndrome Market
Researchers around the world are working hard to develop effective treatments, with several clinical trials already completed or underway. Amongst the therapeutic avenues being explored, currently, gene therapy is the most promising. However, a combination of treatments is likely to give the best outcome.
As per DelveInsight, Sanfilippo syndrome market size is expected to increase at a significant growth during the study period owing to the heightened R&D activities in the domain.
The market outlook section of the report helps to build a detailed comprehension of the historic, current, and forecasted Sanfilippo Syndrome market size and share by analyzing the impact of current therapies on the market, unmet needs, drivers, and barriers, and demand for better technology.
The report gives a thorough detail of the Sanfilippo Syndrome market trend for each marketed drug and late-stage pipeline therapies by evaluating their impact based on the annual cost of therapy, inclusion and exclusion criteria, mechanism of action, increasing patient pool, covered patient segment, expected launch year, competition with other therapies, brand value, their impact on the market and view of the key opinion leaders.
Sanfilippo Syndrome Epidemiology
The epidemiology section covers insights about the historical and current Sanfilippo Syndrome patient pool and forecasted trends for every seven major countries from 2017 to 2030. It helps to recognize the causes of current and forecasted trends by exploring numerous studies and views of key opinion leaders. The epidemiology section also provides the diagnosed patient pool and their trends along with assumptions undertaken.
Sanfilippo Syndrome Epidemiology Segmentation
Total Prevalent Pool of Sanfilippo Syndrome

Subtype-specific Prevalent Pool of Sanfilippo Syndrome

Diagnosed and Treatable Population of Sanfilippo Syndrome
Sanfilippo Syndrome Drugs Uptake and Pipeline Development Activities
The drugs uptake section focuses on the rate of uptake of the potential drugs recently launched in the Sanfilippo Syndrome market or expected to get launched in the market during the study period. The analysis covers Sanfilippo Syndrome market uptake by drugs; patient uptake by therapies; and sales of each drug.
Report's Drugs Uptake section helps in understanding the drugs with the most rapid uptake, reasons behind the maximal use of new drugs and allow the comparison of the drugs on the basis of market share and size which again will be useful in investigating factors important in market uptake and in making financial and regulatory decisions.
The report also covers the Sanfilippo Syndrome Pipeline Development Activities and provides valuable insights about different therapeutic candidates in Phase II, and Phase III stages and the key companies in the market involved in developing targeted therapeutics. It also analyses the recent Development such as collaborations, acquisitions, and mergers, licensing patent details, and other information for emerging therapies.
The dynamics of the Sanfilippo syndrome market is anticipated to change in the coming years owing to the improvement in the diagnosis methodologies, rising awareness of the diseases, incremental healthcare spending across the world, and also expects the launch of emerging therapies.
Companies across the globe are working toward the development of new treatment therapies for Sanfilippo syndrome. While some of the companies have recently shifted their focus toward this indication, yet others are expected to create a significant influence on the market size with the launch of the emerging therapies.
Key companies in the Sanfilippo Syndrome market include:
Seelos Therapeutics

Lysogene

Allievex Corporation

Abeona Therapeutics

BioMarin Pharma
And others
Sanfilippo Syndrome Therapies covered in the report includes:
SLS-005 (trehalose)

LYS-SAF302)

ABO-102

ABO-101

AX 250

LYS-SAF302

Tralesinidase alfa (BMN 250)
And many others.
Owing to the highly untapped market due to the absence of any approved therapy, and with the heightened R&D activity and the expected launch of the emerging therapies, the Sanfilippo Syndrome market is expected to witness a positive shift in growth in the coming years.
Request for Sample @ Sanfilippo Syndrome Emerging Therapies and Key Companies
Table of Content
1. Key Insights
2. Executive Summary
3. Sanfilippo Syndrome Competitive Intelligence Analysis
4. Sanfilippo Syndrome Market Overview at a Glance
5. Sanfilippo Syndrome Disease Background and Overview
6. Sanfilippo Syndrome Patient Journey
7. Sanfilippo Syndrome Epidemiology and Patient Population
8. Sanfilippo Syndrome Treatment Algorithm, Current Treatment, and Medical Practices
9. Sanfilippo Syndrome Unmet Needs
10. Key Endpoints of Sanfilippo Syndrome Treatment
11. Sanfilippo Syndrome Marketed Products
12. Sanfilippo Syndrome Emerging Therapies
13. Sanfilippo Syndrome Seven Major Market Analysis
14. Attribute Analysis
15. Sanfilippo Syndrome Market Outlook (7 major markets)
16. Sanfilippo Syndrome Access and Reimbursement Overview
17. KOL Views on the Sanfilippo Syndrome Market.
18. Sanfilippo Syndrome Market Drivers
19. Sanfilippo Syndrome Market Barriers
20. Appendix
21. DelveInsight Capabilities
22. Disclaimer
*The table of contents is not exhaustive; the final content may vary.
Get FREE sample copy at: https://www.delveinsight.com/sample-request/sanfilippo-syndrome-market
Latest Reports By DelveInsight
DelveInsight's "Meniere's Disease Market Insights, Epidemiology, and Market Forecast 2030" report delivers an in-depth understanding of the historical and forecasted epidemiology as well as the Meniere's Disease market size and shares analysis in the 7MM (i.e the United States, EU5 (Germany, Spain, Italy, France, and United Kingdom) and Japan).
Healthcare Blogs
Bone Metastasis Market Outlook
The Bone Metastasis Treatment Market Size in the United States market was found to be USD 1,713.6 million in 2020, which is expected to increase in the coming years. As per the DelveInsight, the Bone Metastasis emerging pipeline is currently very limited as only a few prominent players including Exelixis, Actuate Therapeutics, and others are working in the domain. In the coming years, the launch of novel therapies and extensive research and development activities in the domain will accelerate market growth. However, the few diagnostic challenges will hamper the market growth. Read More: Bone Metastasis Therapies
About DelveInsight
DelveInsight is a leading Business Consultant, and Market Research Firm focused exclusively on life sciences. It supports pharma companies by providing end-to-end comprehensive solutions to improve their performance.
Media Contact
Company Name: DelveInsight Business Research LLP
Contact Person: Shruti Thakur
Email: Send Email
Phone: 09650213330
Address:304 S. Jones Blvd #2432
City: Las Vegas
State: NV
Country: United States
Website: https://www.delveinsight.com/