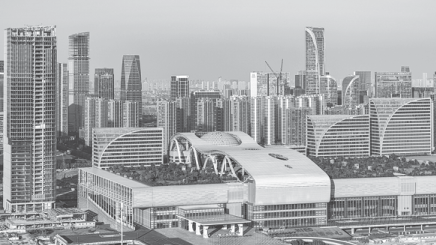 The Media Press Center for Hangzhou 2022 is located at the Hangzhou International Expo Center. CHINA DAILY
The Media Press Center for Hangzhou 2022 is located at the Hangzhou International Expo Center, close to the Hangzhou Olympic Sports Tennis Centre and the Hangzhou Olympic Sports Stadium. The MPC's Media Dining Hall is located in the basement of the Hangzhou International Expo Centre, and will provide breakfast, lunch, supper and snacks for the media representatives.
There is a commercial service area in the lobby of the MPC that will provide a variety of services including banking and retail outlets.
The Village Media Center will include a media workroom, mixed-use zone, news conference room and a media lounge. Official news conferences will be held in the news conference room after every major event. A small VMC will be set up in the international zone of the Asian Games Village to facilitate the work of accredited media.
The media village, covering an area of 19.6 hectares, is located in the northwest corner of the Asian Games Village. During the Games, it will provide accommodation, catering and recreational services to accredited media. It has a capacity of 5,000 people.
The Asian Games News Service, the official news agency of Hangzhou 2022, will provide accredited media with professional news services, enabling them to report the Games in a comprehensive and in-depth manner. The AGNS will provide various and comprehensive Games information for accredited media and Olympic Council of Asia family members via its information system.
Information terminals will serve as a platform for the release of information and news from the AGNS.The terminals will be set up at all VMCs at competition venues, the MMC, the Media Village and the OCA family hotel.
During the Games, a news-gathering team will be dispatched by the AGNS to provide news services. Fifty-five reporting teams from the AGNS will access competition venues to report results and relevant news.
It is expected that during Asian Games Hangzhou 2022, the information system will publish at least 600 news items in Chinese or English every day on average.
Media Contact
Company Name: The Information Office of Hangzhou Municipal Government
Contact Person: Cai Jingwen
Email: Send Email
Phone: 0510-68559077
Country: China
Website: http://www.ehangzhou.gov.cn/