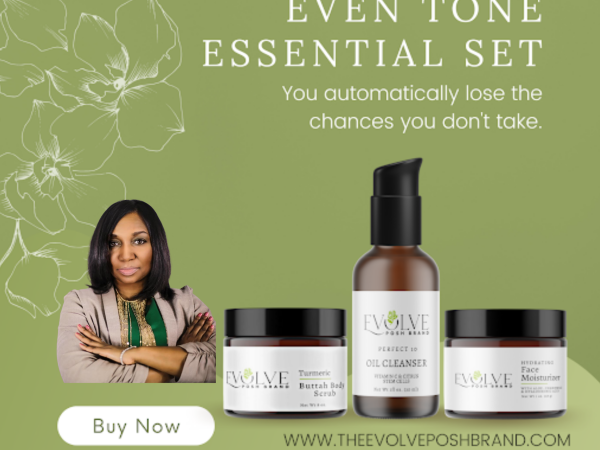 Evolve Posh Brand, an Atlanta-based producer of natural skincare products, is delighted to announce that people currently experiencing problems with their skin can visit its website to find a variety of fast-acting organically made skincare products.
The company, which says its products are made with love and good energy, offers buyers different products with wholesome ingredients that work to improve the skin and present a clear healthier texture.
Also available for sale on Walmart.com, the brand's product line caters to a wide range of skin conditions including dry skin, dark spots, cystic acne, pigmentation, whiteheads, etc., and contains natural ingredients such as Aloe Vera, Jojoba Oil, and Kojic acid that have been proven to combat skin illnesses and produce a fresh and evolved appearance when applied in the right combination.
Evolve Posh Brand assures clients that its treatment options aid the production of natural proteins that rebuild skin cells, contain organic plant extracts that nourish and soothe the skin, as well as unique ingredients for combating flaky skin whilst providing the much-needed hydration that leaves the skin looking clear and healthy.
Describing its products as "nourishment for melanated skin," the brand insists that all its products are Paraben-free and do not contain chemical toxins. It also adds that no animals were harmed in the production of the ingredients and guarantees purely organic products that provide a reaction-free skincare regimen.
Evolve Posh Brand was founded by Angela Y, Ervin who promises that she perfectly understands the effects of an unclear skin on a person's health and general confidence. Angela battled with dark spots, acne scars, and hyperpigmentation for years, and from her experience discovered the perfect fast-acting ingredients for alleviating illnesses and providing that optimum natural glow everyone desires.
According to Angela, healthy skin starts with a healthy lifestyle, and so her brand also regularly updates articles on its website that explain triggers and provide advice on favorable lifestyle habits people can employ to reduce symptoms and encourage regenerative growth of their skin cells.
Evolve Posh Brand currently enjoys a 5-star rating as well as a host of positive reviews from previous users of the brand, who have described their experiences with the products as beyond satisfactory.
"My skin is soft, clean, silky, and less oily. The exfoliate is wonderful and you don't need a lot to get the job done and as an individual, with sensitive skin, I appreciate Evolve's delicate scent." – Antoinette.
"The scrub didn't feel harsh like some of the other ones I've used! I am very impressed with my results, the inflammation on my skin went away immediately!" – Chris.
For more information, please visit –
http://www.theevolveposhbrand.com,
https://www.instagram.com/evolveposhbrand/
https://www.facebook.com/EvolvePoshBrand/
Media Contact
Company Name: Evolve Posh Brand
Contact Person: Angela Y. Ervin
Email: Send Email
Country: United States
Website: http://www.theevolveposhbrand.com