With the launch of MINGDA Magician X, the large-size Magician Pro of the same series also attracted the attention of the public.
Improve and upgrade based on user feedback of the D series. MINGDA Magician Pro has equipped with almost all the features of a 3D printer that users want. It has a large 400*400*400mm build volume, one-touch smart auto-leveling function, a dual gear direct drive extruder, a 32bits motherboard with TMC 2209 silent driver, a friendly UI touch screen and a glass build platform.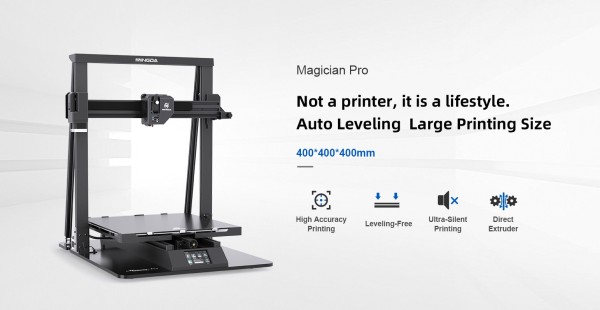 What's new of MINGDA Magician Pro?
A New Look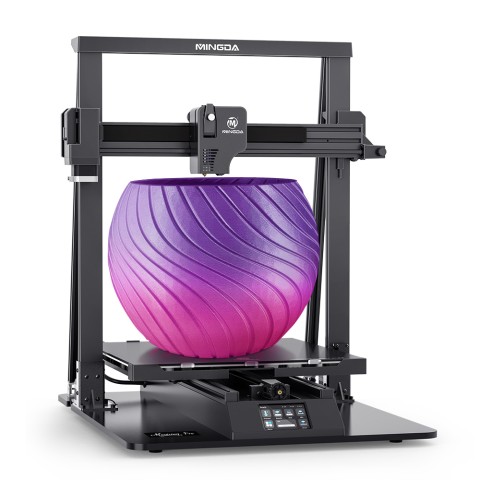 MINGDA has given the Magician Pro has a new look, the overall design is more concise and clean. And Magician Pro also uses the upgraded UI touch screen, which is more simple and friendly to use.
A New Leveling Technology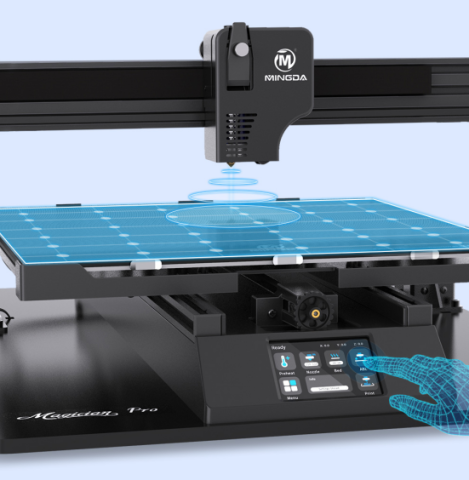 Magician Pro 3D printer has an advanced magnetic induction leveling system, only need to click the button of the touch screen, the machine will automatically level by itself. The company claims that "The advanced smart auto-leveling function of Magician 3D printer will free users hands, no need to worry about leveling anymore." During the leveling process, the sensor of the print head will automatically perform 16-point leveling, making the print head keep a consistent distance from the bed.
A New Filament Detector
Compared with the traditional and other 3D printer filament detectors, MINGDA has carried out an innovative design to avoid the distance between the traditional filament detector and the extruder, resulting in material waste of about 10-20mm. MINGDA's newly designed extruder has a built-in filament detector, which greatly shortens the distance between the filament detector and the extruder, reducing the waste of filament.
Tech Specs
GENERAL SPECIFICATIONS
Technology: Fused deposition modeling (FDM)
Year: 2021Assembly: Semi-assembled
Manufacturer: MINGDA
3D PRINTING PROPERTIES
Build volume: 400*400*400mm
Feeder system: Direct drive
Print head: Single
Nozzle size: 0.4 mm
Max. nozzle temperature: 260°C
Max. bed temperature: 260°C
Bed leveling: Auto
Connectivity: SD Card, USB
Print recovery: Yes
MATERIALS
Filament diameter: 1.75 mm
Materials: PLA, TPU, ABS, PETG, Wood
SOFTWARESlicer: CURA, Simplify
3DFile types: STL, G-code
DIMENSIONS AND WEIGHT
Frame dimensions: 680 x 586 x 675 mm
Weight: 14.5 kg
For more details, please visit the website: https://3dmingdaofficial.com/collections/magician-series/products/magician-pro-400x400x400mm-new-auto-leveling-large-size-3d-printer
Media Contact
Company Name: Mingda 3D Printer
Contact Person: Mr. Sam
Email: Send Email
Phone: +86-13530306290
Country: China
Website: www.3dmingda.com