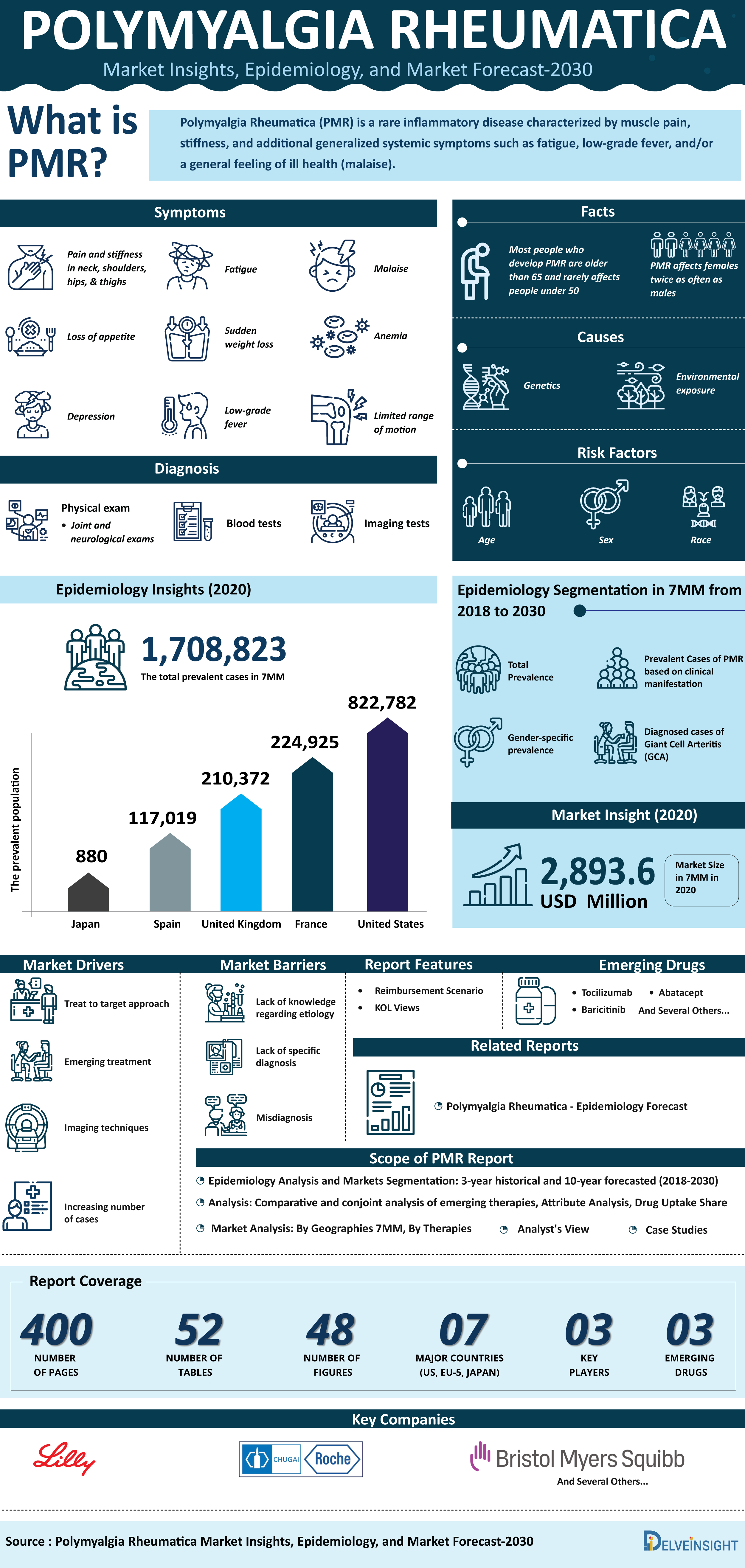 The Polymyalgia Rheumatica market report provides current treatment practices, emerging drugs, market share of the individual therapies, current and forecasted PMR symptoms market size from 2018 to 2030 segmented by seven major markets. The report also covers current Polymyalgia Rheumatica (PMR) symptoms treatment practice/algorithm, market drivers, market barriers, and unmet medical needs to curate the best of the opportunities and assesses the underlying potential of the market.
Polymyalgia Rheumatica Overview
Polymyalgia rheumatica (PMR) is the second most common inflammatory rheumatic condition in people aged over 50 years after rheumatoid arthritis (RA). PMR can occur independently or in association with giant cell arteritis (GCA). Giant cell arteritis is the most common primary vasculitis in this age group. PMR is a rare inflammatory disease characterized by muscle pain (myalgia), stiffness, and additional generalized systemic symptoms such as fatigue, low-grade fever, and/or a general feeling of ill health (malaise). It can be a relatively benign condition that is extremely responsive to treatment. In some rare cases, permanent muscle weakness, degeneration and loss (atrophy) of muscle mass, and disability may occur.
Download Sample Report– https://www.delveinsight.com/sample-request/polymyalgia-rheumatica-market
Polymyalgia Rheumatica Regions
The United States
EU5 (Germany, France, Italy, Spain, and the United Kingdom)
Japan
Polymyalgia Rheumatica Cause
The cause of PMR is uncertain, but it is believed to be an autoimmune disease in which the body's immune system attacks healthy tissues. Genetic and environmental factors (such as infections) are thought to play important roles. Because it is rare in people under age 50, its cause could be linked to the aging process.
Polymyalgia Rheumatica Diagnosis
The diagnosis of PMR may be confirmed by a thorough clinical examination, including detailed patient history and specialized blood testing that demonstrates an abnormally elevated sedimentation rate. Other substances in the blood, such as serum albumin, globulins, and fibrinogen, may also be elevated.
Polymyalgia Rheumatica Treatment
PMR treatment focuses on reducing pain and inflammation and easing stiffness, achiness, fatigue, and fever. Treatment includes anti-inflammatory medication and exercise. Corticosteroids are powerful anti-inflammatory drugs that help reduce inflammation and relieve stiffness and pain. They are the mainstay of PMR treatment. The dosage for PMR is low, and symptoms will improve quickly with treatment. The dosage will be lowered further once symptoms improve. Occasionally, mild PMR cases are treated with nonsteroidal anti-inflammatory drugs (NSAIDs), such as ibuprofen and naproxen, to ease symptoms.
Polymyalgia Rheumatica Market Companies
Roche Chugai
Bristol-Myers Squibb
Eli Lilly
Polymyalgia Rheumatica Market Drugs
The drug chapter segment of the Polymyalgia Rheumatica (PMR) report encloses the detailed analysis of PMR marketed drugs and late stage (Phase-III and Phase-II) pipeline drugs. It also helps understand the Polymyalgia Rheumatica (PMR) clinical trial details, expressive pharmacological action, agreements and collaborations, approval and patent details, advantages and disadvantages of each included drug, and the latest news and press releases.
Polymyalgia Rheumatica Emerging Drugs
Tocilizumab is a recombinant humanized anti-human interleukin 6 (IL-6) receptor monoclonal antibody of the immunoglobulin IgG1κ (gamma 1, kappa) subclass with a typical H2L2 polypeptide structure. It is a medication designed to specifically block the cytokine interleukin-6, a protein involved in various inflammatory disorders. Studies have shown that patients with PMR have elevated interleukin-6 levels; thus, the drug has been tested for PMR.
For buying a report– https://www.delveinsight.com/sample-request/polymyalgia-rheumatica-market
Table of Content
1. Key Insights
2. Report Introduction
3. Polymyalgia Rheumatica Market Overview at a Glance
4. Executive Summary of Polymyalgia Rheumatica
5. Disease Background and Overview
6. Management and Treatment of PMR
7. Epidemiology and Patient Population
8. Organizations contributing towards Polymyalgia Rheumatica
9. Patient Journey
10. Case Reports
11. Emerging Therapies
12. Polymyalgia Rheumatica: 7 Major Market Analysis
13. Market Outlook
14. KOL Views
15. Market Access
16. Market Drivers
17. Market Barriers
18. SWOT Analysis
19. Unmet Needs
20. Appendix
21. DelveInsight Capabilities
22. Disclaimer
23. About DelveInsight
Request Sample Report– https://www.delveinsight.com/sample-request/polymyalgia-rheumatica-market
Polymyalgia Rheumatica Market Report Highlights
In the coming years, Polymyalgia Rheumatica (PMR) market is set to change due to the rising awareness of the disease and incremental healthcare spending across the world; which would expand the size of the market to enable the drug manufacturers to penetrate more into the market
The companies and academics are working to assess challenges and seek opportunities that could influence Polymyalgia Rheumatica (PMR) R&D. The therapies under development are focused on novel approaches to treat/improve the disease condition
Major players are involved in developing therapies for PMR. The launch of emerging therapies will significantly impact the Polymyalgia Rheumatica (PMR) market
A better understanding of disease pathogenesis will also contribute to the development of novel therapeutics for PMR.
Our in-depth analysis of the pipeline assets across different stages of development (Phase III and Phase II), different emerging trends, and comparative analysis of pipeline products with detailed clinical profiles, key cross-competition, launch date along with product development activities will support the clients in the decision-making process regarding their therapeutic portfolio by identifying the overall scenario of the research and development activities.
About DelveInsight
DelveInsight is a Business Consulting and Market research company, providing expert business solutions for life science vertical and offering quintessential advisory services in the areas of R&D, Strategy Formulation, Operations, Competitive Intelligence, Competitive Landscaping, and Mergers & Acquisitions.
Contact Us
Yash
info@delveinsight.com
Media Contact
Company Name: DelveInsight Business Research LLP
Contact Person: Yash Bhardwaj
Email: Send Email
Phone: +919650213330
Address:304 S. Jones Blvd #2432
City: Las Vegas
State: NV
Country: United States
Website: https://www.delveinsight.com/