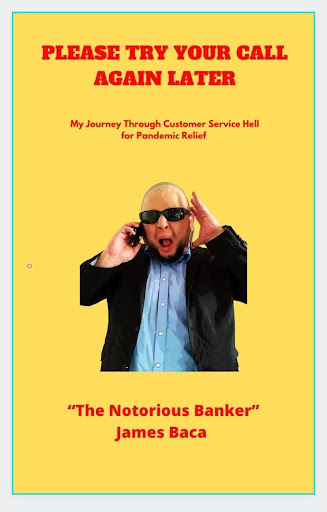 James Baca, best known as consumer advocate "The Notorious Banker" online, has written a new book titled "Please Try Your Call Again Later" which details his struggles to receive proper help for pandemic relief in his home state of New Mexico during the COVID-19 pandemic.
Like most individuals, James' income was severely impacted during 2020. Amended rules to receive unemployment benefits were put into place to allow self-employed people the chance to receive help. During a seven-month stretch from December 2020 – July 2021, James called over 1,000 times to NM Department of Workforce Solutions (NMDWS) only to be hung up on because lines were busy. Recent news reports indicated only a 6% pickup rate during the peak of unemployment in 2020.
The 3 times James DID get through, he was met with shoddy customer service who made mistakes in his application, which only further impacted his ability to receive relief. A request to backdate his request to include December 2020 – July 2021 was denied with NMDWS stating it was "no excuse" that he could not reach an associate by phone plus other reasons that are incorrect.
James Baca is known for his activism against big banks and poor customer service on his hit podcast, "The Notorious Banker" on Spotify, and is very active on Twitter. (@BankBetterGuy) He noticed eerie parallels in customer service at NMDWS to the world of banking where he spent 13 years. The lack of empathy and lack of training some associates had in helping others was similar to the call-center feeder system that big banks employ to "assist" clients.
"Please Try Your Call Again Later" is an honest accounting of one man's battle to be heard by a system he paid into that has failed him in 2021. Author James Baca details the stress, anxiety, and impact to his fiscal, physical, and mental health while fighting to be helped, and hopes his story can help others have their story told about how the system failed them, despite a rallying cry from large entities stating how great customer service was during "unprecedented times."
"If NMDWS isn't willing to help me, I can only imagine what others are going through who are worse off and not as resilient as me. I decided to write this book, call out NMDWS publicly, make a little money, and give back to those that are impacted" – James Baca aka "The Notorious Banker."
"Please Try Your Call Again Later" is currently available for $9.99 (eBook) and $14.99 (Paperback) on Amazon. $1 of net proceeds from each book will benefit non-profit organizations in New Mexico combating food insecurity and childhood development.
Media Contact
Company Name: The Notorious Banker
Contact Person: James Baca
Email: Send Email
Country: United States
Website: http://www.thenotoriousbanker.com