Representatives from international organizations, international chambers of commerce, and multinational companies, as well as young global leaders, think tank scholars, and entrepreneurs gathered together for the West Lake Dialogue to exchange ideas on how Hangzhou can attract international talents and achieve high-quality development on Nov 7 in Hangzhou, capital of East China's Zhejiang province.
"As China further deepens reforms and opens up to other countries, attracting talents has become the top priority for its development. China is now providing a more open and equal environment, and is forging a cooperative platform for the innovation and entrepreneurship of international talents," said Wang Huiyao, president of the Center for China and Globalization, as well as counselor to the State Council, during his opening remarks for the event.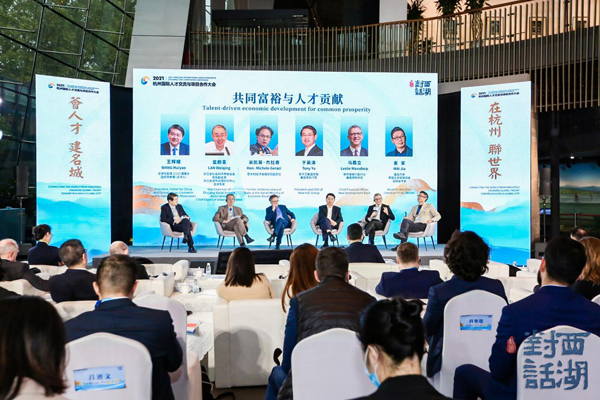 The first panel "Talent-driven Economic Development for Common Prosperity" was held during the West Lake Dialogue on Nov 7. [Photo provided to China Daily]
During the event, the panel "Talent-driven Economic Development for Common Prosperity" was held to discuss issues like how to narrow the urban-rural gap to achieve rural revitalization, how to solve the problem of inequality through initiatives that can be developed with international input, and how to create a friendlier international environment for talents.
"Zhejiang has played a leading role in building a demonstration zone for achieving common prosperity, vigorously promoting China's green, inclusive, and sustainable high-quality development. Under the guidance of the United Nations 2030 initiative dedicated to promoting world peace and prosperity benefiting all mankind, other countries can share Hangzhou's development experiences," said Siddharth Chatterjee, United Nations resident coordinator in China.
Another panel "Building a Global City for Talent Acquisition" was held to discuss measures to attract international talents, share experiences and lessons in global talent development, as well as discuss how multinational firms can seize the potential opportunities under China's "dual circulation" development pattern, in which a strong domestic market allows domestic and overseas markets to reinforce each other.
Hon. Michele Geraci, former undersecretary of State at the Italian Ministry of Economic Development, said that exchanges between China and Italy in historical culture, folk culture, and trade have been active since the Italian explorer Marco Polo visited China in the 13th century.
"We are in a good era and at the same time, shoulder an important historical mission. We should continue to promote interpersonal communication at all levels," said Geraci.
Younger global leaders, including Ludivine Destree, business manager of the European Union Chamber of Commerce in China, and Jessie Li, chief scientist of the Yunqi Academy of Engineering, were invited to discuss the role of international youth in Hangzhou's efforts to preserve its historical and cultural inheritance, as well as its efforts to further innovation in the "Towards a Shared Future: Hangzhou Youth Dialogue with Global Young Leaders" panel.
At the panel, the young global leaders discussed how international youth integrates into the construction of an international metropolis, helping it achieve innovation and development. They also detailed how Hangzhou, as the host city of the G20 summit, promotes active interaction and innovation among international youth.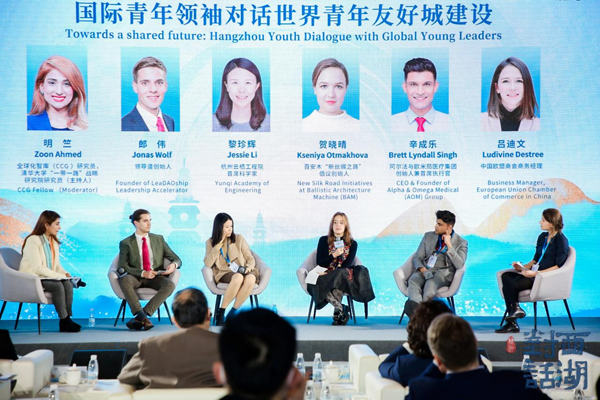 Kseniya Otmakhova (fourth from left to right), lead manager of the New Silk Road Initiatives at Ballistic Architecture Machine, shares her opinions about the preservation and inheritance of cultural heritage items during the "Towards a Shared Future: Hangzhou Youth Dialogue with Global Young Leaders" panel. [Photo provided to China Daily]
"In the future, we hope to build Hangzhou into a place where global talents achieve their dreams and accelerate the speed in which Hangzhou attracts talents from all over the world. We are making every effort to build Hangzhou into a world friendly city," said Ke Jixin, vice-mayor of the Hangzhou municipal government.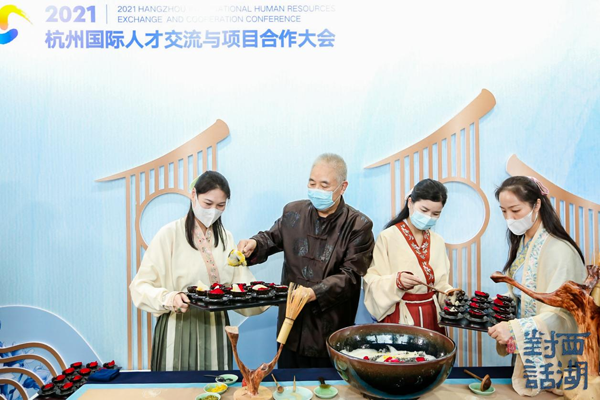 Peng Kerong (second from left to right), an inheritor of the intangible cultural heritage item Song Dynasty (960-1279) Diancha, showcases one of the most elegant tea making methods that has great historical and cultural significance in Chinese history during the event. [Photo provided to China Daily]
Media Contact
Company Name: The Information Office of Hangzhou Municipal Government
Contact Person: Cai Jingwen
Email: Send Email
Phone: 0510-68559077
Country: China
Website: http://www.ehangzhou.gov.cn/