Arjun Yadav (29) is a young India-born Producer who is actively working on big-budget Hollywood feature film productions. With multitudes of award wins and experience working with big studios like Disney, 20th Century Fox, Hillman Grad and Wayfarer Studios, Arjun Yadav has earned a strong reputation in his field.
Arjun has been involved in production on over five feature films, three documentaries and seven short films, all of them in Hollywood. In the year 2019, he produced a film called "Morning", which chronicles a love story set against the backdrop of the Vietnamese War, for which he won the award of Best Producer at Rome International Movie Awards 2021. The film was a big hit in that it got selected for Sweden Film Awards, Montreal Independent Film Festival, and New York International Film Awards.
In an interview over phone, Arjun shared his current engagements:
Tell us a little about your most recent producing venture?
I was recently a Co-Producer on 'Chastise', a horror-thriller Chastise, from director Demetrius Navarro, starring Gigi Gustin and Bill Moseley. Bill has previously starred in a number of cult classic horror films, including The Texas Chainsaw Massacre 2 and Quentin Tarantino's Grindhouse. Owing to the popularity of its stars, the film received coverage on major platforms like Hollywood Deadline, JoBlo, Yahoo, MSN, Bloody-Disgusting and Cinemaexpress.com.
In my role as a Co-Producer, I played a lead and critical role in creating the budget and entire filming schedule, securing all of the location permits, managing SAG-AFTRA and DGA relationships and satisfying guild mandates, running payroll, managing entire cash flow and maintaining cost reports and advising on festival submissions and distribution strategy.
Any upcoming projects that we should also know about?
I have two more feature films coming up next year – 'A Place in the Field' starring Don DiPetta of Oscar-winning film Green Book and Marlene Forte who also starred in Knives Out and Star Trek and 'On Our Way' directed by Sophie Lane Curtis and starring Jordana Brewster.
I'm also a producer on The Perfect Love Story, executive produced by famed author and internet personality Jay Shetty and Z47, a horror short film starring Andrea Fantauzzi and Caspian Diament and written and directed by Emily Capehart. Both films should be out next year.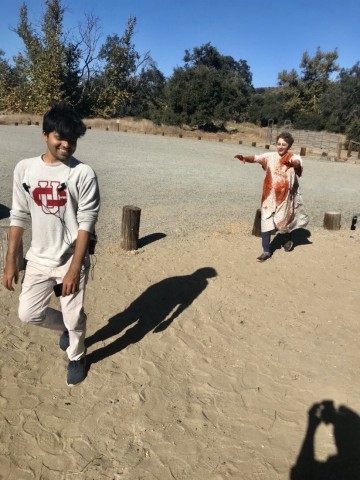 (Arjun Yadav on the sets of Z47)
Going back in time, how did you first become interested in filmmaking?
In 2014, my first film 'Strangers' released on one of India's largest short film channel on YouTube, Humaramovie to massive acclaim and received hundreds of thousands of views.
Previous year, I was selected as jury member at 14th MAMI Film Festival, one of India's biggest film festivals where award-winning filmmakers like Ava DuVernay, Asghar Farhadi, Sean Baker and John Madden have previously served as judges. As part of the jury, I watched films playing in the main competition and wrote reviews which were published by Box Office India magazine and Hindustan Times. There, I also managed to impress Gary Kurtz, the producer of Star Wars and another jury member who encouraged me to pursue a career in filmmaking.
(L: Gary Kurtz, Producer, Star Wars, The Empire Strikes Back: R: Arjun Yadav at 2012 MAMI Film Festival)
I went on to work for Excel Home Videos, which was the subsidiary of 20th Century Fox Home Entertainment in India. For FOX, I produced home entertainment featurettes for the release of Emmy-award-winning titles like Homeland, New Girl, Glee, Fargo, Arrested Development. I also worked on the distribution and release strategy for the national award winning and BAFTA- nominated film Rang De Basanti on home entertainment. Later that year, I collaborated with international star Anil Kapoor, and his production company to distribute and market Indian adaptation of 24 (Season 1), on home entertainment in India.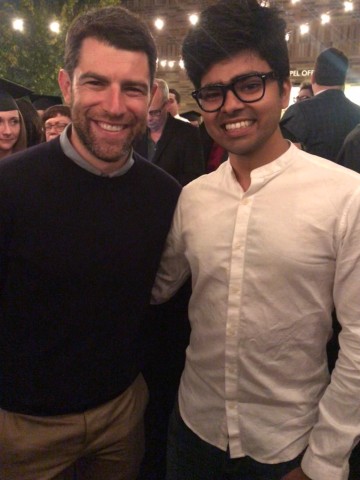 (L: Max Greenfield, star of FOX series New Girl, R: Arjun Yadav)
Continuing to hone my producing chops, I joined Prime Focus World (now DNEG India), and helped produce post-production showreel on major projects such as Star Trek: Beyond (BARCO ESCAPE), Raabta, Housefull 3 and MS Dhoni: The Untold Story to name a few. At Prime Focus, I also produced YouTube series called 'DoP's Lounge' in which prominent cinematographers of the country appeared and talked about their lighting and color grading techniques.
What prompted the move to Los Angeles and Hollywood?
Following these stints, my belief that I am the happiest when I'm working with top creative minds in the business was reaffirmed and that's when I accepted a half-ride scholarship to Chapman University's Film and Television Producing program.
In Los Angeles, I worked on the Netflix show Sweet Magnolias and at Disney's Searchlight Pictures which then was at post production on Chloe Zhao's 'Nomadland' which as you know when on to win multiple Academy Awards. In 2020, a short film I line produced, 'AFTER' was selected as part of Cannes Film Festival's Emerging Filmmaker Showcase. I also won the Best Producer award for his short film 'Morning' at Rome International Movie Awards.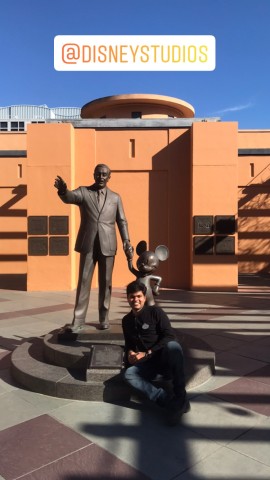 (Arjun Yadav at Walt Disney Studios, Burbank)
You're also championing mission-based storytelling. Tell us a little about that.
In keeping with my mission to encourage underrepresented talent, I also served as a judge for the Trans Stellar film festival, Alpha Gam Awards at Chapman University and Norwich Film Festival. I strongly believe in the power of delivering meaningful stories. Through my stories, I want to spotlight grievances, triumphs and experiences of the underrepresented, marginalized and diminished voices.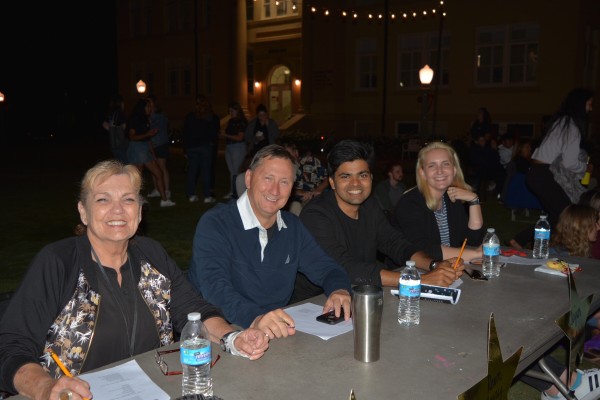 (Arjun Yadav as a judge at Alpha Gam Awards in Orange, California)
What are you currently working on?
I'm working in production at Justin Baldoni's Wayfarer Studios, called by Fast Company as one of 10 most innovative companies in media in 2021, which is producing the feature film The Senior starring Emmy and Golden Globe winner Michael Chiklis and a feature documentary, 'Racist Trees' which was selected for SXSW Film Festival.
For Wayfarer, I perform the critical role of creating union budgets, schedules, evaluating cost reports and cash flow; securing production insurance, overseeing payroll operations for cast and crew, managing union signatory operations and post-production.
Having proved his mettle in Hollywood, Arjun is also eyeing production opportunities in his hometown film industry, Bollywood. He is actively developing a feature film based on a true story with full announcement coming up soon.
Arjun Yadav's detailed filmography can be found here: https://www.imdb.com/name/nm10765732/
Media Contact
Company Name: Natural Selection Studios LLC
Contact Person: Media Relations
Email: Send Email
Phone: +19757236763
Country: United States
Website: https://www.imdb.com/name/nm10765732/