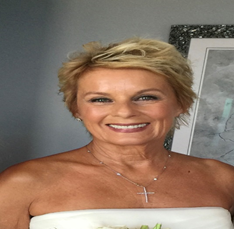 The celebrations are incomplete without food. Both are inexorably tied together and for all the right reasons! Food magically forges new relationships, strengthens old ones, buries anger, and provokes laughter. It is as if every ingredient uses its distinct taste to appease the happy hormones until they let themselves loose throughout their body! With the right food, a simple lunch can turn into a feast.
When talking about food and celebrations, it is hard not to mention Lisa Stalvey, who is known for her remarkable cooking skills. There are people for whom cooking is an act of love, who pour all their emotions out as they stir and stew meals that take people for a trip to heaven. Lisa is one such incredible chef, who all in her professionalism, considers cooking her ultimate joy.
One such celebration is in order on the 13th of November as two of Lisa's employees share one of their life's most prized moments of welcoming a baby. How can one forget reunions on such joyous occasions? This little intimate dinner party hosted by the fashionista couple is going to be Lisa's latest cooking escapade, where she is planning to make some of her best recipes using two of her constant ingredients – love and devotion.
As her Sourdough Crouton and Parmesan Crisp signal the start of the evening, teasing the palate, one can do nothing but wait curiously for what is in the main course, expecting nothing less than perfection. From Arugula, Filet Mignon, Baked Halibut to mini lemon cakes and insanely delicious brownies, it is as if she has curated a menu befitting for celebrating the divine gift!
people don't need to hold their breath in amazement or pop out their eyeballs. Lisa, like a very thoughtful cook, has a gift for all of us too. She has penned down some of her delicious recipes in the book "The Thoughtful Chef," which will be published soon for all of you to make all your special moments merrier and tastier.
The above dishes are just a scratch on the surface, there is more to learn and explore. There are so many more mouthwatering recipes with detailed instructions that serve as an inspiration for aspiring chefs and, for others, are great recipes to challenge and test their culinary skills. Who knows, you might find your bearing while trying out the yummy scrummy recipes in the book "The Thoughtful Chef" authored by Lisa Stalvey.
Find out Lisa's secret recipes to make every day a celebration! Email to Contact Her: malibuchef.lisa@aol.com
Media Contact
Company Name: Lisa Stalvey
Contact Person: Media Relations
Email: Send Email
Phone: 3107750979
Country: United States
Website: http://www.midwest-tropical.com/