OKLAHOMA – Nov 12, 2021 – Madonna, Jessica Alba, Alicia Silverstone, and Serena Williams are all famous people we know that own a pit bull or two. But when we talk about the Mother of Pitbulls, we are talking about Manmade Kennel's Sarah, a seasoned pitbull breeder who owns one of the biggest bluenose Pitbulls on earth!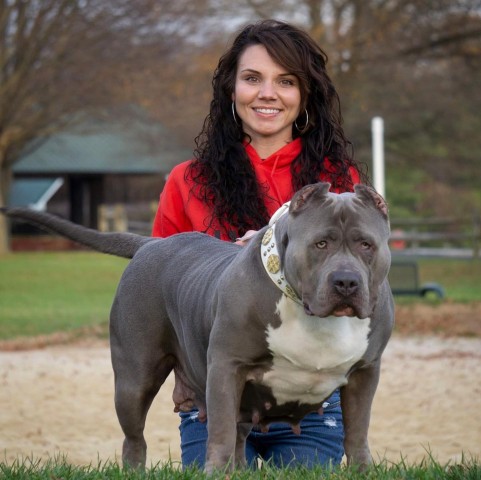 It all began in 2006 when Sarah got her first pitbull puppy. She was a bluenose beauty who loved her new owner and home to bits. As first-time dog owners, the blue nose dog was a handful. However, Sarah and hubby did not mind because they were young and with few responsibilities.
But being a full-time pitbull mom comes with its challenges. A hard truth that sees many early breeders exiting the business, but one that Sarah has grown to acknowledge and overcome. Dog breeding requires you to understand the bloodline of your dog, what diet best suits them, and the type of lifestyle a breed requires to live a fulfilling life.
"I remember getting the diet right for my dogs was such a challenge. In my early years of pitbull breeding, I realized that dry foods were not delivering the necessary nutrients required by my dogs. So, as any dog mom would do, I did some extensive research to determine what foods were good for my fur babies."
The quest to fill this nutrition gap birthed Sarah's first book, "10 Raw Diets Made With Bullyade: It is A Perfect Raw Diet Cookbook." Sarah uses this book to answer pain points facing pet parents who are looking for the best raw food ideas for their dogs. She starts with the basics of raw feeding then shares her best raw diet recipes that have won the hearts of her American bully puppies. The book is currently an Amazon best seller.
Sarah is unstoppable. She is currently working on her second book, 'How To Prepare For A Litter and Care For Mother Dog & Puppies After Birth.' In this new creation, Sarah will be sharing breeding tips and tricks she has learned over 15 years of breeding pitbull puppies.
"This book is special to me because I figured it is time I truly give back to the dog world. I want breeders and dog lovers from all walks of life to learn the necessary skills on how to care for their puppies, adult, and senior dogs. I have seen many families mourn the loss of their dog that died from an illness or complication that was preventable if diagnosed early.'
In this new book, Sarah will chronicle the dog's journey – from caring for the mother dog to the birth of the litter and eventually raising the puppies into healthy adult dogs. Also, Sarah will touch on ways to care for and improve the lifespan of senior dogs.
For more information about Manmade Kennels, visit their website www.manmadekennels.com or check out their pitbull puppies page www.manmadekennels.com/pitbull-puppies-for-sale.
Media Contact
Company Name: Manmade Kennels
Contact Person: Edward Perez
Email: Send Email
Country: United States
Website: http://www.manmadekennels.com/