The New and Unique Sauna Blanket Far Infrared Heat Weight Loss Therapy that helps to tone and sculpt the body while relaxing the mind.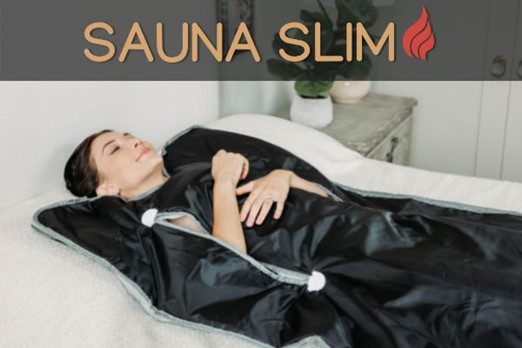 For all the people who want to go to the spa but don't have the time, The Sauna Slim Blanket gives you a full spa experience all at the privacy of your own home. Designed specifically to sweat out toxins with FIR Far Infrared Heat, for a healthy detox cleanse that can help with weight loss and relieves your aches and pains. At the same time, you get a full body massage plus Electro Muscle Stimulation to help tone and strengthen. With no need to travel out of the house or pay high prices for a professional Spa Experience, this is an amazing device. The Sauna Slim Blanket will give the same Spa benefits at affordable prices, and in the comfort of your own home.
Sauna Slim Therapy is a Second-Generation Sauna Blanket with advanced FIR (Far Infrared) Heat, Massage Therapy and EMS- Electro Muscle Stimulation that helps you to lose weight, tone and sculpt your body.
With years of research and development, The Sauna Slim Blanket is sure to deliver a revolutionary design with premium features. It's a personal sauna sweat session which can help calm the mind as the soothing Far Infrared Heat is proven to increase calming endorphins. Its unique EMS therapy helps to tone and sculpt while you relax. Users will feel energized immediately during each session and also get the benefits of improved circulation and skin elasticity.
Sauna Slim can help to burn up to 600 calories per hour lying or sitting down which is the equivalent of jogging for one hour. Its Far Infrared Heat will also help to detoxify the body faster as infrared heat is known to be 7x more detoxifying than regular heat. Its deep vibration full body massage therapy targets sore muscles and helps to release body tension and stiffness. It will also help to increase blood flow to help users feel relaxed and refreshed.
Other benefits include anti-aging, improved metabolism, and improved collagen production. Each session in the Sauna Slim Blanket can deliver therapeutic pain relief, body detoxification and glowing skin. Compared to traditional saunas which cost thousands of dollars, Sauna Slim is affordable and it's easy to store, portable with no installation and it's also energy efficient.
With more than 5 unique features, Sauna Slim is set to beat every other sauna blanket in the market. Its hands-free feature allows you to use your phone or tablet while enjoying the many benefits of the Sauna Slim Blanket. It comes with a wireless remote control that allows for an uninterrupted session. With a smart control base that powers the Sauna up to 176 degrees Fahrenheit, users can set timer and control sessions. Plus, the Sauna blanket features 7 layers for an optimal sauna session.
Sauna Slim recently launched a crowdfunding campaign on Indiegogo. More than 100 backers contributed to surpassing its funding goal already. And the campaign isn't closed yet, so the interested backers still have a chance to pre-order this amazing device in the next few days before the early bird pricing goes up.
The Sauna Slim Blanket is available for $146 through the limited, early bird reward, which is 51% off the retail price of $299. The product is shipped worldwide.
More information about The Sauna Slim Therapy Blanket and other rewards can be found on its Indiegogo page: https://www.indiegogo.com/projects/sauna-slim-therapy#/
Media Contact
Company Name: Homemark Inc
Contact Person: Justine
Email: Send Email
Country: United States
Website: indiegogo.com/projects/sauna-slim-therapy#/