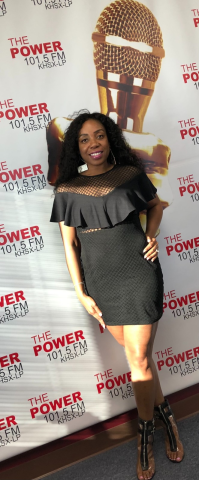 The multi-talented businesswoman is a premier mortgage consultant, real estate investor, board member of a Non-profit, and mindset mentor to beginner forex traders
Qiana Williams is combining her knowledge and wealth of experience gathered from her various areas of expertise, to help underprivileged communities with the right tools and information they need to uplift each other, create long-term wealth, and build lasting legacies for themselves and their communities. The multi-talented entrepreneur says her goal is to impact the lives of 500 people every quarter or at least 2000 people annually.
By using her knowledge and experience to help underserved and less privileged communities, the exceptional Qiana is gradually changing the status quo of poverty and unemployment in these communities, while giving community members a better chance at achieving the American dream.
"I believe everyone is capable of accomplishing great feats of success if given the right tools to seize the moment. While many people struggle with unemployment, there are a lot of opportunities through which they can not just earn a decent living, but also help uplift others in similar situations around them. My goal as an entrepreneur is not just building systems for profit, but also engineering these systems so everyone willing to do more with their lives can take advantage of my knowledge and experience to advance themselves and their communities exponentially."
Born and raised in Northern California, Qiana currently lives in Southern California and is described as a woman that takes being a boss to a whole new level. The California native also adds that being the oldest in her household helped to mold her for the leadership roles she now occupies as an adult.
After graduating from high school, the Travis Air Force Base raised Qiana enlisted in the United States Navy and later – taking advantage of the military's college benefits, obtained her BS in Small Business Management and Entrepreneurship.
The premier mortgage consultant boasts of a decade + of experience in the real estate business, with a niche for down payment assistance, creative financing, and turning low-moderate income families into homeowners. Qiana adds that she eases the loan process for her clients and also helps them navigate the constantly changing State laws and Federal regulations.
Although considered a new school lender compared to her mentor(s) with 30+ years of experience in the mortgage industry, her passion and dedication to her clients have earned her the title of the most attentive mortgage specialist in Southern California.
In addition to being a mindset mentor for beginner forex traders, Qiana Williams currently sits on the board of a non-profit that was created to help individuals and families in need. The humanitarian-driven entrepreneur is also the sole owner of a real estate acquisition company through which she gives people a start in the industry, and also shows them how to turn profits with no out-of-pocket expenses.
Qiana's real estate acquisitions company generates $3-5 million worth of acquisitions monthly on average and is still growing. In return, QiWi Acquisitions, LLC provides a means of livelihood for a growing number of individuals and contributes to the communities it serves..
The phenomenal entrepreneur says she envisions a world where people aren't just gainfully employed but also contributing positively to each other's lives – building sustainable wealth, and creating a society with endless possibilities for growth.
Media Contact
Company Name: QiWi Acquisitions LLC
Contact Person: Qiana Williams
Email: Send Email
Country: United States
Website: Www.QiWiAcquisitions.com