Let's Be Honest…
Student enrollment numbers for colleges, community colleges, course creators, etc aren't as high as they used to be.
New inquiries are coming in but they're not turning into enrolled students.
When these educational organizations try to follow up with prospective students, their voicemails go unanswered and emails get no replies…which is frustrating and demoralizing and makes the marketing team feel like they are fighting a losing battle.
No matter how many shiny leads their marketing efforts get them, they rarely seem to turn into paying students — which all makes them wonder…
What's the whole point of this "marketing" thing if it doesn't increase their revenue?
The problem is clear (and the solution is simple.) Their marketing efforts are chasing the wrong thing.
Because it's not just about getting more leads…It's about getting more paying students. That's what Student Convert helps these institutions and educational organizations do.
Student Convert creates and automates a strategy for the entire student-acquisition process (not just lead generation).
After capturing the prospective student's interest, the Student Convert Platform maintains contact during the customer journey, utilizing a variety of customizable touchpoints from the organization, so that when they are ready to enroll, the institution or organization at the top of their mind, and not the organization's competitors.
The unique process from Student Convert involves:
* Deep Diving into the organization to know exactly what and who the organization wants to attract
* Attracting high-quality prospects who are a perfect match for the organization
* Designing captivating ads to increase the quantity and quality of the organization's student inquiries
* The system helps the organization follow up with their leads (with automation so they don't have to do it manually!) — to warm them up and build trust on autopilot until they enroll with the organization.
Here are just some of the results Student Convert has generated for clients in the education, vocational training, adult education and course creation space:
$1.2 Million in course sales revenue in one month with zero ad spend.
Generated $97​​​​4,823 revenue in just 6 months with an additional $6 Million in the pipeline.
85% increase in the number of leads generated, while simultaneously bringing the cost per lead down by 67%.
Lead response rate went from 10% to between 60-80% … and conversions quadrupled, resulting in $1.02M in revenue.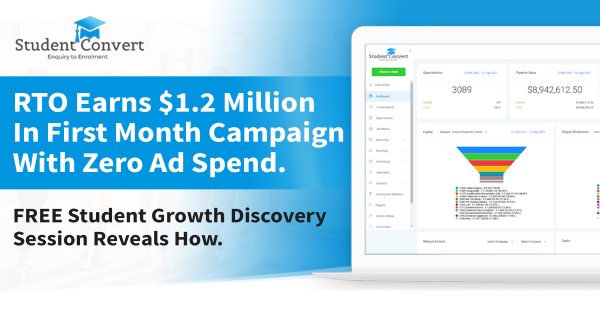 Looking for results like this? Student Convert is the solution:
Strategic Consulting: Student Convert helps diagnose marketing and sales process gaps and recommends proven strategies for greater results.
Facebook Advertising: The Student Convert team specialises in creating and managing profitable Facebook campaigns for Colleges, Community Colleges, Registered Training Organizations (RTOs), Course Creators and Adult Education Providers.
Google Advertising: Conversion based Google advertising campaigns, specifically designed for the education, training and coaching sector are Student Convert's superpower.
Automated Lead Nurture: Increase the volume of leads the organization can handle with Student Convert's fully customized, personalized, high-tech and high-touch platform.
Copywriting: Emotionally engaging direct response copy is key to increasing student enquiries. More conversations equals more enrolments
Website Development: Benefit from high converting, education compliant landing pages and websites built for the business and brand.
Sales Training: Students enquiring but not enrolling? Student Convert's expert sales training will help marketing teams convert more students and generate more revenue.
Omni Retargeting: Increased conversions with Student Convert's Omni presence retargeting campaigns, It's like having an MIT advertising budget for pennies on the dollar.
Want To See If Student Convert Is Right For An Organization?
Stop wasting money on useless leads. Start enrolling new students.
Click Here to Talk to a Student Conversion Strategist Now
About Student Convert
Not all digital marketers are created equally. Digital marketing in the education space is a specialized skill but many educators, colleges, community colleges, and other training organizations are setting fire on fire by not having specialists developing and driving, and winning student acquisition campaigns. Or even worse, not competing at all in the digital marketplace and being left behind by their competitors.
Student Convert changes the game and helps convert more students easier and more consistently. To see how Student Convert can help, go to https://studentconvert.com
Media Contact
Company Name: 9-Figure Media
Contact Person: Ken Louis
Email: Send Email
Phone: 9493426155
Address:1968 S. Coast Hwy #2525
City: Laguna beach
State: CA
Country: United States
Website: https://9figuremedia.com