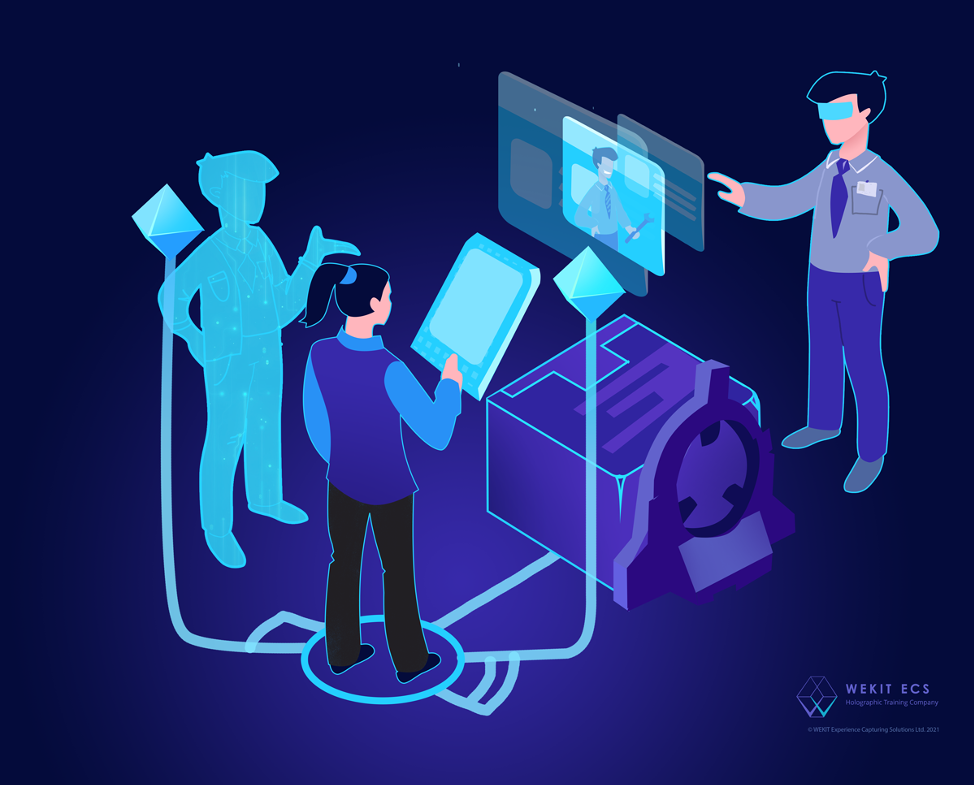 The innovative MirageXR platform offers an enhanced, holographic, location-based experience for learners, delivering rapid and more efficient access to expert knowledge.
Mirage XR will make the metaverse future of training a reality for small businesses.
WEKIT ECS today announced the launch of its flagship MirageXR Augmented Reality (AR) training and learning system at Online Educa Berlin 2021.
The development and the launch of the Mirage XR is a culmination of the commitment of the team of XR experts, computer scientists, business specialists, and design technologists at WEKIT ECS to offer advanced Mixed Reality (XR) training solutions that provide economic and social benefits to a diverse range of industry sector training needs.
Fridolin Wild, Chief Executive Officer and Co-founder of WEKIT ECS explained, "We have long recognized the importance of the metaverse and how it can create opportunities to build maximalist, interconnected experiences, offering a convergence of the physical and the digital to converge and interact in real life. MirageXR is built on the core principles of responsiveness, immediacy, and intelligence, delivering an all-inclusive experience to all categories of stakeholders."

The unique attributes of responsiveness, immediacy and intelligence means MirageXR is best positioned in the marketplace.
Responsiveness: Expert XR content authoring for everyone
The MirageXR app allows the use of any smart device to create holographic augmented reality recordings of themselves and their surroundings anywhere, even without a pair of HoloLens. The MirageXR offers endless opportunities to its users – for instance, from operating a medical MRI scanner to changing a Formula 1 tire, from fixing an airplane engine to landing a rover on Mars or simply putting out a fire at the office.
Immediacy: GhostTrack feature for capturing and sharing any expertise
MirageXR has a unique GhostTrack feature that enables users to capture and re-create for the learners, irrespective of their level of expertise without having to break the bank. The GhostTrack feature practically takes industrial training to a new level at reduced costs.
Intelligence: Augmented standards and analytics for performance-based learning
It uses the IEEE Standard for Augmented Reality Learning Experience Model (ARLEM), for mixed reality training and an industry-validated learning approach. WEKIT ECS has learning analytics at the core of its MirageXR solution. How a trainer or learner moves, feels or reacts in different situations is essential for industrial training, manufacturing, engineering or safety. The MirageXR has sensors attached to the trainer or learner while they interact in a metaverse educational reality, opening up a whole set of new opportunities for performance-based learning.
With MirageXR, WEKIT ECS is bringing trainers up to speed with the latest solutions, putting the individual and organisational users in charge and giving them the choice to be a metaverse player to capture and design training without being bound to a device, programming skills and augmented reality content limitations.
About WEKIT Experience Capturing Solutions Limited
WEKIT ECS is a dynamic start-up company focused on the development of advanced XR training solutions that provide economic and social benefits. It has more than 100 years of combined learning technology experience bringing together established XR experts, computer scientists, business specialists, and design technologists.
For more information about MirageXR and other solutions from WEKIT ECS, visit:
Twitter – @wekitecs
Media Contact
Company Name: WEKIT ECS
Contact Person: Fridolin Wild – Co-Founder and CEO
Email: Send Email
Phone: +353-1-9081414
Country: Ireland
Website: https://wekit-ecs.com/