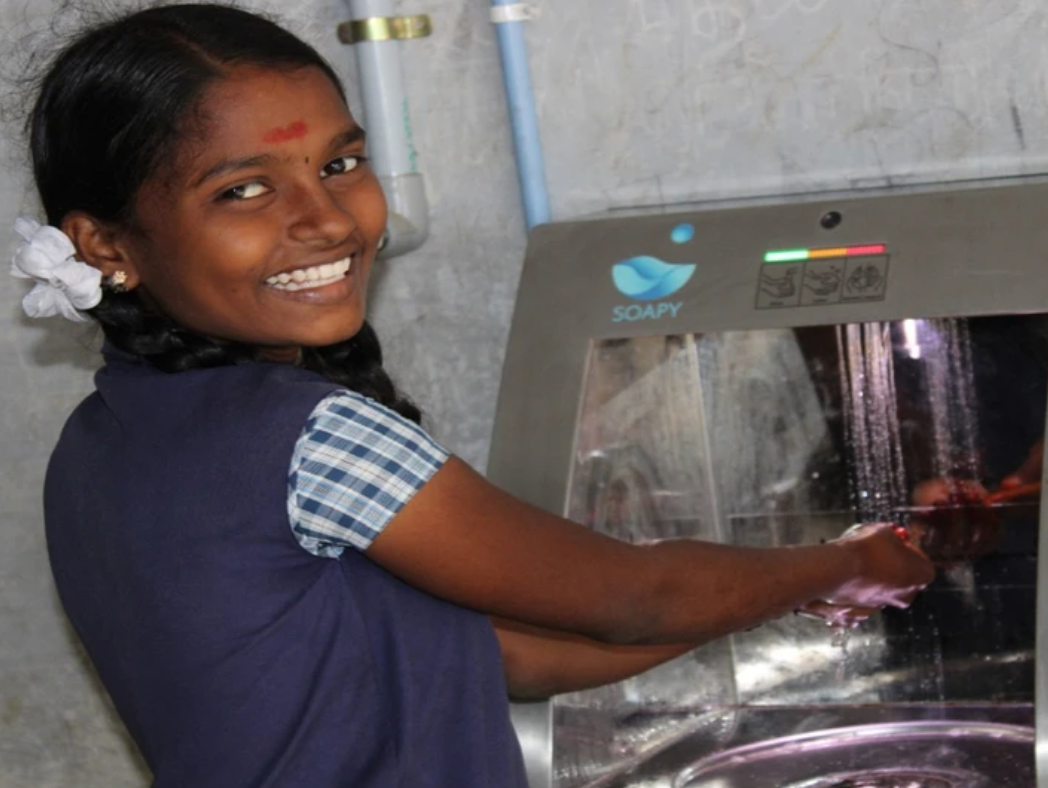 "Young girl washes her hands with SOAPY's high-tech hand-washing stations to help protect her from disease and illnesses linked to inadequate hygiene."
This Thanksgiving you can give back to those in need. With your help SOAPY can donate high-tech handwashing stations to schools in underprivileged communities.
This Thanksgiving you will go around the table, like any other year, and selflessly express what you are grateful for. Most answers include family, friends, good health and wealth.
But what about the most significant, yet least discussed aspect of life we should be grateful for? The access to basic hygiene.
Everyone deserves access to quality hand washing to protect their health, growth, and futures. You can be a helping hand to those who need it most, this Thanksgiving.
Three billion people lack access to basic hand hygiene facilities

300,000 children die each year from disease linked to inadequate hygiene

Diseases in children could be reduced by up to 50% with simple hand hygiene access
Unfortunately, many of our children are facing the mental and physical consequences from the lack of cleanliness in schools, especially in a time of an ongoing pandemic.
Children, parents, and teachers should feel confident enough to believe that their schools and communities are just as safe as home.
This holiday season SOAPY is bringing hand-washing out of the bathroom and into the future by providing high-tech handwashing stations to those in need. They provide a controlled and comfortable handwash experience that employs high-tech tools to educate, measure, and improve compliance.
SOAPY is pairing up with business leaders to help donate 100 high-tech hand washing stations and soap to schools in underprivileged communities throughout the world.
You are invited to join SOAPY and their other organizations to support our children's futures by donating a Clean Machine!
Investing in our children's education is investing in the future of the world. Protecting our children, their health, and their futures starts with access to basic hygiene.
You can donate through the following link: SOAPY Give Campaign
Donation Information:
1 CleanMachine + 1 year soap supplies = $2500

1 year of soap supplies for a school = $500
Founders: Max Simonovsky & Alex Orlovsky
We Are In The Business of Making the World Better – One Hand Wash at a Time
Soapy strives to break the morbidity cycle through effective infection prevention and control. It begins with empowering people, businesses, and institutions with innovative hand hygiene technology that educates them on effective handwashing. Soapy is the world's smartest Hand Hygiene Personal Station, powered by computer vision, deep learning, and the Internet of Things. They turn handwashing into actionable data science and make sure business leaders know and can validate Who, When, Where, and How clean their hands really are. Hand washing has never been easier, more transparent, accurate, and compliant than it is today.
Media Contact
Company Name: Otter PR
Contact Person: Natalie Graham
Email: Send Email
Phone: 6097517183
Address:100 E Pine St Suite 110
City: Orlando
State: Florida
Country: United States
Website: www.OtterPR.com