November 25, 2021 – E2C is proud to announce that its newest product, the Daily Facial Cleansing Brush, is now available on the Amazon marketplace. E2C infuses its products with a passion for quality, innovation and integrates medically safe components into exquisite products to enhance its effectiveness. With this product, people looking to take their nightly (and morning) skincare routine to the next level can now fulfill their heart desire.
After the usual daily routine, and on getting home, most people start scrubbing away at their face for minutes to be clear of facial dirt and makeup; only to wake up and surprisingly find rogue mascara trails on the pillows. If you always discover that a thorough scrub with your favorite soap and a splash of water isn't giving you the desired result, it's time to invest in this device, the Daily Facial Cleansing Brush with Ultrasonic Vibration.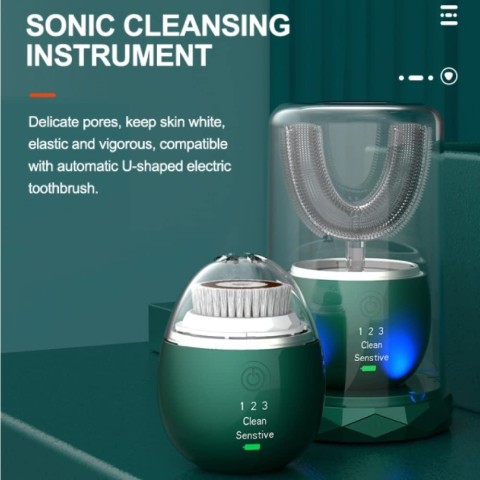 E2C Daily Facial Cleansing Brush is an electronic facial cleansing device that can be an invaluable asset to everyone. Using it after a face wash or scrub is one of the best things you can do to ensure every last bit of makeup, dirt, grime, and oil, from the daily activities is cleared totally. Aside from helping to effectively remove dirt, oil, and makeup, they offer the added benefit of exfoliation, too. E2C Daily Facial Cleansing Brush acts as a mechanical exfoliator to help remove dead skin, while also increasing blood flow to give the skin that glowing and youthful look.
The Facial Cleansing Brush features 45℃ Pap brushing that effectively removes tartar and prevents periodontal disease. What's more, it is compatible with an automatic U-shaped electric toothbrush with high-frequency vibration that offers effective penetration between teeth for fast teeth cleaning and gums massage.
The Facial Cleansing Brush is suitable for all skin types. For people with dry and sensitive skin, it makes their skin tender and fresh. So, step up your facial cleansing game with E2C Daily Facial Cleansing Brush for a natural, Insta-worthy glow.
E2C Daily Facial Cleansing Brush is currently available on Amazon with a 100% Customer Satisfaction Warranty to ensure that each purchase is absolutely risk-free.
For more information or to purchase the E2C Daily Facial Cleansing Brush, visit the Amazon product page.
Media Contact
Company Name: E2C
Contact Person: Andy Hong
Email: Send Email
Phone: +82 70-4038 9303
Country: South Korea
Website: https://www.amazon.com/dp/B09MG5GJNP