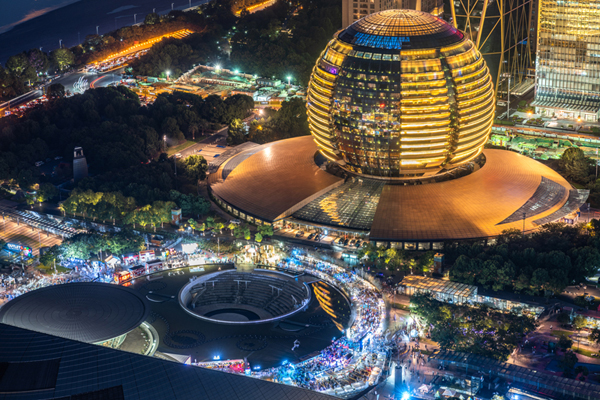 A bird's eye-view of Hangzhou at night. [Photo/IC]
This year marks the third anniversary of the promotion of the integrated development of the Yangtze River Delta region into a national strategy.
Within three years, Hangzhou has inked more than 30 cooperative agreements with eight cities in the YRD region, which have benefited its transportation, culture, tourism, ecological protection, and public service sectors.
Finding shared interests with different cities has been the key to Hangzhou's successful intercity cooperation.
For example, ecological and economic benefits have been the basis for cooperation between Hangzhou and Huangshan in East China's Anhui province, which joined the Hangzhou metropolitan circle in 2018. The two cities have been working in several fields, especially in the featured agricultural industry.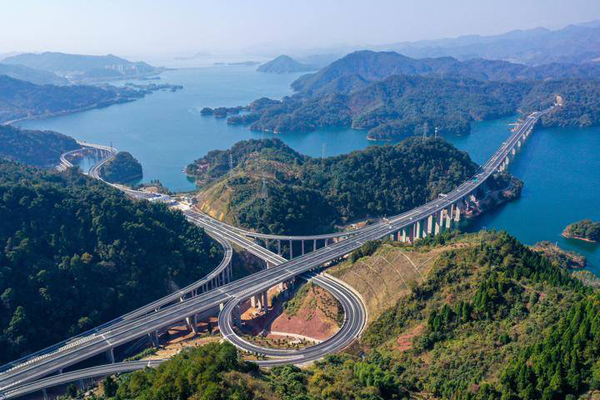 A bird's-eye view of the Chun'an section of Qiandaohu-Huangshan Expressway, which is dubbed the most beautiful expressway for forming a circle of three 5A-level national scenic spots : Hangzhou's West Lake, Qiandao Lake, and the Yellow Mountain in Huangshan city. [Photo/CFP]
For Hangzhou and Ningbo, two mega cities in Zhejiang province, their cooperation has been based on equality, as well as making full use of their respective strengths. Hangzhou will take advantage of its digital economy to facilitate Ningbo's manufacturing industry, while the port city will in return utilize its sea transportation capabilities to foster Hangzhou's inland water transportation sector.
In addition, a number of key Hangzhou enterprises can enjoy fast clearance and approval of their raw materials, manufacturing equipment, key auto parts, as well as standard products at Ningbo Port.
Although Hefei does not neighbor Hangzhou, the Anhui provincial capital has yielded fruitful results through its partnerships with Hangzhou in recent years as it has played a complementary role by using its educational resources and scientific innovation platforms to bolster Hangzhou's innovation, entrepreneurship, as well as industrialization capabilities.
Media Contact
Company Name: The Information Office of Hangzhou Municipal Government
Contact Person: Cai Jingwen
Email: Send Email
Phone: 0510-68559077
Country: China
Website: http://www.ehangzhou.gov.cn/