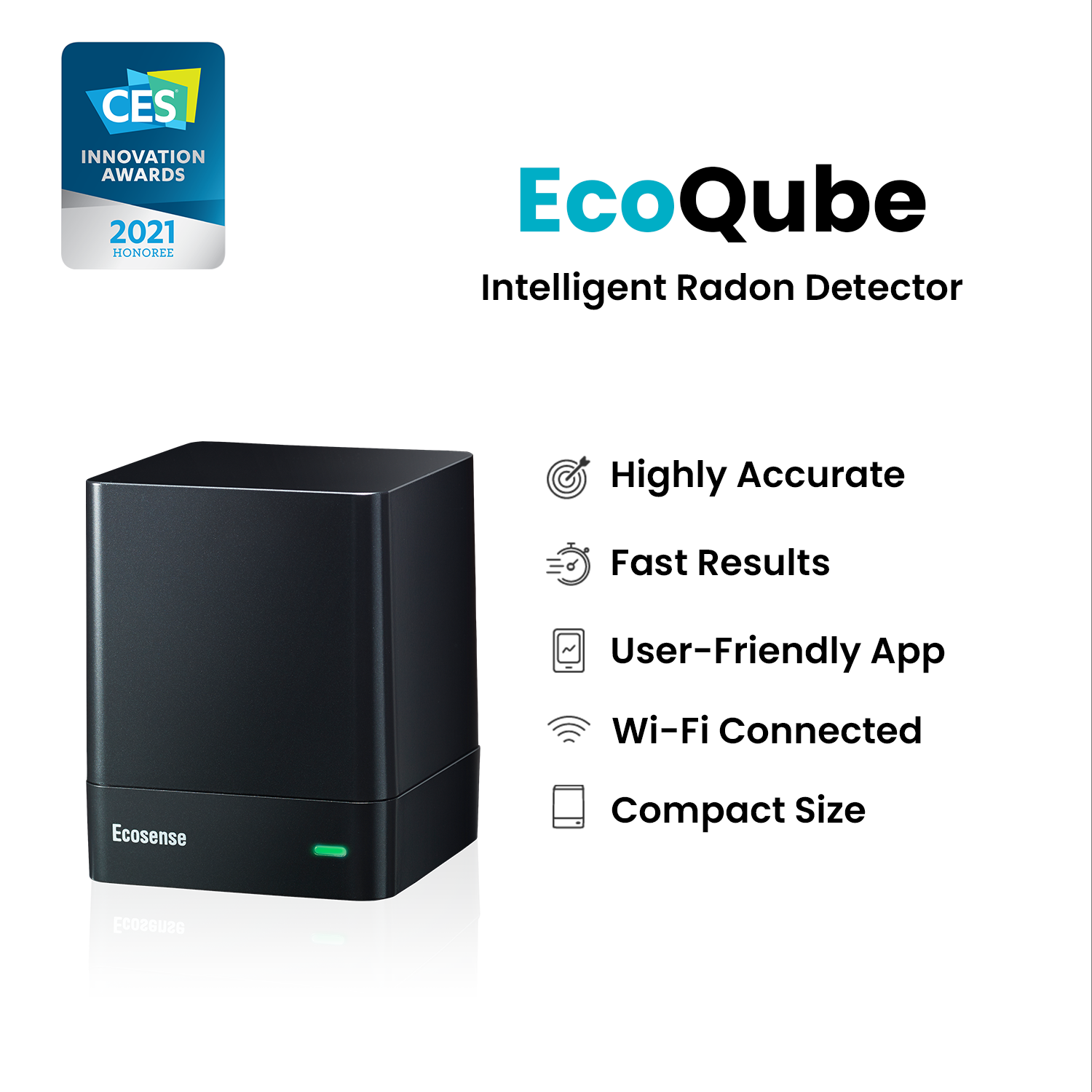 ""The EcoQube is a must-have solution to keep loved ones safe from the deadly dangers posed by radon gas and we anticipate continued rapid growth in the consumer market," stated Insoo Park, founder and CEO of Ecosense."
Customers are thrilled with the EcoQube and the peace of mind it provides
SAN JOSE, California – December 6, 2021 – Ecosense is pleased to announce that the company has seen a dramatic increase in shipments of its EcoQube smart connected radon monitor after being included in TIME's Best Inventions List of 2021. While comparing similar periods prior to and following the announcement on November 10, 2021, Ecosense has shipped more than 150% of EcoQube radon monitors in the period following the announcement. The EcoQube is available for purchase on Amazon (NASD: AMZN), through partner channels, and through the company's website.
TIME's recognition and the corresponding increase in units shipped underscore the public's concern about an underappreciated link between radon gas, an odorless, colorless, and tasteless gas, and lung cancer. According to the Environmental Protection Agency (EPA), radon is the second leading cause of lung cancer in the United States.
"The EcoQube is a must-have solution to keep loved ones safe from the deadly dangers posed by radon gas and we anticipate continued rapid growth in the consumer market," stated Insoo Park, founder and CEO of Ecosense. "Our device delivers radon detection results accurately and quickly, within minutes as opposed to days. With EcoQube continuous monitoring, the device can push notifications to a user's smartphone and alert them when mitigation measures are necessary."
User's of the EcoQube have been raving about the device's capabilities and the peace of mind having one in their home provides:
"This unit was more accurate than a professional unit used by a Radon remediation firm! It attested to the fact that our Oregon home's Radon measurement was over 18 and proved the remediation system lowered the Radon to acceptable levels."

"Love the fact it ties to the internet and I can read on my iPhone anytime."

"The unit works perfectly. The results are quick and accurate."

"We have had it since before our Radon was mitigated so we were able to see the change as soon as it was done!"

"Our family, with 2 young children, sleeps in the basement. I've done due diligence with radon mitigation and had it redone to add redundancy. This little cube has provided peace of mind that we're all in an essentially radon free home."

"This is a great product to continuously monitor radon levels in your home."

"This detector works great and love the fact that it takes readings every 10 minutes and will send an alert if there is an increase in radon!"
Additional customer reviews can be found here.
About Ecosense, Inc.
Based in the heart of Silicon Valley, Ecosense is a leader and trusted provider of radon detecting and monitoring solutions that are easy to use, accurate, and fast. The company's smart real-time radon detectors utilize a patented detection technology with high accuracy performance which delivers results in minutes not days. The EcoQube was named to TIME's List of the 100 Best Inventions of 2021 and previously was recognized as a CES 2021 Innovation Awards Honoree in the health and wellness category. Ecosense's patented ion chamber technology performance has received independent validation from the University of Michigan (Dept. of Nuclear Engineering and Radiological Science) and the Kansas State University Radon Chamber. Both studies concluded that Ecosense's patented technology performed comparably to premium research-grade detectors.
For more information visit www.ecosense.io
Media Contact
Company Name: Ecosense
Contact Person: Otter Public Relations
Email: Send Email
Phone: 407-394-5881
Address:100 E Pine St Suite 110
City: Orlando
State: FL
Country: United States
Website: www.OtterPR.com