Cee Catering Chargers brings exclusive products for all the caterers worldwide that make baking and cooking highly convenient for all the chefs. The products are available online to shop on their website across the world.
Cee Catering Chargers takes pride in their products and services in trading with the catering industry's top products – items that have proved to be the very best that the market has to offer. The products are enjoyed by many in the UK and beyond. The experts of See Catering Chargers aim to bring to their valuable customers the type of items that puts a smile on their faces, and more importantly – efficient n20 chargers for all their business needs.
The company wants to share the passion and enthusiasm for all things related to culinary by bringing to their client's products of the highest quality so that the users can experience the tastier things in life. The products available on the Cee Catering Chargers platform are incredibly user-friendly and safe to use. Their mission is to do away with the trouble of using plenty of solo chargers and make refilling something that clients do at the drop of a hat nonchalantly.
Moreover, to operate the system safely and as per the client's specific needs, the experts of the Cee Catering Chargers recommend using the pressure regulator meant for safe use under different pressure requirements with no compromising on user-friendliness. Their increase in efficiency cannot be ignored as they can significantly reduce the time it takes to refill a dispenser and bring down metal waste by 20%. Users can create the most attractive preparations while spending as little time as possible reading the equipment.
Their cylinder is made from first-rate stainless steel and is manufactured by state-of-the-art companies that specialize in n20 distribution across the world. Efficient Chargers are readily available to shop on their website at rock bottom pr.
About Cee Catering Chargers: They are a London-based Importer of Cream Chargers, registered in the UK. They can provide catering equipment for rock bottom prices. They cater for Bakeries/Catering Establishments or Anyone who requires n20 as a whipping agent. Charlie Fitzgerald founded the company at the age of 22 years old and would appreciate any help you do to support him in this journey. Fantastic products are available at great prices; it's time to whip up a storm and make those creamy magical moments.
Intending users can shop the fantastic products www.MosaWholesale.com now and increase the productivity of your kitchen.
Cee Catering Chargers is on the lookout for suppliers of no2 chargers and catering equipment please get in touch if you can assist us in supplying these.
Also looking for Social Media Content Writer

Looking for Full-time blogger

Looking for Full-time Product Sourcer
Leave us a Review Here – To Help us grow and reach more customers https://g.page/r/CUvvqsviKj1iEAE
Thank you for taking the time to read this!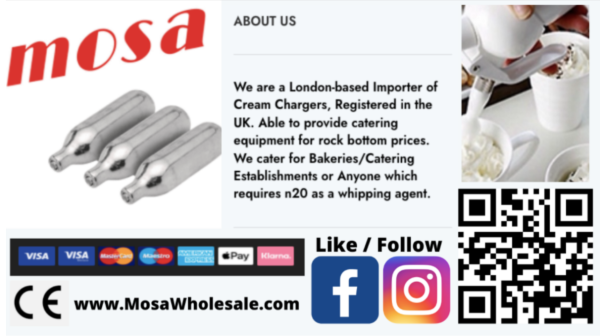 Media Contact
Company Name: Cee Catering Chargers
Contact Person: Charlie Fitzgerald
Email: Send Email
City: London
Country: United Kingdom
Website: www.mosawholesale.com