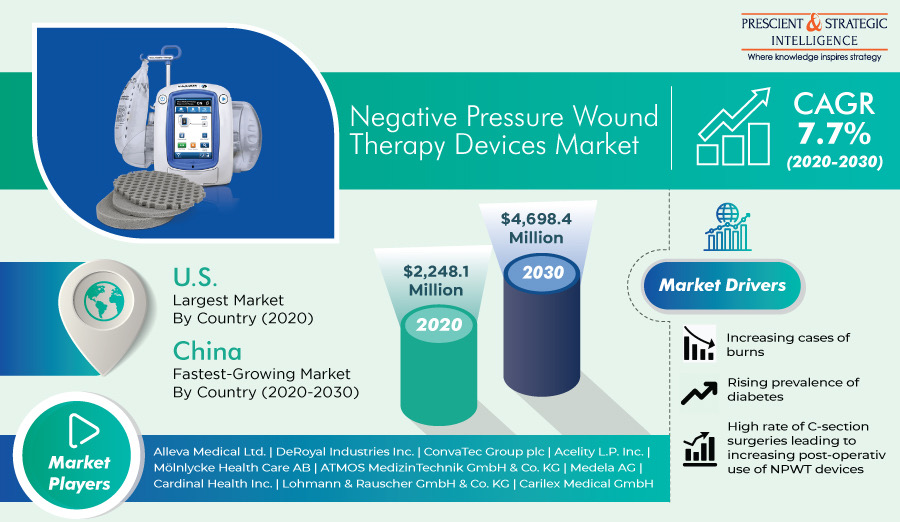 Globally, North America was the largest NPWT devices market in 2020, and it expected to witness the same trend during the forecast period as well. This is due to the presence of key market players, widespread research and development activities, and high healthcare expenditure, in the region.
The International Diabetes Federation's (IDF) Diabetes Atlas Ninth edition 2019 reveals that 374 million individuals are at an increased risk of developing type 2 diabetes and over 1.1 million adolescents and children are living with type 1 diabetes globally. The IDF also forecasts that the number of diabetic patients aged 20–79 years will rise from 463 million in 2019 to 700 million by 2045. These people often suffer from chronic wounds, as diabetes hinders the rapid healing of wounds, thereby leading to the development of diabetic foot ulcers.
Thus, the surging incidence of diabetic foot ulcers will help the negative pressure wound therapy devices market progress at a CAGR of 7.7% during 2020–2030. According to P&S Intelligence, the market revenue will grow from $2,248.1 million in 2020 to $4,698.4 million by 2030. Additionally, the rising cases of burns will also create a huge requirement for NPWT devices in the forthcoming years. As per the World Health Organization (WHO), approximately 180,000 burn-related deaths are recorded every year across the globe.
Get the sample pages of this report at: https://www.psmarketresearch.com/market-analysis/negative-pressure-wound-therapy-market/report-sample
At present, conventional NPWT devices are gaining more traction than accessories and single-use NPWT devices, especially in developing countries, such as China and India, which have a vast population. These devices are used to treat chronic wounds, such as diabetic foot ulcers, pressure ulcers, and venous ulcers, and acute wounds, such as burns and surgical. In the coming years, these devices will be extensively used for treating chronic wounds among the elderly population, as they are highly prone to chronic venous insufficiency, diabetes mellitus, and peripheral arterial occlusive disease.
In recent years, NPWT device manufacturers have engaged in mergers and acquisitions to meet the needs of hospitals and home-care settings. For example, in April 2019, Lohmann & Rauscher GmbH & Co. KG acquired the assets of Médical Textile Ariégeois, a French compression company, to expand its compression product portfolio. Other medical device companies undertaking mergers and acquisitions include Alleva Medical Ltd., Medela AG, Carilex Medical GmbH, Baxter International Inc., DeRoyal Industries Inc., Cardinal Health Inc., and Shandong Weigao Xinsheng Medical Devices Co. Ltd.
Globally, the North American region led the negative pressure wound therapy devices market in the preceding years due to the surging research and development (R&D) activities and mounting healthcare expenditure in the U.S. and Canada. For example, the Canadian Institute for Health Information (CIHI) states that the healthcare expenditure in Canada increased by 4% per year during 2015–2019. Moreover, the Centers for Medicare and Medicaid Services (CMS) states that $3.8 trillion was spent on healthcare in the U.S. in 2019.
Browse detailed report on Negative Pressure Wound Therapy Devices Market Size and Growth Forecast to 2030
Furthermore, the Asia-Pacific (APAC) region is expected to adopt a substantial volume of NPWT devices in the foreseeable future, on account of the rising geriatric population, increasing number of traumatic wounds and burns, and booming population in the region. For instance, the Australian and New Zealand Burn Association (ANZBA) states that nearly 50,000 burn victims are admitted to hospitals in Australia each year. Similarly, the WHO estimates that over 1,000,000 individuals in India are severely or moderately burnt every year.
Thus, the soaring cases of diabetes and burns will facilitate the adoption of NPWT devices in the upcoming years.
Market Size Breakdown by Segment
By Product
Conventional
Single-Use
Accessories
By Wound Type
Chronic

Venous ulcers
Diabetic foot ulcers
Pressure ulcers

Acute
By End User
Hospitals
Home-Care Settings
By Region
North America
Europe

Germany
France
U.K.
Italy
Spain
Italy
Russia
Switzerland
Sweden
Denmark
Norway
Poland

Asia-Pacific

China
Japan
India
Australia
South Korea
Indonesia
Sri Lanka
Malaysia
Singapore
Thailand

Latin America

Brazil
Mexico
Argentina
Chile
Colombia
Ecuador

Middle East and Africa

South Africa
Saudi Arabia
Israel, U.A.E
Egypt
Kuwait
Browse More Reports
Single-Use Negative Pressure Wound Therapy Devices Market – Globally, North America was the largest single-use NPWT devices market in 2020, and it is expected to witness the same trend during the forecast period as well.
Wound Care Market – Globally, North America is predicted to contribute the highest revenue to the wound care market during the forecast period. This is ascribed to the existence of various market players, soaring healthcare expenditure, and increasing research and development activities in the region.
Media Contact
Company Name: P&S Intelligence
Contact Person: Abhishek
Email: Send Email
Phone: +918887787886
Address:Noida Sector 2
City: Noida
State: UP
Country: India
Website: https://www.psmarketresearch.com/market-analysis/negative-pressure-wound-therapy-market