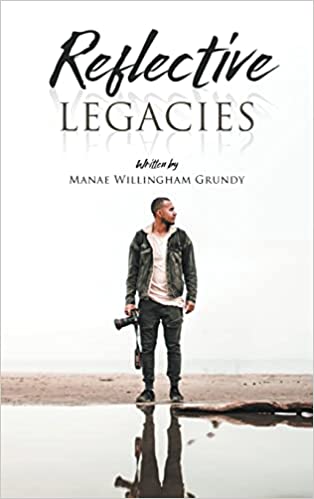 "Reflective Legacies" by Manae Willingham Grundy has been released worldwide. This 134-page collection of writing and inspirational photography looks at the idea of legacy and positive experiences at various stages of life. The book also invites readers to write down their own thoughts and reflections with prompts at the end of each section, asking them to contemplate the chapter topics and make notes about their own legacies. Heartwarming and motivational, the book shows people across generations how they can find their authentic selves, spread goodness in the world, and leave a legacy of courage and kindness in their communities.Reflective Legacies (ISBN: 9781737628767) can be purchased through retailers worldwide, including barnesandnoble.com and Amazon. The hardcover retails for $17.99. Wholesale orders are available through Ingram.
From the back cover:
The evolution of this book began long before the Covid-19 Pandemic hit. And now the world is dealing with the Delta Variant. The year 2021 arrived with a bold awareness of what is important. Although, what is important to one, may not be important to another. Importance is relative. What is truly important though, is LIFE. The years 2020 and 2021 has marked a pivotal time in mankind's history. Today there is an overlapping of generations that are confused and at a loss with the overlapping of human experiences.
Living Legacies cross paths every single day, even if masked. Of course, some lives directly affect others, while others do not. As people we see daily that our history can change in a heartbeat. So why not inform the younger Generations of "Z" and "Alpha" about their backgrounds? Why not instill in them LIVING LEGACIES, so they can REFLECT on who they are and where they heralded from now while their heroes still live and breathe? REFLECTIVE LEGACIES opens the door for real thought and communication between multi-generations.
About the author:
Lisa Manae Willingham Grundy is a career Bible Teacher of many years, which she feels is her most privileged assignment. Lisa is formerly known as Mynetta Y. Edwards. She graduated from The Institute of Children's Literature in 1993, where she majored in Writing for Children & Teenagers. She went on to complete the requisite graduate course Beyond The Basics; Creating & Selling Short Stories & Articles in 1996. Lisa majored in Child Development and minored in Sociology.
About MindStir Media:
MindStir Media LLC is an award-winning book publisher. To learn more about publishing a book with MindStir Media, visit http://mindstirmedia.com or call 800-767-0531.
Media Contact
Company Name: MindStir Media LLC
Contact Person: Jen McNabney
Email: Send Email
Phone: 800-767-0531
Address:1 New Hampshire Ave Suite 125
City: Portsmouth
State: NH
Country: United States
Website: https://mindstirmedia.com/