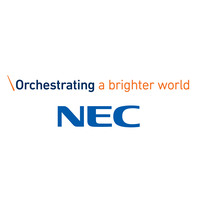 ""Our newest cloud services offering is ideal for an increasingly hybrid workforce—unifying employee productivity and customer experience management into one application," said Ronald Schapendonk, Director of Global Marketing at NEC."
Integration of NEC's Unified Communications and Contact Centre as a Service (UCaaS & CCaaS) into one seamless cloud solution – merging User Experience (UX) efficiency with Customer Experience (CX) enablement.
Hilversum, Netherlands and Nottingham, UK – December 11, 2021 – NEC Enterprise Solutions, a leading provider and integrator of advanced IT, communications, and networking solutions, announces the new integration of two of its UNIVERGE BLUE CLOUD SERVICES – CONNECT and ENGAGE – to provide users a single application for employee collaboration and superior customer communications. With this merging of Contact Centre within Unified Communications, business communications are simplified, and teamwork is improved, while elevating both UX and CX capabilities.
Availability of this release will be rolled out globally starting with NEC Corporation of America followed by the UK and the rest of EMEA in the first quarter of 2022 with other regions to follow.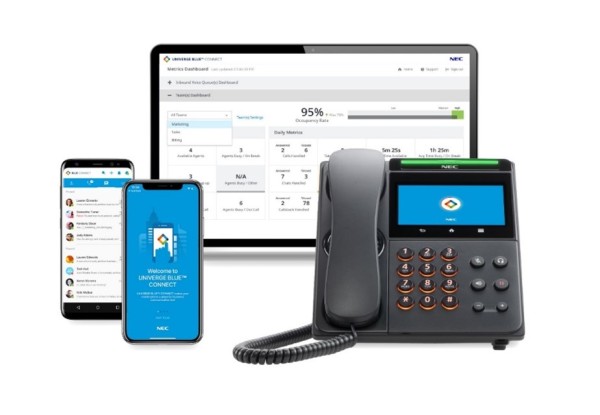 Single Pane of Glass
NEC's integrated UNIVERGE BLUE CONNECT and ENGAGE upgrades standard business operations by combining UCaaS and CCaaS into a single pane of glass which includes voice, video conferencing, file sharing and backup, multi-channel contact center and more.
With the unification of CONNECT and ENGAGE, customer care agents get the necessary tools and functionalities to track and enhance communications, while promoting upgraded customer satisfaction and first-call resolution. From call queues, contact directories, and active call routing, contact centre agents are empowered to enhance CX and loyalty.
"The integration of CONNECT and ENGAGE provides smoother workflows and all the collaboration features our end users need for internal communication. Customer-facing employees get advanced voice handling tools and can leverage those collaboration features to work with other employees, ensuring positive interactions with customers."
Smoother Workflows
NEC's new solution offers anywhere, anytime teamwork. The solution bolsters capacity for hybrid workforces in a single user interface. In addition to advanced call handling capabilities, businesses gain greater visibility into employees' performance.
The unified solution includes homeworking video conferencing and simplifies administration by providing an interface for adding and managing users with a single sign-on. During seasonal fluctuations, contact centre operations can add more agents with just a few clicks. The responsive platform expands to meet the communications needs of small-to-medium sized businesses, as well as large enterprises.
For more information please contact NEC Enterprise Solutions:
In the UK:
Jim Eagers
Tel: + 44 (0)115 969 5728
jim.eagers@emea.nec.com

Rest of EMEA:
Robert van Amerongen
Tel: +31 35 689 1521
robert.van.amerongen@emea.nec.com
About NEC Enterprise Solutions
NEC Enterprise Solutions provides IT & Communication solutions to small, medium and large enterprises in both the private and public sectors. Designed for open connectivity, high availability and flexible growth, our innovative solutions incorporate the latest voice, data and video technologies and enable real-time, collaborative working, increased productivity and customer satisfaction. Our servers, storage solutions, software and virtualized workstations enable businesses to maximize operational efficiency, performance and profitability.
NEC Enterprise Solutions serves its customers across EMEA (Europe, Middle East & Africa) through a network of direct sales organizations, business partners and value-added resellers.
For more information, please visit: http://www.nec-enterprise.com
About NEC Corporation
NEC Corporation is a leader in the integration of IT and network technologies that benefit businesses and people around the world. By providing a combination of products and solutions that cross utilize the company's experience and global resources, NEC's advanced technologies meet the complex and ever-changing needs of its customers. NEC brings more than 100 years of expertise in technological innovation to empower people, businesses and society.
For more information, visit NEC at http://www.nec.com
© 2021 NEC Corporation. NEC is a registered trademark of NEC Corporation. UNIVERGE BLUE is a registered trademark of NEC Corporation. All Rights Reserved. Other product or service marks mentioned are the trademarks of their respective owners.
Media Contact
Company Name: NEC Enterprise Solutions
Contact Person: Jim Eagers
Email: Send Email
Phone: 0115 969 5700
Address:Innovation House, Mere Way Ruddington Fields Business Park
City: Ruddington
State: Nottingham, NG11 6JS
Country: United Kingdom
Website: www.nec-enterprise.com/