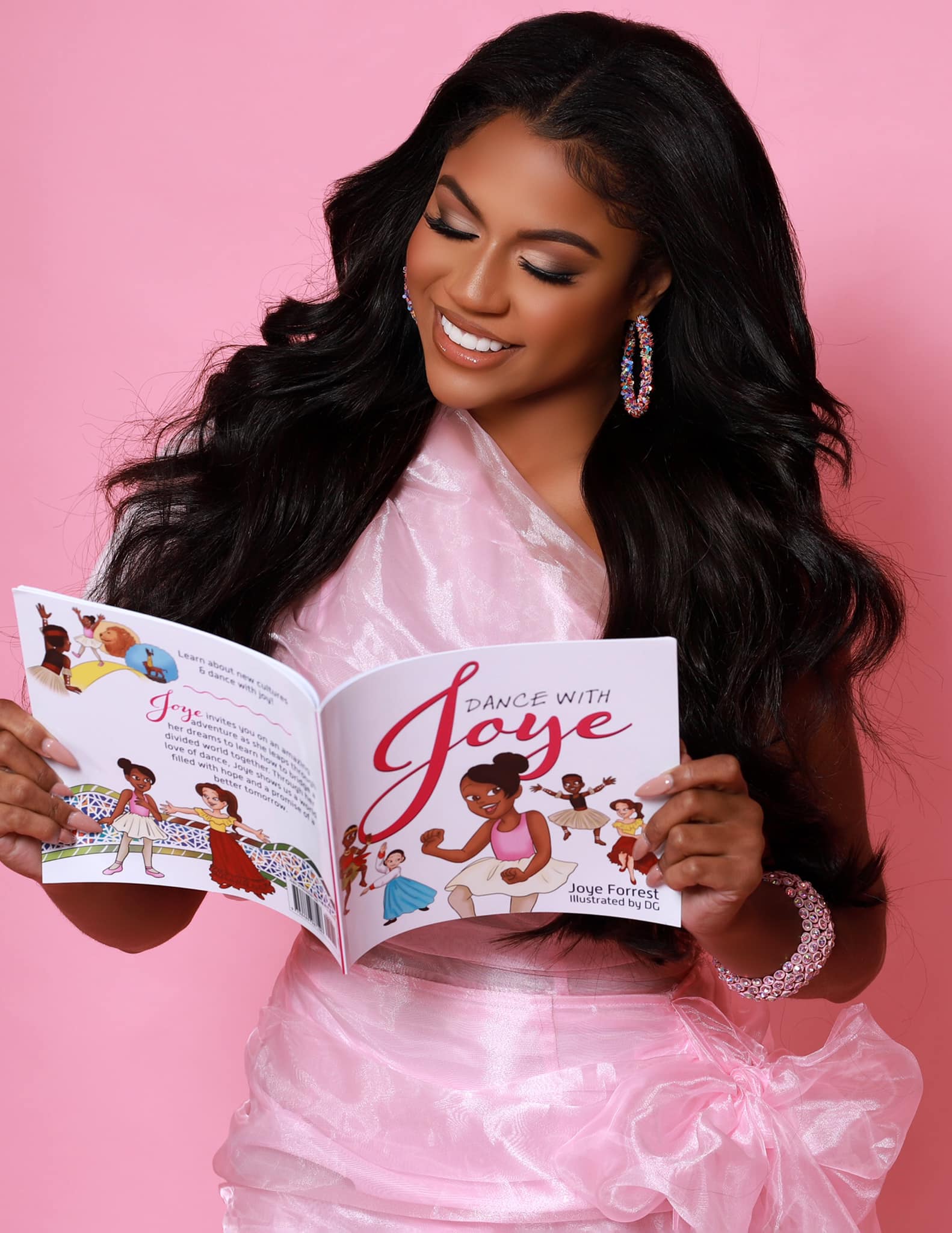 Twenty-six-year-old Joye Forrest was crowned MISS MISSOURI USA and recently appeared in the 70th annual MISS USA. She is available for speaking engagements, brand endorsements, book signings, international Pageant judge, adjunct professor, professional dancer, Actress, Choreographer,
model for ads.
Joye began dancing at the age of three and took the first step toward living her dream life. During her initial years, she achieved a number of "firsts". She was the first African American to win MISS TEEN MISSOURI United States 2017 and the First African American to win Miss Missouri USA in the St. Louis area. Forrest attended the California Institute of the Arts, the world's third-ranked arts institution. She was awarded the Sharon Disney Lund scholarship (named after Walt Disney's daughter), and earned a Bachelor of Fine Arts degree.
Following graduation, Forrest worked professionally as a Laker Girl for the Los Angeles Lakers, as well as featured in multiple music videos and advertisements. She has been in ads for Athleta, Solange, Lakers, countless fashion shows and appearances.
Speaking to the media, Joye says "I've never taken anything for granted," and credits her mother and award-winning actor/choreographer/director/producer, Debbie Allen for encouraging her to always "go for it."
College provided Forrest with the chance to spend more than a semester in countries such as South Korea, Ghana, Japan, Australia, and Spain, where she collaborated with several dance companies to teach dance to some of the world's most vulnerable populations.
Joye was quoted saying in one of her interviews, "I wanted to share my joy and passion for dance with others. Sometimes that involves hitting the streets. There are people in need everywhere. So, in addition to dance, we started putting together care packages because people have to be able to live before they can dance".
Forrest is currently teaching private courses and has begun offering online classes to reach students worldwide. With her pageant and dancing platforms, she has addressed young people, elevating them and strengthening their self-esteem while also striving to break down racial bias and obstacles in the process. Her dream is to bring our divided world together.
On October 27th, Joye awarded her first two scholarships to deserving young dancers, marking the official beginning of the Share Joye scholarship program. The same day she received a proclamation from the Mayor of St. Louis announced November 29th as Joye Forrest Day, a proclamation by the City of St. Louis, the Controller's Office, the Alderman's Office, and the County Executive Office.
Joye recently published her first children's book, Dance with Joye, which was number one on Amazon's multicultural children's list. She is an Ambassador for the Salvation Army, bell ringer, mentor and distributed food at their distribution center. She recently spoke virtually to over 1000 girls on International Girl Day, appeared on Operation Food Search Channel cooking show, Center of Performing Arts Ambassador and more. She can be booked for children's motivational presentations, book reading and signing events, as well as a professional dancer, model for brand endorsements, TV ads and billboard ads.
To book Joye contact Sheilaforrest@live.com or call 1-314-341-3857. To learn more visit www.Joye-forrest.com, follow her at Instagram (@missmousa) (@Joyeforrest): https://www.instagram.com/Joyeforrest and Twitter (@JoyeForrest): https://twitter.com/JoyeForrest connect with her on LinkedIn (@joye-forrest-4145701aa) at https://www.linkedin.com/in/joye-forrest-4145701aa
Media Contact
Company Name: Share Joye
Contact Person: Sheila Forrest
Email: Send Email
Phone: 314-341-3857
Country: United States
Website: joye-forrest.com