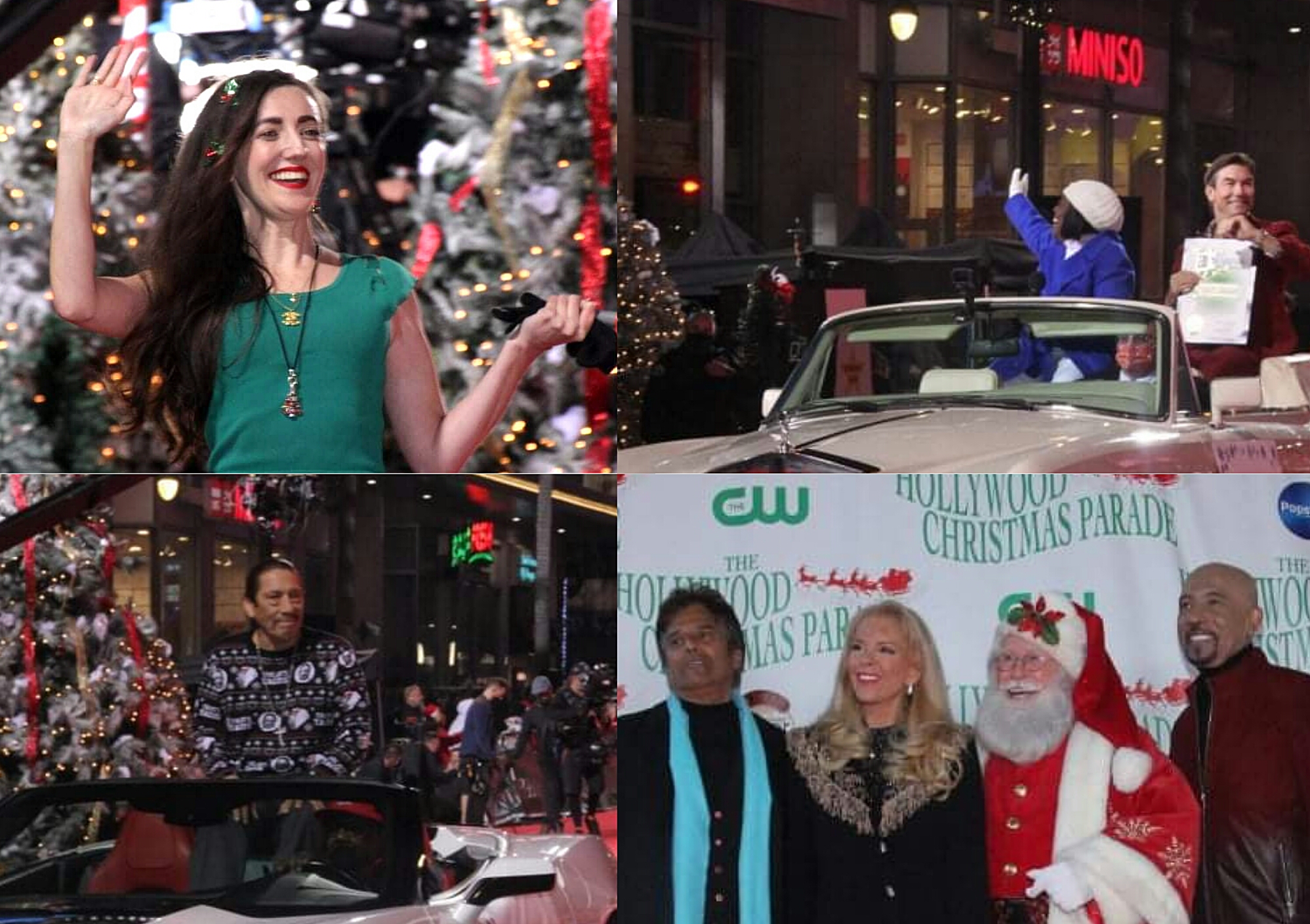 The 89th Hollywood Christmas Parade, took place in Hollywood, California on November 28th, 2021. It is scheduled to air on The CW Network, on December 17th, 2021 from 8pm to 10pm (PST/EST). Also airing a second time, on KTLAS The CW, on December 19th, 2021 from 3pm to 5pm. This year's Hollywood Christmas Parade, marks a definitive and celebratory comeback. Since the previous year was closed, due to the Covid-19 pandemic. The 2021 parade, did not disappoint and was packed full of Hollywood stars!
Tens of Thousands of parade goers, lined the streets of Hollywood Boulevard, for the many miles long parade route. They waited in anticipation, to get a glimpse of this year·s fabulous celebrities, parade floats, marching bands, balloons, live entertainers, dancers, famous movie cars from Star Car Central, Star Wars storm troopers, and many other great performances. The celebrities this year, included in the parade, were: Kel Mitchell (All That, Kenan and Kel), Eric Estrada (Chips), Laura McKenzie (TV Host), Elizabeth Stanton (World's Funiest Animals), Amber Martinez (Marvel's "WandaVision", Senior Entourage), Jerry O'Connell (Billions, Crossing Jordan), Sheryl Underwood (The Talk, The Bold and The Beautiful), Mantel Williams (TV Host), Kate Linder (The Young and The Restless), Danny Trejo (Renegades, American Sicario), and Ed Alanzo (Saved By The Bell). The parade itself is hosted on television, by the wonderful Eric Estrada and the charismatic Laura McKenzie. The Grand Marshall for the 89th Hollywood Christmas Parade is Sheryl Underwood, from the hit television show "The Talk".
Sheryl rode in a car with fellow actor, Jerry O'Connell. Jerry was wearing a classy red suit. Danny Trejo, was spotted wearing a black and white Christmas sweater. American actress Amber Martinez, was chosen to lead the parade, for Nate Truman's"StarCarCentral".Ms. Martinez, was seen wearing a Chanel necklace, a form fitting green dress, and black boots by Moncier. During Amber's parade walk, which featured over 20 famous movie cars, she led the way for The Ghostbusters Ecto-1x Mobile (owned by Long Vo).
When asked for comment, before the parade began, Amber stated, "I'm so honored, to be in the 89th Hollywood Christmas Parade and to be the chosen celebrity for Star Car Central. It is a dream come true and I absolutely love the opportunity, to spread some much needed holiday cheer. I look forward to the holiday spirit and joy, this parade will spread."
Tune in to The CW Network on December 17th and December 19th, 2021, to see your favorite stars and the article, are by photographer Jerry Mendoza/CPC News Today.
Media Contact
Company Name: Hollywood Now PR
Contact Person: Tom
Email: Send Email
Country: United States
Website: https://thehollywoodchristmasparade.org