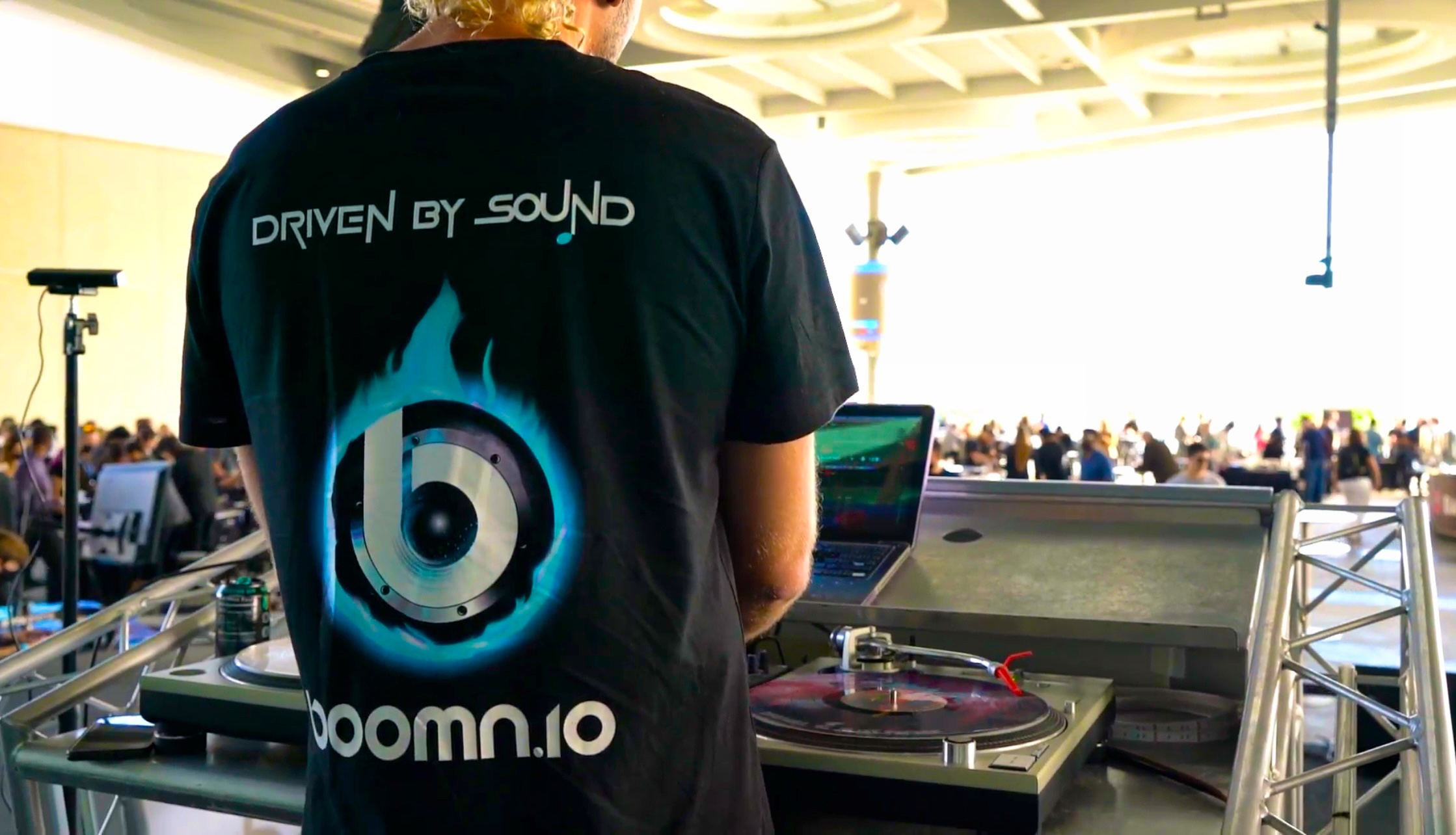 "Founder of BOOMN, Daniel 'Draydel' Sado showcasing the BOOMN App at the FTX Arena through Producing/DJ, amongst the many different ways available for all creators."
BOOMN INC., the new kid on the blockchain, just debuted its revolutionary audio NFT system at NFT BZL in Miami, FL. Where some networks, like Bitcoin, are based on 'proof of work', BOOMN has brought something entirely different to the table they've created, based on what they call "proof of sound".
DECEMBER 16, 2021 – BOOMN INC., an audio blockchain technology enterprise, just announced the debut of their NFT audio based application BOOMN. Where some networks, like Bitcoin, are based on 'proof of work', BOOMN has brought something entirely different to the table by what they've created called "proof of sound". BOOMN's patent-pending protocol was demonstrated by it's sleek, user-friendly application, for the very first time at NFT BZL at the FTX Arena in downtown Miami, Florida.
We saw how this revolutionary technology can benefit creators, artists, producers, and all types of businesses who use audio/video in their marketing strategies or platforms.
BOOMN, founded by Miami-based, multi-platinum producer, Daniel 'Draydel' Sado, allows users to actively listen to a piece of audio, verifying the "proof of sound", and subsequently mint NFTs (Non-fungible tokens). He showcased the BOOMN App while producing/DJ at the FTX Arena (formerly the American Airlines Arena) for NFT BZL, showing the 1 of many ways creators can distribute incentives to listeners through the app or automatically send the listener an NFT they have previously queued up in their dashboard.
Draydel, CEO of BOOMN, says: "The 'Proof-of-Sound' will change not only the entertainment industry but all industries, forever. Creators will become more directly involved in their engagement, distribution and revenue aspect of their art and fans will receive even greater value from the creators they already love."
The monetary and intrinsic value of these Proof-of-Sound NFTs is tremendous for creators and listeners alike. Fans will strive to be first to concerts that give out limited access to NFTs, one of many to listen to a podcast or excited to catch a live twitch stream for a drop. From small to large, all creators are now able to incentivize their fans to become more involved.
To begin onboarding users to the platform quickly and easily, BOOMN is initially launching on Ethereum's Layer 2 solution, Polygon. This reduces friction on traditional minting, gets creators to understand the ecosystem, as well as providing the new network with more security. Once there are over a certain number of creators and listeners using the app daily, then BOOMN will make its transition fully to their new protocol in early 2022. This makes it more accessible to mainstream audiences and even fans with no foundation in the crypto space. In the mean time, you can find Draydel throughout Miami, FL performing and dropping NFT's to listeners in the streets with Jillee Parker out of The World's First Cryptocar minting NFTs, LeBOOMN.
Since they've announced their app publicly, BOOMN has attracted a massive waitlist for its official app and marketplace launch in early 2022. But users can still sign up at www.boomn.io to take part in their official founding-members NFT program, rewards in $BOOMN, including first access to set up their dashboards, playlists, and load up their NFT incentives.
Creators simply sign up to BOOMN using the application, create a wallet, then configure their dashboard. Once that is done, the creator is free to create unique NFTs – giving them away to their audience and begin selling them by utilizing BOOMN's new marketplace. There are a lot of ways to create value and build a powerful audience with BOOMN and it's incredible technology.
NFTs are a way to turn your live audio and audio files into digital collectibles that can appreciate in value over time. The BOOMN platform is the first to do this through sound waves; audio frequencies to transfer assets, mainly NFTs to fans that engage with their favorite creators. BOOMN's ecosystem begins with the BOOMN App, branches to its Marketplace, AR/VR, the metaverse and intends on reshaping the entire crypto space by changing the way we are able to interact with each other, using audio waves.
Media Contact
Company Name: BOOMN
Contact Person: Jen Waldsmith
Email: Send Email
Phone: 954-993-7236
City: Miami Beach
State: FL
Country: United States
Website: www.boomn.io