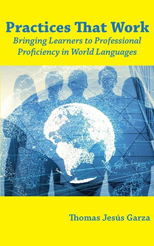 A robust, insightful, practical update to the highly popular 2006 "little yellow book"
"One of my former students, upon passing the Superior borderline, told me ruefully, 'Now I can say whatever I want but not exactly the way I want. When does that happen?' It happens at Distinguished, of course. But getting there requires lots of components. One of the most prominent among them is a dramatic increase in control over vocabulary and word order…at the Superior level, learners have more organic options to increasing repertoire: oral plagiarism made possible by transcription and chunking." [contributed by Professor Richard Robin, George Washington University] – excerpt from Practices That Work
The many and varied demands of the digital age require cadres of professionals capable of collaborating effectively and engaging globally in the world's languages and cultures. This volume represents a collection of classroom- and field-tested practices used to prepare global professions to the highest standards of proficiency in their languages in order to meet these global challenges. Culled from faculty of government, private, and state educational programs, these "practices that work" offer the language practitioner a selection of "recipes" for helping language learners attain near-native professional proficiency. The techniques and practices offered in these pages can be incorporated and used in virtually any curriculum or learning environment and are highly learner centered. The path to native-like proficiency in world languages can be demanding, but this volume can help make it more productive and enjoyable.
"a must-have handbook for language professionals teaching at the highest levels" – Nelleke Van-Deusen Scholl, Ph.D. Director, Center for Language Study, Yale University
"impressive, original, and eminently practical" – Karin Ryding, Ph.D. Professor Emerita, Georgetown University
"surprising insights on language learning by highly experienced chapter authors" – Christine Campbell, Ph.D., President, Campbell Language Associates Professor Emerita/Associate Provost Emerita, Defense Language Institute
Thomas Garza (Ed.D., Harvard University) is UT Regents and University Distinguished Teaching Associate Professor of Slavic and Eurasian Studies at the University of Texas at Austin and Director of the Texas Language Center. He coordinated the Russian program at UT from 1990-2000 and directed the Arabic Flagship program 2015-2018. He has co-authored several textbooks of English as a Foreign Language and Russian as well as the World Readiness Standards for Russian 2020 with Jane Shuffelton and Peter Merrill.
On sale at Amazon, Barnes & Noble, and select book retailers November 5, 2021
Order direct from MSI Press website: www.msipress.com/shop
For more information or to contact the author for media commentary, email editor@msipress.com
Media Contact
Company Name: MSI Press
Contact Person: Betty Lou Leaver, Managing Editor
Email: Send Email
Phone: 831-578-0290 (phone), 831-886-2486 (fax)
Address:1760-F Airline Hwy
City: Hollister
State: CA 95023
Country: United States
Website: msipress.com/shop