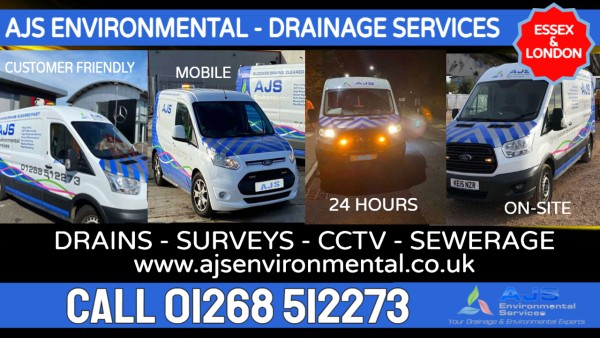 AJS Environmental, a 24-hour emergency drainage service, is excited to launch its new cutting-edge website. The customer-centric design of the website makes navigation totally seamless. It also boasts of a super-fast page loading experience as it is a mobile-focused website. This means that mobile users can now have a better experience than they had before.
The website now gives every visitor a superior experience compared to what was before now. With several clients' feedback of how amazing the new user experience is, AJS Environmental has taken a step in the right direction to ensure that customers are totally satisfied both online and offline.
The emergency drainage company is renowned for professionalism and top-quality services in and around Essex and London. Their services cut across blocked drains, drainage surveys, sewer maintenance, on-site waste management, pipework descaling, septic tanks, industrial drainage projects, and more. They also offer domestic services such as blocked sinks, toilets, and baths among others.
Founded in 2009, AJS Environmental has consistently delivered exceptional service. With their 24/7 emergency offer, clients can have any drainage emergencies; industrial or domestic, resolved ASAP. As one of the leading drainage companies in the area, AJS Environmental stands out because of its use of cutting-edge professional equipment such as CCTV which achieves faster results. This also extends to other services such as robotic lateral cutting and gully cleaning.
TheCCTVtechnology which is used to examine sewers drains, and pipelines allow for effective drainage system surveys and inspections, including useful comprehensive reports. This in turn ensures that the professional team at AJS Environmental is delivering the most accurate services with correct results. The team is highly trained and capable of facilitating drainage repairs of any size from projects as big as stadiums to as small as cottages.
Managed by Samuel Barber, the company prides itself on speedy job completion. According to Paul McGeady, a Senior Contracts Manager, "AJS have always provided services that exceed expectations, often persevering with difficult projects when others would have given up and always offer a cost-effective solution."
For more information, visit https://ajsenvironmental.co.uk.
Media Contact
Company Name: AJS Environmental
Contact Person: Samuel Barber
Email: Send Email
State: Essex
Country: United Kingdom
Website: https://ajsenvironmental.co.uk